Effortless bookkeeping with our new "Payment Inbox" feature 
Article
Office supplies, Saas subscriptions, software licenses…any company has hundreds of payments to process! As the number of small transactions to bookkeep increases, the accounting teams often find themselves swamped with work.
Extracting VAT, checking invoices, validating the information and then exporting the payment along with its corresponding receipt for bookkeeping purposes becomes a piece of cake with Spendesk's new "Payment Inbox" feature.
New payment view to simplify your bookkeeping
To simplify the lives of the hundreds of accountants who use Spendesk on a daily basis, we have developed a new payment view specially designed for them. This view appears as an inbox which allows for a better traceability of the payments' status in order to:
Review payments that need to be added to your books

Check that the supporting documents and information provided are correct and validate them

Be informed when a new invoice has been added to a payment that has already been recorded
You can do this process on a weekly or monthly basis: check the new payments, validate and export them!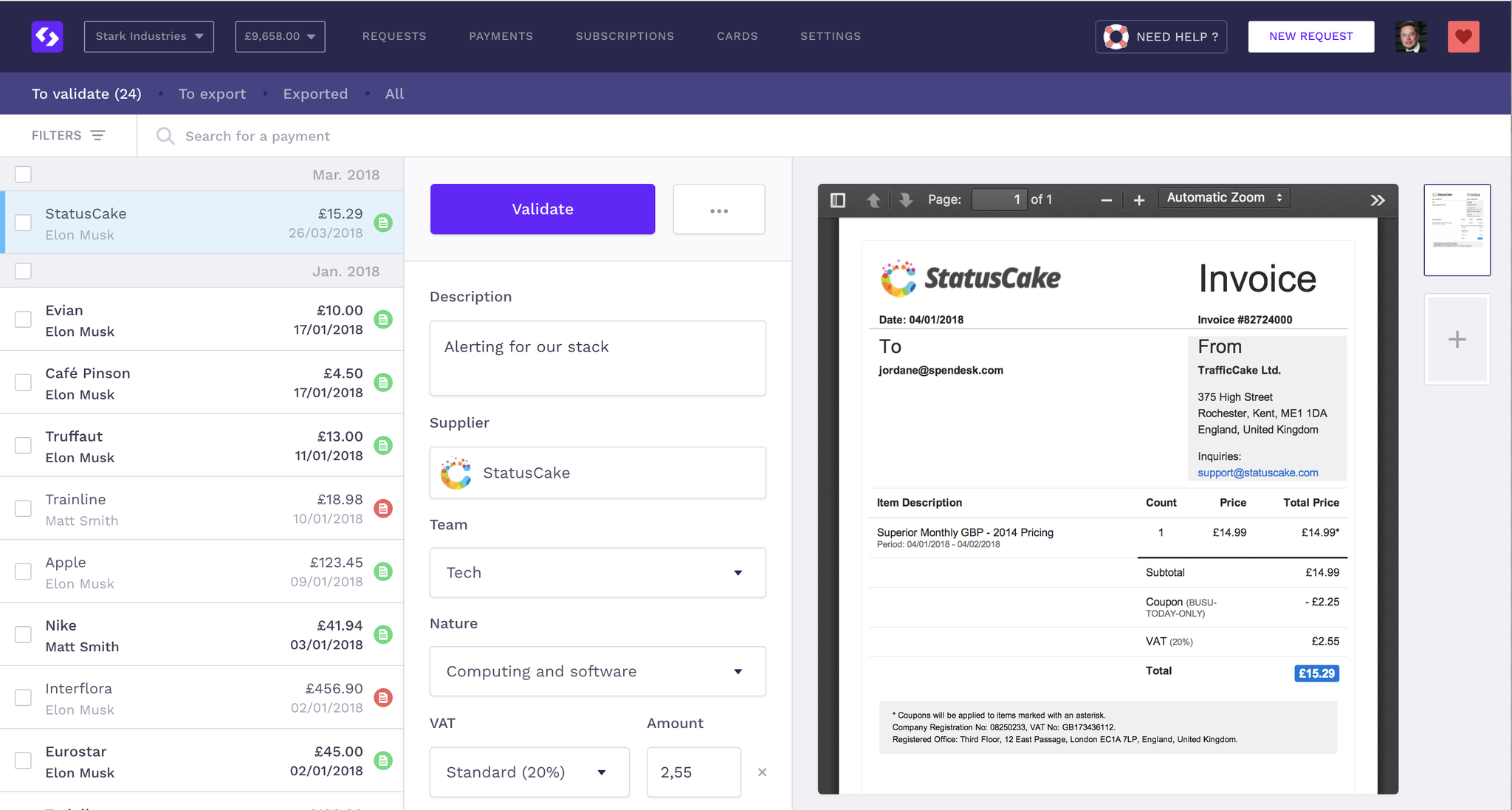 ---
We are launching this feature in preview mode for a limited number of users.
To become an early adopter click below!
---
Bookkeeping in 3 simple steps
1. Check and edit
When a new payment is made, you will be able to view it, check that the information provided is correct (supplier, rate and type of VAT, type of payment, analytical code ...) and edit it if necessary.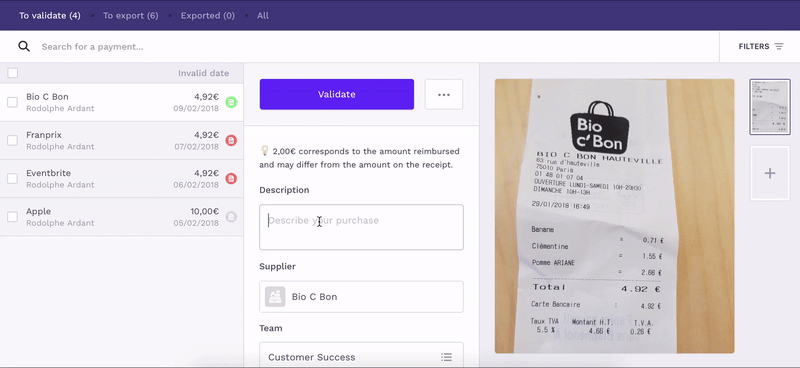 Tip: If you still have questions about the information provided or if the receipt is not valid/missing, you can send an email to the person who made the expense or mark the payment as unread by clicking on the envelope button at the top of the panel. 💌
**
**
2. Validate
Once the information has been verified, you can click on the "Validate" button. This allows you to freeze the payment (the information can no longer be edited) and to label it as "Validated" so you can export it later.
Should you need to make changes to an already validated payment, do not worry, simply hover above the "Validated" button and click on "Undo" to unfreeze the information.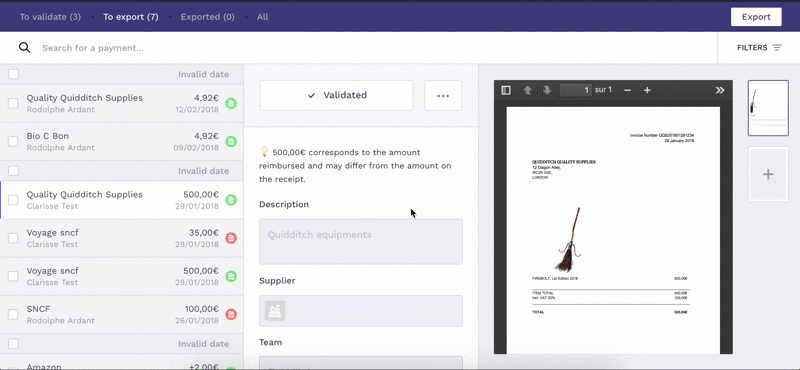 Tip: Even if you have validated (or validated and exported) a payment which was missing an invoice, the person who made the purchase will still be able to add it later. 😉 We will notify you of this change by reverting the payment as unread.
3. Export
To save time on bookkeeping, Spendesk allows you to export validated payments in .csv format. Once the payments are validated (all of them or only some), you can export them by clicking on the "Export" button.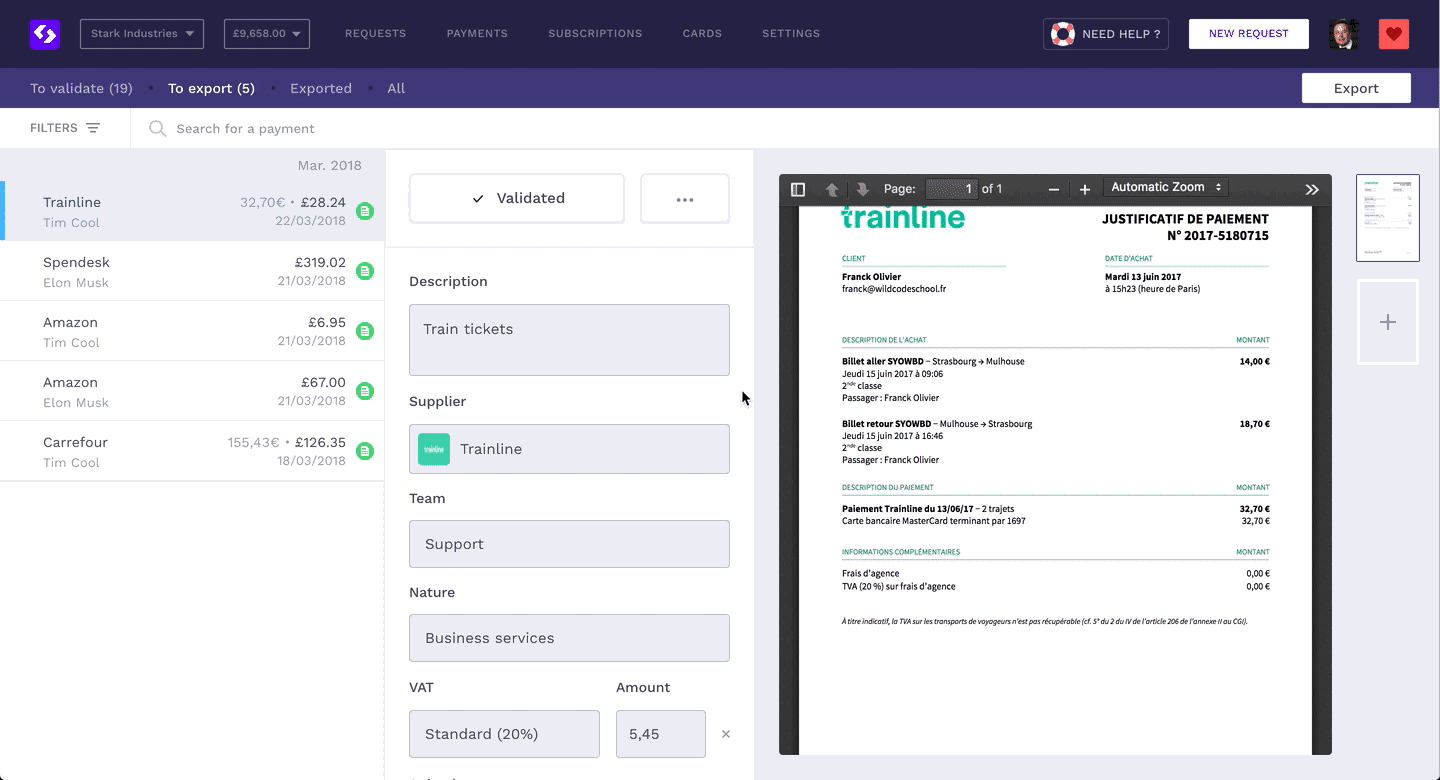 Choose the time period of your export. If you are doing your monthly closing, you can select "last month" as your export period for example.
The export folder contains several files:
A bank journal in .csv format containing all the transactions for your selected period, whether validated or not. You will find one line per payment (2 lines if a conversion fee applies) with all the information possible: team, mission, amount, currency, VAT, expense account etc.

A purchase journal in .csv format containing all the validated payments for your selected period. Your bookkeeping file is ready! Each payment is broken down into several debit and credit lines:

Pre-tax amount on the debit account - charge account (600XXX)

VAT amount on the debit account - VAT account (445XXX)

A credit line - bank account (512XXX)

All of the invoices are renamed according to the naming convention that you will have defined.
Tips:
Exported payments appear in the "Exported" tab of your Payment Inbox.

If any invoice is added after an export, a figure appears next on the "Exported" tab.
Save time processing supplier payments with the Spendesk's "inbox" view
Our "inbox" bookkeeping allows you to save a great deal of time especially during the closing period and also to have a better traceability on the bookkeeping itself.
All information is centralised and easily accessible

The payments to be verified and validated are clearly visible

Validating and exporting payments becomes a piece of cake

You can track newly-uploaded invoices on payments that have already been exported
---
We are launching this feature in preview mode for a limited number of users.
To become an early adopter click below!
---
Not a Spendesk user yet?
Check out our video or schedule a demo: