Spendesk news: accounts payable awards, new integrations
Article
It's been a busy few months at Spendesk. So busy, in fact, that we haven't provided an update on what's actually been going on.
Time to fix that. Let's start this off with some very happy news.
Spendesk wins two new awards from FinancesOnline
We're very excited to have received two awards from experts in business technology FinancesOnline. In particular, we're thrilled to be named Great User Experience 2018 Award winners.
Spendesk's vision is to remove the pain and hassle from paying for things at work. That means building a product that, above all, is easy and enjoyable to use. It's wonderful to know that major industry reviewers recognised us under their best accounts payable software category.
Spendesk was also named an industry Rising Star for 2018 and was ranked among the very best in an accounting software analysis by FinancesOnline. We're truly proud of how far we've come in just two years.

FinancesOnline is a highly respected and proven reviewer in the finance industry. It means so much to be rewarded by a group that knows what it's talking about.
Learn more about these awards and read the Spendesk overview prepared by FinancesOnline.
CEO Rodolphe wins Entrepreneur of the Year award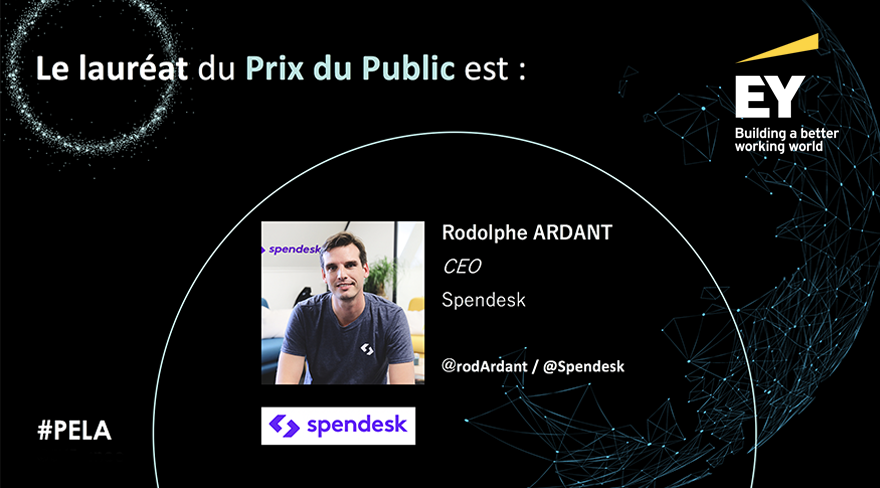 We're also very happy to announce that Rodolphe Ardant, Spendesk CEO, won the Prix du Public (Ile-de-France) as part of Ernst & Young's Entrepreneur of the Year award last month. This prize was voted on by the public, and it feels great to have so many people behind us as we work to fix work payments for good!
Awards aren't everything, but the last few months have been kind to us.
Product updates: integrations, custom exports, and easy expenses
We haven't shared a product update post in awhile. In case you're feeling left in the dark, here's what's new in Spendesk since the last time we shared.
Slack integration for quicker approvals
Want more control over employee spending? Of course. But you also need a process that works in real time and keeps the whole team happy.
Otherwise, you might as well just stick the company credit card. (PS, don't do that. They're hopeless).
To keep the spending process fluid, you can now receive a Slack notification when you're being asked to approve a payment. So you can have complete control, without keeping your team waiting.
And speaking of integrations…
Two-way Xero integration to reconcile your accounts
Having a simple, cloud-based expense management tool is wonderful. It's now so much easier to track every payment, assign it to the right user and team, and see what's being spent, where.
But after the spending comes the accounts. And finance teams need an easy way to send all this categorised information to accountants or accounting tools.

That's why Xero users can now integrate their accounts with Spendesk, and vice versa. You assign each expense an accounting code, and spending is then logged in your Xero account exactly where it should be.
Since a huge part of accounting is just putting payments where they need to be, this is a big efficiency win.
You can read more about our Xero integration here.
Customisable Excel exports to use for accounting
Obviously, not every Spendesk customer also uses Xero. To make it almost as easy for these users to handle their accounts, you can customise your Excel exports.
So if you need specific rows and columns to fit your own accounting setup, you can easily have them.
Submit your expenses on the go
We're still not big fans of out-of-pocket expenses. But sometimes they're just the most practical way to operate.
To make sure that employees get reimbursed fully - and that no documents go missing in the meantime - you can submit receipts and expenses with the Spendesk app.
When your salesperson takes a client out for coffee, they simply record the amount they spent, take a photo of the receipt, and send it in. No need for paper expense reports!
Just one more small step towards killing the painful expense report process altogether.