Inside Spendesk: June 2019 Update
Article
With the rising importance of the internet economy, modern businesses have been taking advantage of the convenience and savings they find online.
Things like travel spending, administrative expenses, digital advertising and software subscriptions are all now digital, which means companies today have to process hundreds of online payments each month.
Keeping up with all of that bookkeeping and administration can be a nightmare Luckily, we're here to help! 👉
Revolutionizing receipt collection
We're beyond excited to unveil Collect by Spendesk, a new way to automatically retrieve and store all your digital receipts.
We've all experienced the hassle of trying to find the right receipt for each and every work expense (usually on a Friday afternoon at the end of the month).
With Collect, this pain is now a thing of the past. Simply select your suppliers, enter your account details and we'll digitally retrieve each receipt going forward. Even better, receipts are organized by date and supplier for easy retrieval within your Collect account.
There's currently a waitlist to access Collect. Save your spot in line here.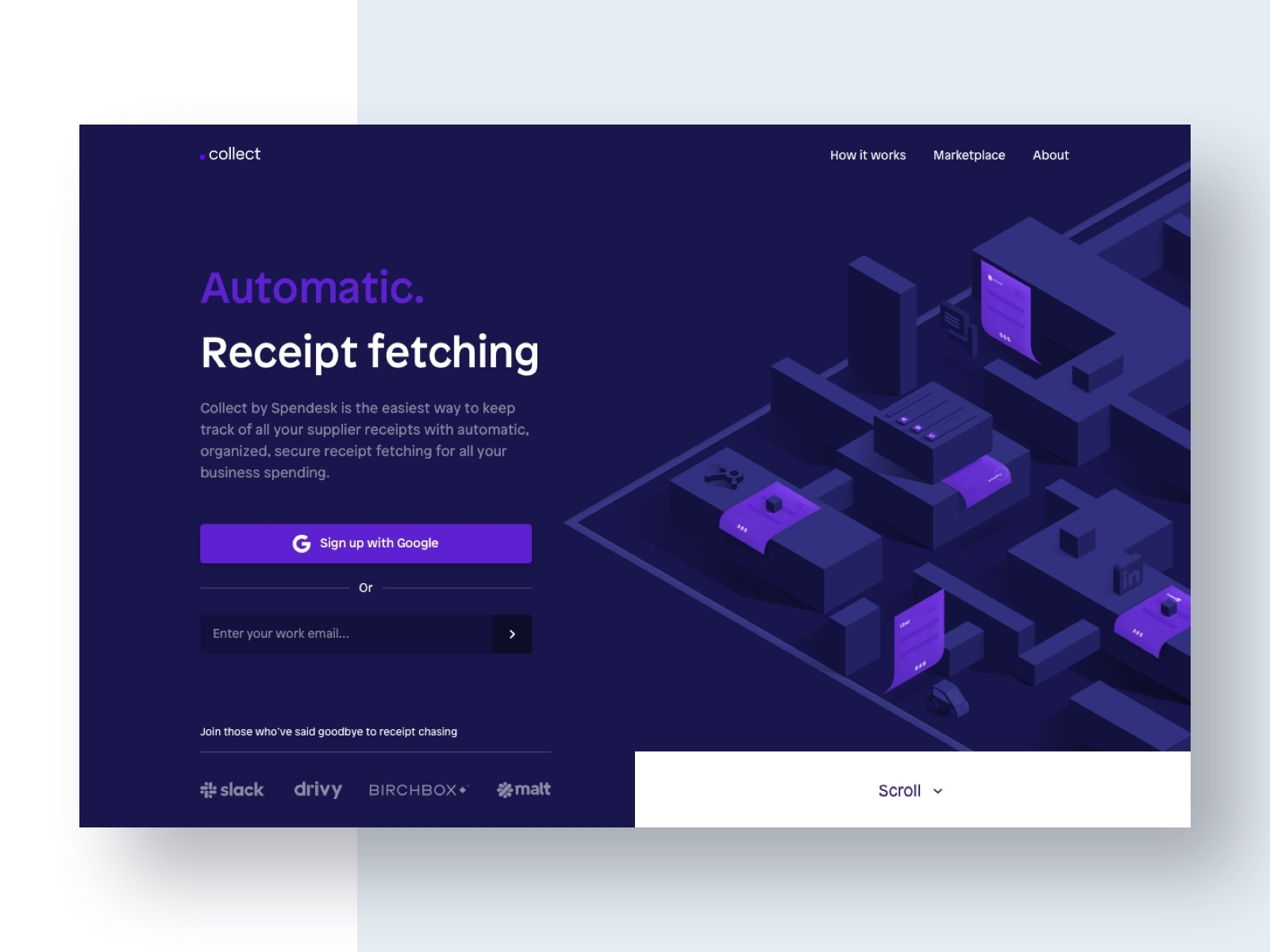 What's new in Spendesk?
When you're preparing a purchase journal for bookkeeping purposes, you need the right information to get the job done.
After the launch of the Custom Export feature over the past month, we've been working on new features that make it easier to review your expenses and collect the receipts you need. Here are the latest features and product updates launched at Spendesk.
Effortless bookkeeping with Expense Inbox
If you manage accounting internally, you'll know how time-consuming it is to review and control expenses. At Spendesk, our mission is to help finance teams and accountants be more efficient in their work, and to automate as many of the tedious parts as possible.
Introducing a new way to review all company expenses: Expense Inbox
Our latest product improvement goes out to our beloved accountants and finance teams who will have access to one optimized view for reviewing expenses:
Sort your company's expenses with smart filters (i.e by expense account, type, VAT rate, supplier and more)

Check and control the selected expense information at a glance

Simply tick: ready for bulk export to your accounting system
Don't be disturbed when you're laying on the beach
Going on vacation soon? You deserve it! Have peace of mind while you're away from the office and let someone else approve company expenses!
You can temporarily grant your approval rights to a different user. You can easily take over again once when you're back at work.
To do so, follow these steps. And enjoy a peaceful summer break!
Motivate teammates with custom reminders
Even if chasing receipts is way easier with Spendesk, you will always have to deal with those rascals who forget to submit their receipts. Automatic reminders are cool, but you can now customize a message and send it in your name to boost receipt upload rate.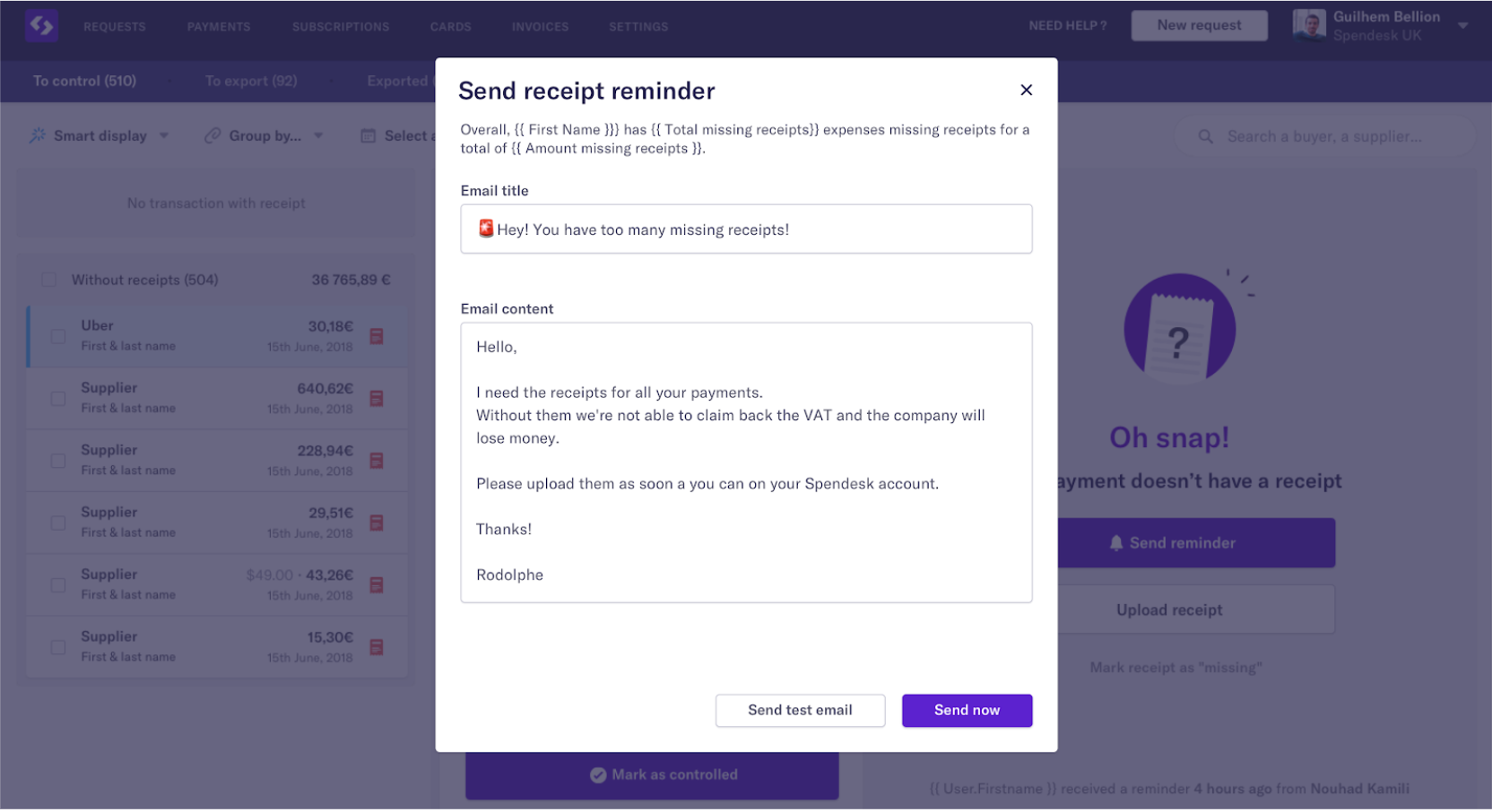 Mark a receipt as invalid
Great! But now that you've gathered a bunch of receipts, some of them might not be valid. It can happen to the best of us. 
In one click you can mark the receipt as invalid, and Spendesk will take care of the rest.
We'll send an email notification with explicit guidelines to the submitter. By highlighting the information required for a receipt to be valid, requesters have no more excuses!
Gathering for growth
The Spendesk Growth team likes to say that everything is possible with technique, creativity and will! A multidisciplinary team composed of technical marketers and growth engineers, some like to compare them to pirates, but they prefer to think of themselves like explorers.
This month, the Spendesk Growth Team organized the first growth keynote in Paris. The idea was not to show off hacks, but to present real projects and creative ways to tackle key problems:
HumanGen: A lead sourcing machine built to support our outbound strategy and our scaling sales team

Sales Magic: Boosting conversion rates with sales automation and personalization at scale

Collect by Spendesk: A stand-alone product for automatic receipt fetching

Start.Spendesk: A dynamic landing page to welcome new customers and catch key information from the very beginning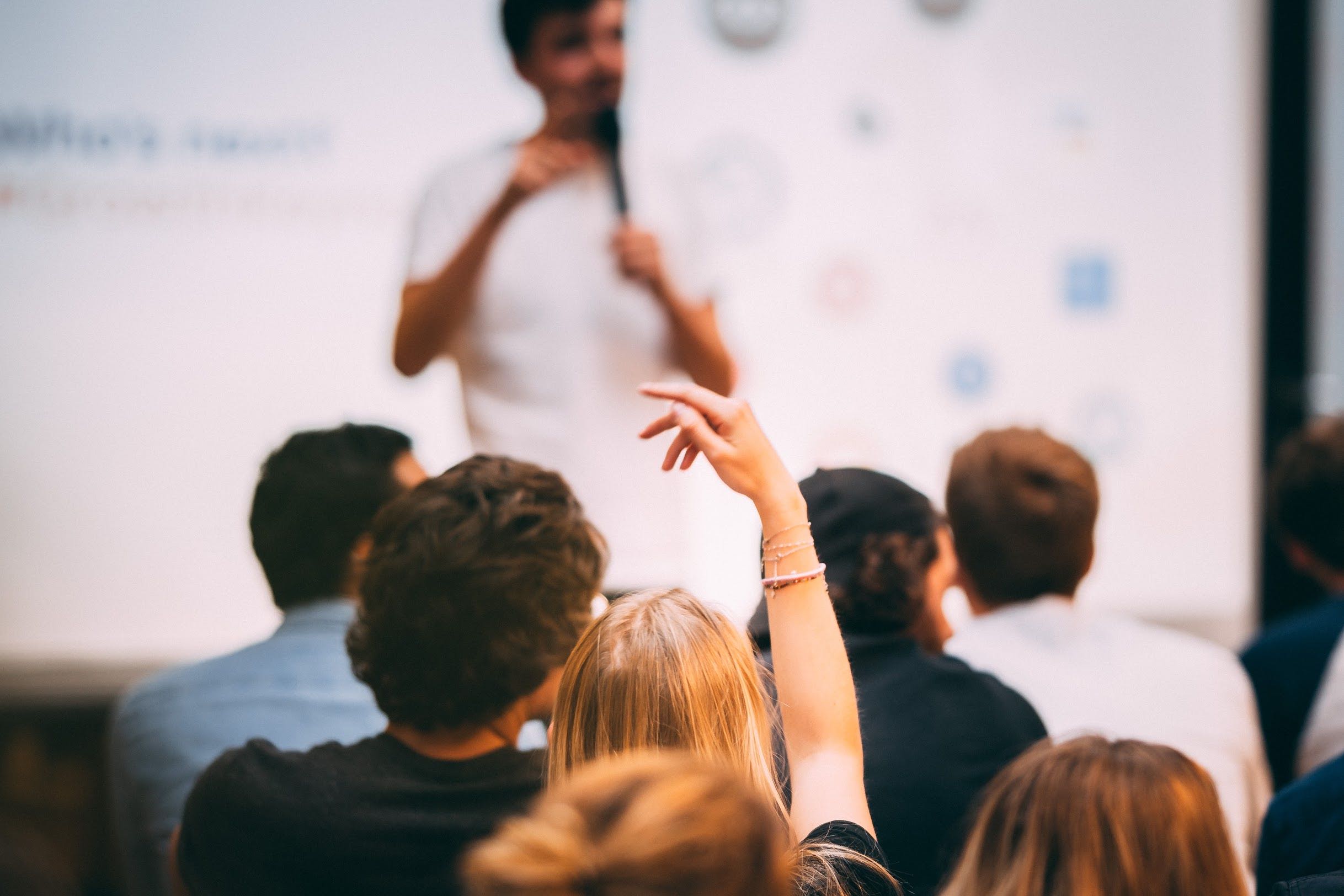 Celebrating 3 years of love <3
Spendesk turned three this year, and to mark the occasion we wanted to say thank you to all of our customers who have been there since the beginning!
That's why this month we sent our longest-standing customers  a delicious gift package as a small token of our appreciation.
We couldn't have come this far without you. And we can't wait to continue building the future of payments at work together!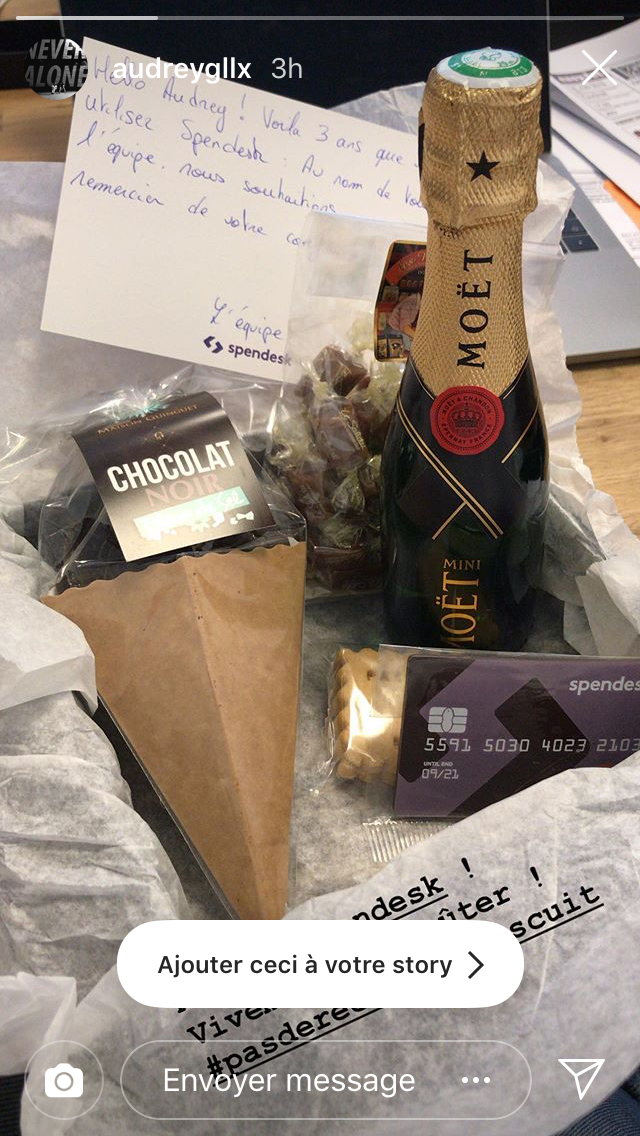 That's all for this month folks!  Enjoy your summer holidays and we'll check in again soon.