Working at Spendesk: It's a family affair.
Article
What happens when you really love your job? You recruit your family to come work with you.
And that's exactly what happened for our two pairs of Spendesk sisters: Erleta and Kos Lenjani, and Pauline and Emilia Hertkorn.
When it comes to working with siblings, people tend to react in one of two ways. It's either: "You get to work with your sister? That must be wonderful!" with sparkles in their eyes or "Oh… how can you live AND work together?" accompanied by a haunted look.
Despite the 24/7 work talk (which can naturally happen sometimes) and borrowing each other's clothes, our Spendesk Sisters say there are a lot of sweet advantages of working together for the same company.
Here, they share some of the joys — and peculiarities — of working with your sibling.
Meet the Spendesk Sisters!
Kosovare Lenjani: Account Executive, UK team

Erleta Lenjani: Strategic Partnership Manager, UK team

Pauline Hertkorn: Customer Success Associate, DE team

Emilia Hertkorn: Customer Success Manager, DE team
Who was the first to join Spendesk?
Kos: I joined two and a half years ago and Erleta joined 8-10 months ago. The way that Erleta got introduced to Spendesk was actually interesting: we were at a bar with some fellow Spendeskers and Erleta was there with a couple of mutual friends. She got talking to my colleagues and they asked her to come work with us. So here she is today!
Emilia: I started working at Spendesk three years ago. Last year during Christmas dinner, I found out that Pauline was looking for a part-time job. We were looking for somebody to help out in the Customer Success team. So it was definitely a win-win.
Any particular reason why you invited your sister to apply?
Kos: I kind of pushed Erleta to work at Spendesk because we'd worked together previously at another company, and she brought in a lot of revenue. We were at that stage in the UK team where we were growing (we are still growing), and I knew that my sister was looking for a new opportunity.
From my side, joining Spendesk was a no-brainer. From the experience that she could gain from us, the career development that she would have at Spendesk. And I also knew that she would be a great addition to the team and to the company.
[Erleta, Kos and fellow Spendeskers from the UK team.]
What do you like about working together in the same company?
Emilia: I'm very happy to see her more now. As she's working remotely and I actually don't even know where she is, at least I get to speak to her more and know that she's fine and still alive. That's actually a very nice advantage :)
Working together is super nice; the relationship is also very easy and transparent.
Pauline: Starting a new position with your sister is actually really nice. Because when your boss is your sister, you're not really hesitant with asking any questions. Also, since we don't live together, it's lovely to see each other more often.
[Emilia & Pauline in a zoom call with the Customer Success team.]
Erleta: I love it, personally. It's like having your best friend at work. I think it's really nice to not have communication barriers. You get things done a lot quicker; information is passed on a lot more transparently.
Also, if I have 10 minutes to kind of de-stress, I can just ask her "Which room are you in?" Then I can go and chase her.
What's a skill your sister has at work that you admire?
Emilia: Pauline's working with the whole CS team and everybody speaks different languages… So does she. As she speaks 5 different languages, it's easy for her to connect with everyone. She also has very nice communication skills and the most important thing is that I can 100% rely on her.
She's also very smart, so I know that she can get the job done perfectly.
Pauline: I think a big skill my sister has is giving her opinion. She's been working for Spendesk for such a long time, so she has a very good knowledge of the whole product, company and the team. I'm very proud of her.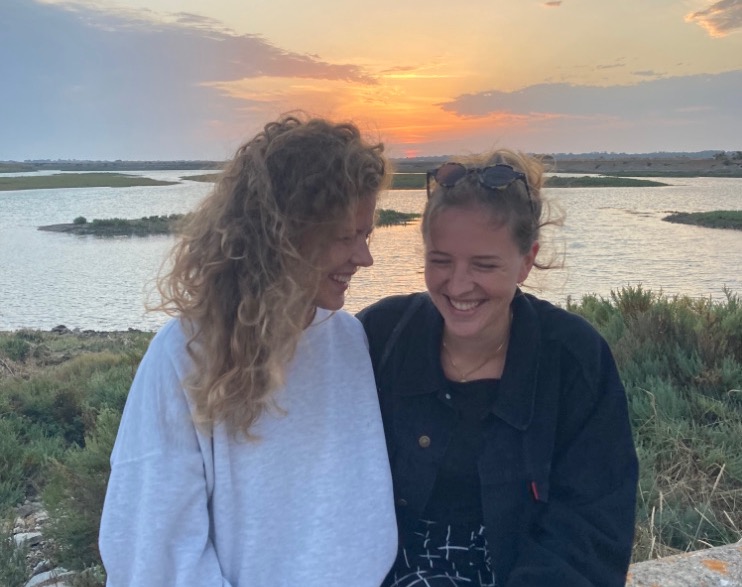 [The Hertkorn sisters: Pauline (left) & Emilia (right).]
Kos: A skill that I admire from Erleta would be her great presentation skills. Just the way she articulates herself and presents ideas. I'm always looking to get better at presenting, demonstrating, and telling a story, so I definitely get lots of tips from her.
Erleta: I admire that Kos is very assertive. When she thinks that something's not right, she'll make it clear and she'll justify why. She doesn't shy away from difficult questions or requests. If she needs something, she'll make sure that she gets it. She's a go-getter - you can't go wrong with a go-getter!
[The Lenjani sisters: Erleta (left) & Kos (right).]
Do you recommend that people invite their siblings to work at Spendesk?
Emilia: If I had to rate it, it's definitely a 10 out of 10. Szymon (our Head of Talent Acquisition) has already tried to recruit our older sister! It's definitely a  cool experience to work with your sister.
Kos: I'd say 11 out of 10. I think it goes beyond the typical scale.
Pauline: If you have a cool sibling then… definitely invite them to work with you!
So, if you're craving a little more family fun at work — maybe it's time you consider working with your sibling! Better yet, do it at Spendesk!