Things we've tried to get closer while apart
Article
We all know the energizing effect your favorite tunes can have when played at full volume. On a difficult day - for instance, when a worldwide pandemic threatens the very existence of humanity - it can really make a difference and help you stay focused while working from home alone.
That's also what a fellow Spendesker (who prefers not to be referred to by name) thought last week when he joined a company wide call. He was a little late and forgot to mute his microphone, so the entire team enjoyed his upbeat soundtrack following the remarks of the leadership team on how we were planning to cope with the challenges ahead.
Certainly, tech companies are very lucky in their ability to quickly adapt to the new situation. But same as for most companies, this is the first time that Spendesk is working fully remote, and some routines have yet to be established.
What we can already say with certainty though: there's no need to worry about our culture as long as we keep the flexible and creative vibe that emerged in the first few days of this new situation. It was surprising to see how we managed to be even more cohesive – despite the physical distance between us.
In this article we want to share some of the initiatives we've launched to help the team bond and to secure our mental health in these challenging times. We're hoping to get inspired by other teams, too!
Take your breaks – with a monthly zen budget
One of the first things you discover when working from home all day is the lack of boundaries. If there's hardly any spatial distance between work and private life anymore, it's important to keep those boundaries in your head and take your breaks. Even more so if your private life is suddenly confined to a windowless shack and/or you're now surrounded by your loved ones 24/7.
Take your breaks. Get distracted. At Spendesk, we now have a monthly budget on our Spendesk card to use for meditation apps, online yoga classes or to learn a new language. Stay home, but also: stay healthy.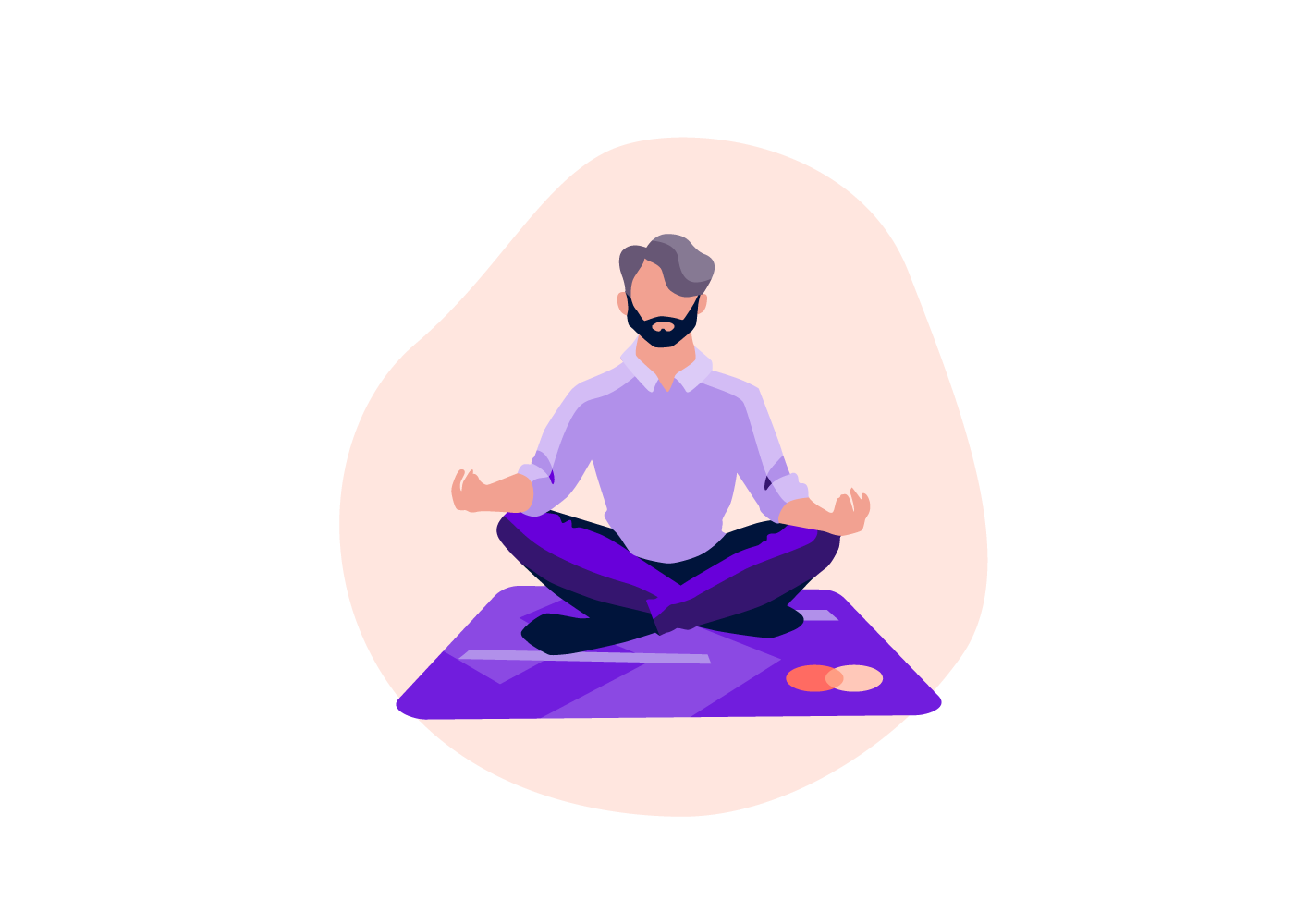 Drink more coffee
Our culture team certainly had no idea what was going to happen when they introduced random coffees at Spendesk a few weeks ago. Twice a week a Slack app randomly connects us with a teammate to take a break together. That was the case before, and it's just perfect now that we don't see each other in the office anymore.
In the past, people often claimed that social interactions online were not "real". Well, what if suddenly having a virtual cup of joe with a coworker is as real as it gets? We wouldn't want to miss it right now.
By the way, those breaks are not necessarily limited to having coffee. Rumor has it that two Spendeskers used the occasion to watch an episode of "Friends" together last week.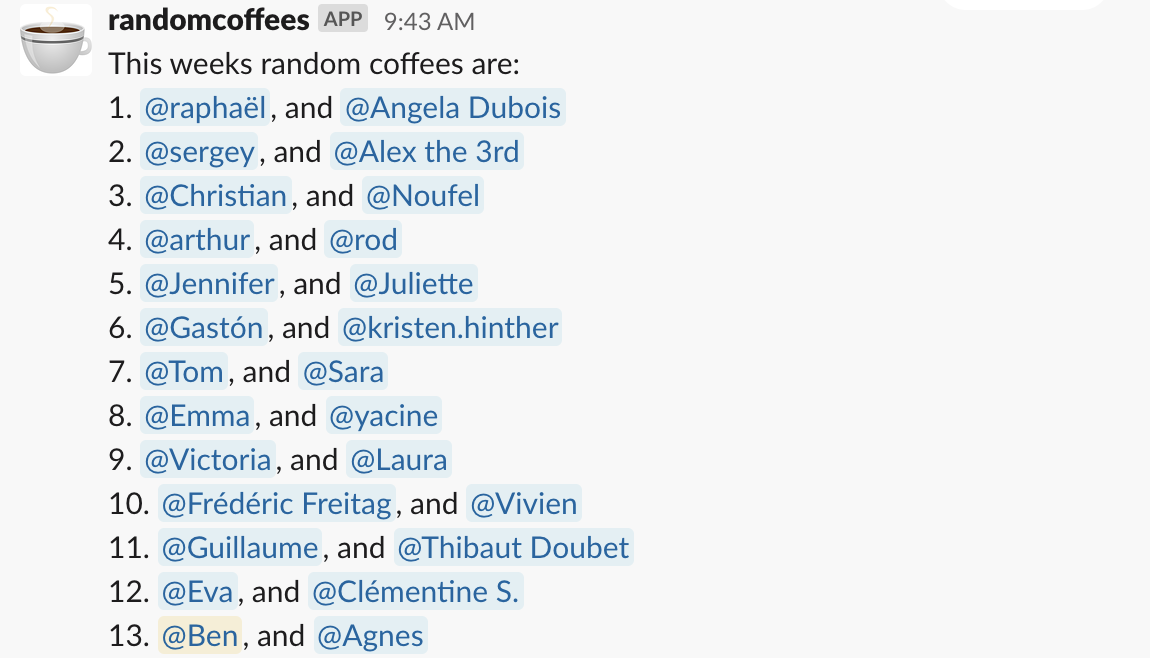 Drink more than just coffee
When the world around you is changing rapidly, it's important to keep at least a few certainties in life. For Spendesk, one of them is that every Thursday after work, there's beer. Since the very beginning of the company, Thursday beers have been the moment of the week to welcome newcomers and to cement old bonds, to pass on old stories and to write new ones.
Under normal circumstances, it wouldn't be advisable to drink at home alone in front of your computer. But what's normal these days? So we decided to take Thursday beers online. And the early data collected doesn't indicate a massive drop in consumption compared to past Thursdays.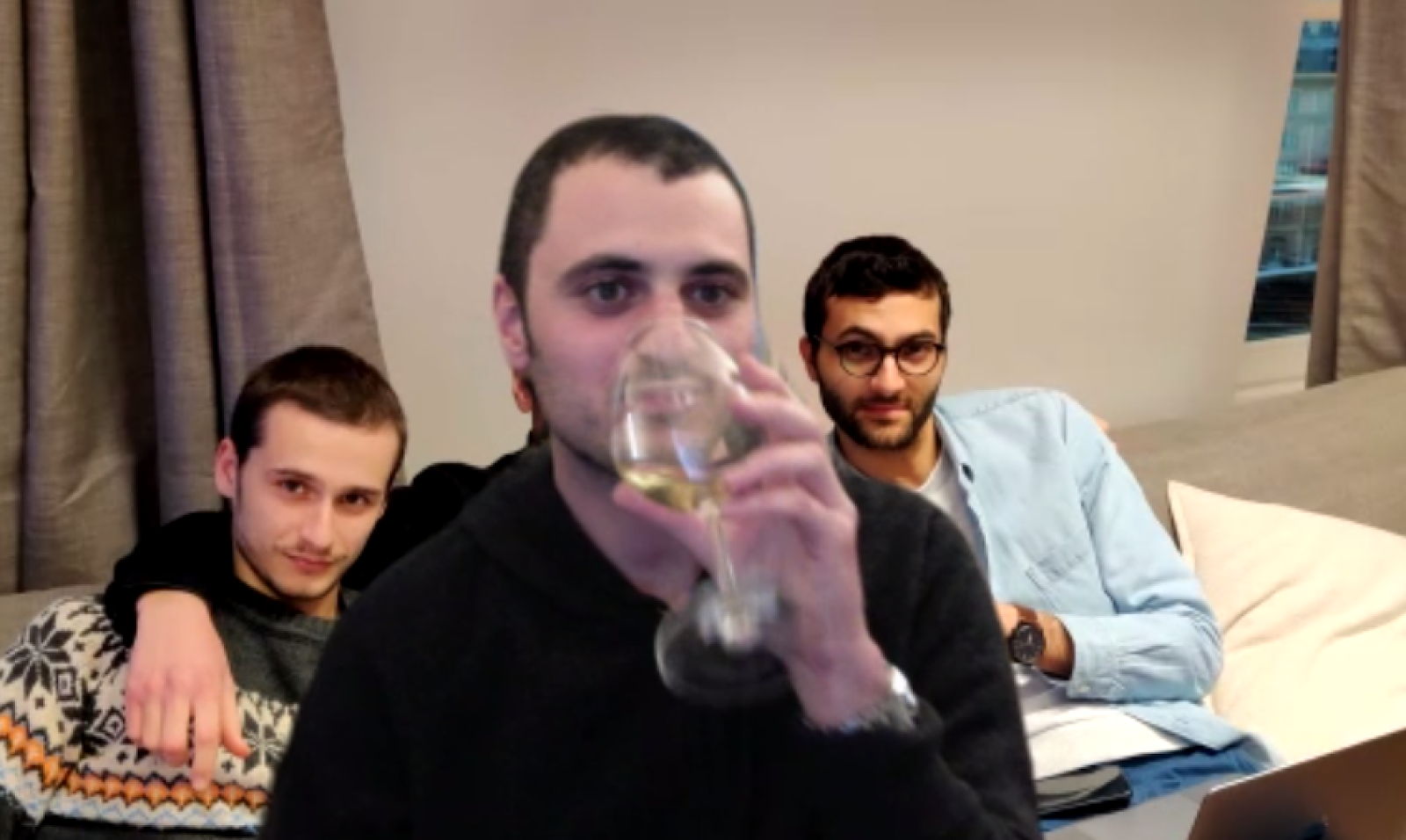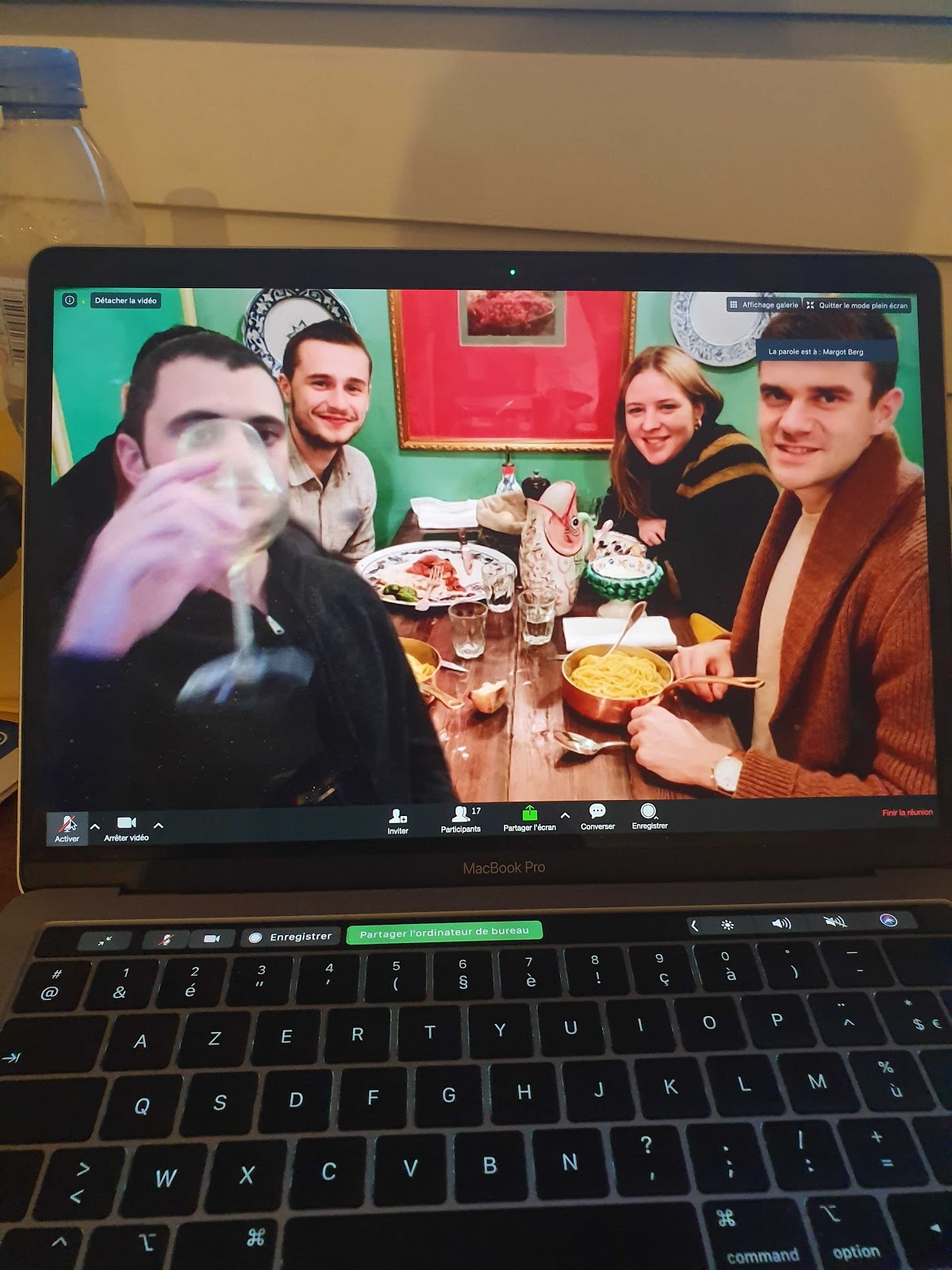 See the bigger picture
At some point early last week, when the lockdown was imminent for our headquarters in France, people started spreading out. Many Spendeskers went home to their families, and as we're an international company, home can be quite far.
To keep track (and just for fun) we created a map to see where everyone is. It reminds us that, despite borders closing and the world going mad, we still embrace the diverse backgrounds and cultural differences in our team.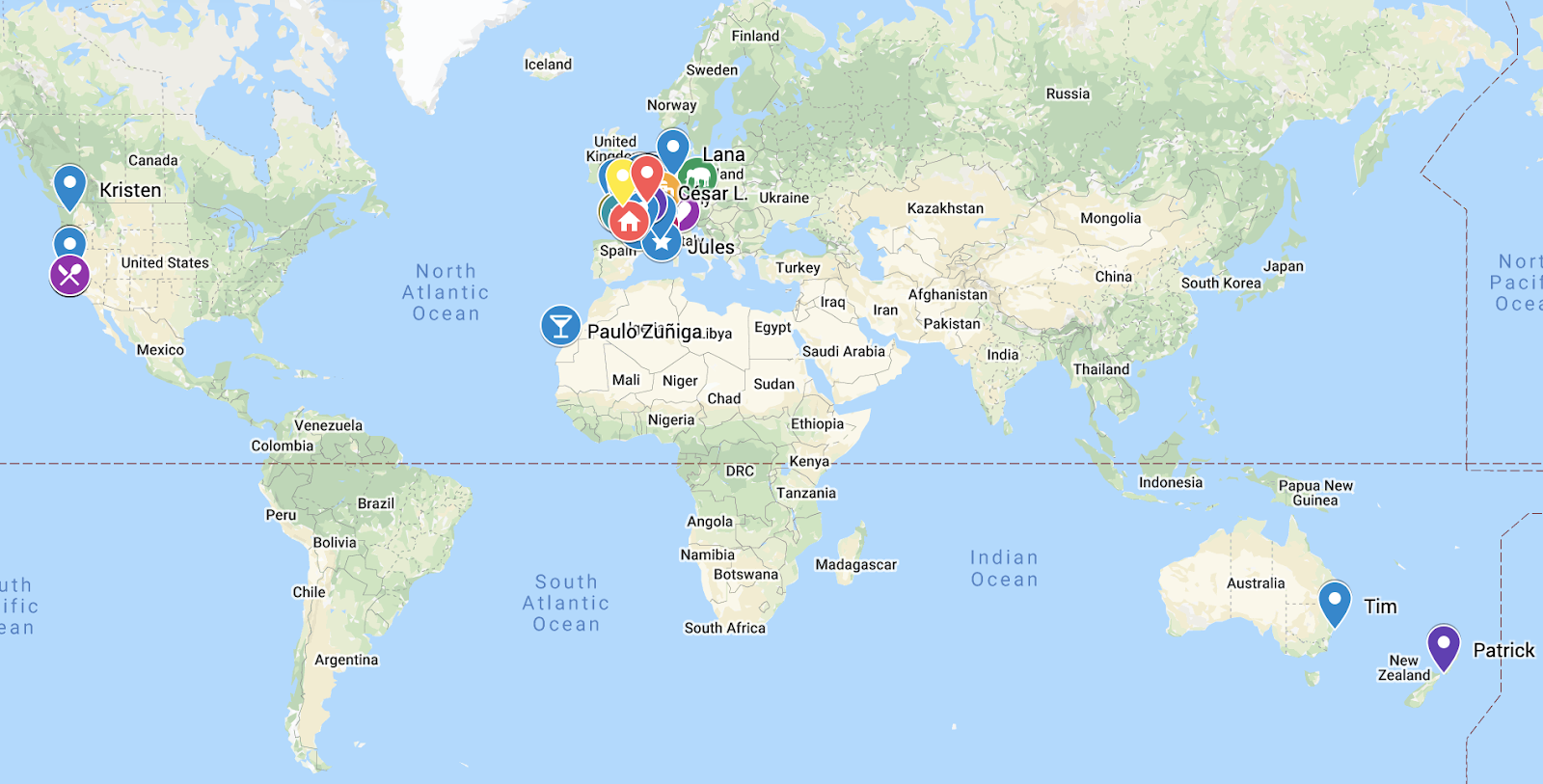 Get creative with onboarding
This was also the first time we had to onboard newcomers completely remote. Usually new Spendeskers spend four weeks at our HQ in Paris to absorb the culture and meet the team. As this doesn't make much sense with the office being closed, we tried to recreate the experience online.
All onboarding workshops are done via Zoom, and we have much more coffee and at least as many beers (see above). In short, we're doing everything we can to help new Spendeskers in these first crucial weeks.
And we even found a solution for our traditional onboarding group photo: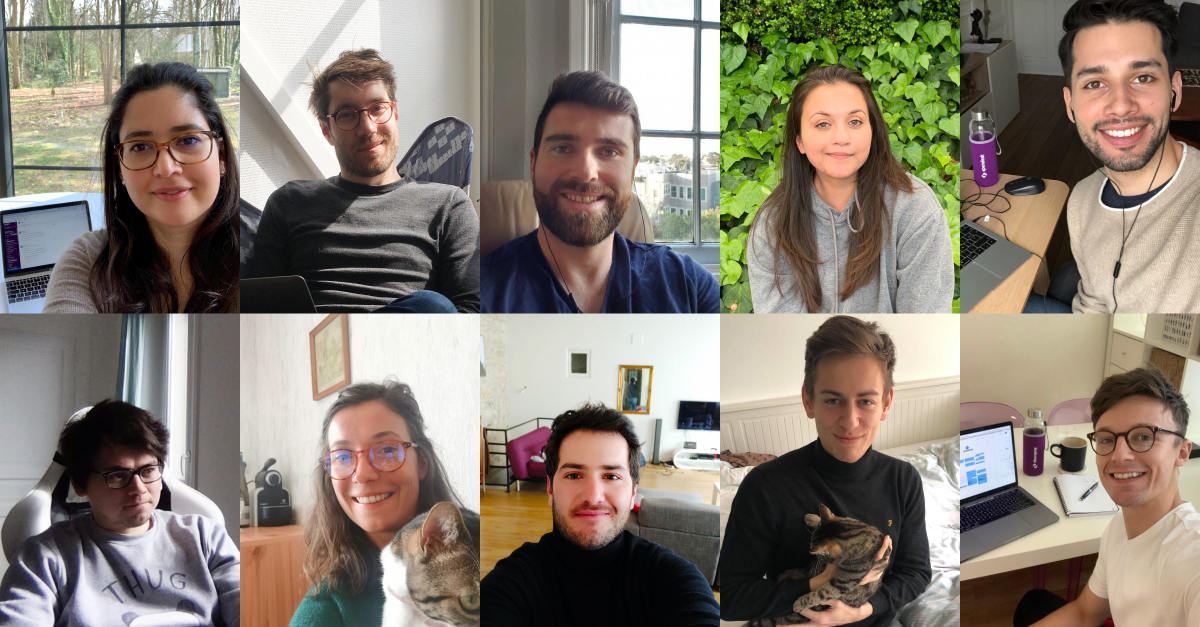 Challenge yourself
Spendeskers aren't overly competitive, at least not more than others. But a little challenge here and there helps us to stay connected.
We've had a couple these past days:
Every night at 6pm, all hell breaks loose in our gif channel.

We've shared our remote setups.

We had a competition to find the best socks.

We've played pictionary at lunch (you don't know how bad you are at drawing before you've played against the design team).

And we asked to send photos of the best (looking) meals we've cooked.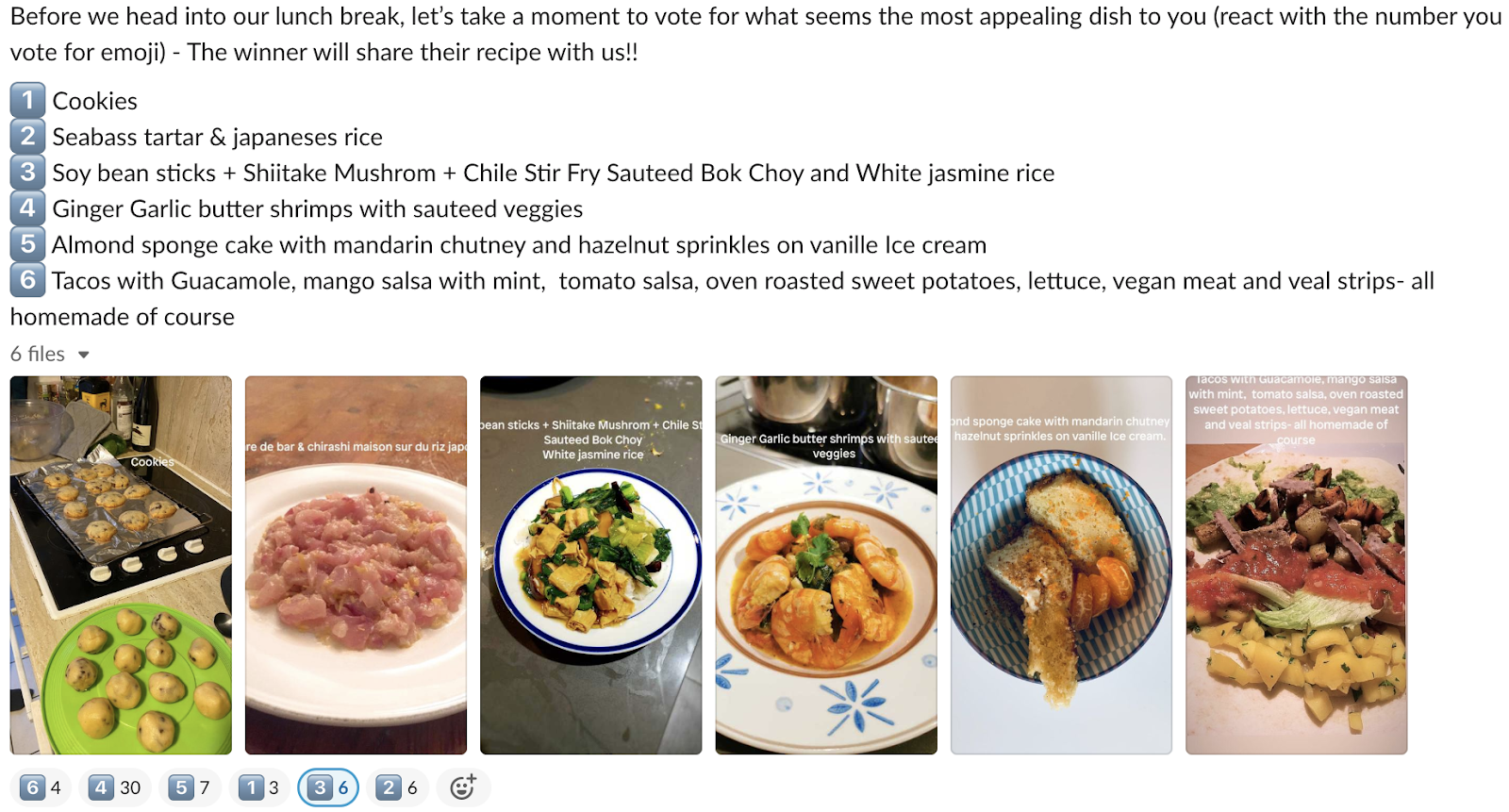 For recipes, please write to hello@spendesk.com.
Make space
Our common area, mostly referred to as "The Snacky", has become somewhat an institution at Spendesk. It's not only a place to stock up on snacks, but also a place where you would always find a Spendesker to have a chat with, no matter the time of day. You could discuss a project you're currently working on, as well as debate the ripeness of this week's banana delivery.
We moved offices many times over the years, but there has always been a Snacky, and there always will be. As we currently don't have physical access to it, we created a virtual Snacky for people to hang out via Zoom, along with a couple of other virtual rooms (e.g. for newcomers to introduce themselves).
Share more than just your screen
Sharing is caring. We're taking this motto quite seriously now at Spendesk. It's better to over-communicate these days than to be left in the dark not knowing what's going on in the company.
So we not only share the latest about projects, but also tips on remote working, life hacks (e.g. how to best fill out your police permission form to go food shopping), our favorite playlists or, as Mbappe can't score these days, some of the best goals of Ronaldinho for Paris Saint-Germain.
Get more advice and strategies to handle remote work