How to work from home: 47 resources, tips & tools for remote teams
Article
Remote work is a particularly hot issue at the moment. It was already a rising trend, increasing by 400% in the past decade.
And recent events have meant that many companies have gone fully remote, practically overnight. Some without much preparation - just winging it.
The world is awash with interesting and insightful resources to help companies make this switch. And we've gathered some of the very best right here!
Plus, we've also added the tools we use on a daily basis. These let us steer clear of old-fashioned, inflexible processes and keep our company open and accessible for employees everywhere.
Let us begin!
Resources to work from home effectively
We'll get to tools, apps, and software next. But to begin, here are some excellent sources of inspiration and ideas for those moving to remote work for the first time.
Perhaps more importantly, you'll also find help for managing remote teams - no easy feat.
Books and ebooks
1. Hubstaff - No Excuses: The Definitive Guide to Managing a Remote Team
This is an ebook written by Hubstaff co-founder Dave Nevogt. It walks readers through the challenges and benefits of building a remote team, from the point of view of a company's founder. So it's not so much how to work from home and more how to set up your team for remote success.
Highlight
Dave's a philosophical thinker, and loves to explore and explain the motivations behind running a (remote) business:
Developing a deeply rooted reason for existence and hiring employees that agree with that "why" is the very first step to building a successful virtual team.
2. Basecamp - REMOTE: Office Not Required
This one is actually a physical book, available to purchase in Kindle, hardcover, and paperback format on Amazon.com. And if you have an Audible subscription, you can get it that way too.
[Note: As of writing this post, Basecamp were offering to wave the purchase price for digital copies.]
Chapter topics range from Why face-to-face meetings are overrated, to how remote work improves quality of output, to how to prevent staff from working too hard while remote.
Highlights
That's the great irony of allowing passionate people to work from home. A manager's natural instinct is to worry that her workers aren't getting enough work done. But the real threat is that they will wind up working too hard. And because the manager isn't sitting across from her worker anymore, she can't look in the person's eyes and see burnout.
3. Wrike - The Art of Staying Productive Even Across Distance
This ebook from project management tool Wrike is based on a survey of more than 1,000 international respondents. It highlights the fast-growing acceptance and embrace of remote work, thanks to statistics from this original study. Which is fascinating to read.
Then, the second half of the book presents tips and strategies for working effectively at a distance. And there are a lot of good ones within.
Highlights
The largest reason that respondents valued working from home is time.
For more than a third of respondents, the answer is – time. The saved time that you can spend with your friends and loved ones, or on personal projects is what matters the most.
4. Zapier - The Ultimate Guide to Remote Work
Here's another ebook, this time from the automation experts at Zapier. [Bonus: it's ungated!] This one contains input and real-life stories from the company's 200+ remote workers - mostly CEO Wade Foster. It explains how they built a successful and popular company based on distributed labor from the start.
Highlights
Wade offers his traits for effective remote workers: propensity towards action, ability to prioritize, proficient writing, trustworthy, and a local support system. And obviously, he goes into far more detail than we can in this post.
Blog posts and pages
5. The Next Web - 7 habits of exceptionally successful remote employees
This is ann older post (from 2015), but it gives good, simple, and practical advice to people and teams working remotely for the first time. Lauren Maffeo details her experience and takeaways from joining Aha!, a fully remote company. For her, and for many of her colleagues, this was all brand new.
Highlights
A goal-first approach to work is essential for remote employees. This approach keeps everyone aligned and focused on building what matters. It also gives you clarity to start each day with purpose. The secret to a productive team is its shared sense of mission amongst all colleagues. This is doubly true for remote teams.
6. Visme - 20 Working From Home Tips From Visme's Remote Team
Here's another very good article from a team that's been practising remote work for a long time. Visme's team is distributed across 12 countries, and even those at head office work from home once a week. So their tips and tricks have been honed through experience.
The tips are nicely displayed in a process infographic, so it's an easy skim-read.
Highlights
Pomodoro timing can be a great way to improve concentration and get tasks done.
7. Hotjar - Tips for remote working
This is actually a page from Hotjar's internal wiki, which the company has made public. What makes that particularly interesting? Hotjar has been a 100% remote company for some time now. So its tips for remote working are more compelling than most.
Plus, you can surf through all of Hotjar's public wiki pages. See how they've structured their knowledge base to be useful for a team that's - once again - 100% remote.
Highlights
If you cannot focus: stop working, go out to clear your mind. Solutions will come to you when you're not in front of a desk.
8. Atlassian - 5 tips for ramping up on remote work in a hurry
Of all the posts and books on this list, this piece is probably the most "basic." Sarah Goff-Dupont presents five quick best practices, again from the point of view of someone who's been there.
But while they may be simple, the post is a pleasure to read. Anyone who's about to embark on a remote journey will absolutely learn value insights, and everyone else will have a great time reading.
Highlights
The post is full of some pretty great language:
If you think of it in terms of Tuckman's stages of team development, suddenly shifting to remote en masse throws your team into "storming" mode. Confusion and frustration abound, and everything feels twice as hard as it should.
9. Tripwire - Working from Home during COVID-19? What You and Your Organization Need to Consider
This relatively short post sets out the data and security concerns you need to think about for your remote teams. Nothing spooky or overly serious - but issues that can crop up if you're not properly prepared.
It's specifically aimed for companies suddenly dealing with remote workers thanks to coronavirus. But the lessons make sense whether you're reading it in March 2020, 2022, or beyond.
Highlights
It's full of important questions to consider - many of which you didn't think about until now:
Are employees able to browse to malicious sites from home, or are controls in place to prevent them? Microsoft released 115 CVEs in March. Will your employees get these updates automatically?
10. Trello - A Remote Work Guide, For Parents
Here's one with a refreshing point of difference. Remote work isn't only for those with no other responsibilities in life - especially during times of crisis.
Ariel Rule gives some excellent, practical advice for work-from-home parents who have to deal with both their own productivity, but their kids' constant presence too.
Highlights
What tends to happen for many parents who switch to working from home is the lines between work and home life, which used to be so clearly marked, get blurred for everyone. Where kids once thought of mom or dad being home as pure family time, now home is where parents are sometimes working, and playtime or outings have to wait for a scheduled time.
11. Hotjar - Our favorite virtual team-building activities to grow a strong remote team
As the name suggests, this is a fun list of activities to bring distributed team members closer together. You may not be face-to-face, but maintaining a cohesive company culture is still vital.
These are the games and activities that Hotjar's remote team has battle-tested and stands by.
Highlights
In a remote team, new hires can feel isolated from their co-workers, especially people they don't interact with on a regular basis. This task replaces typical in-office chit-chat as a way to get to know new teammates, and also combats the feeling of first-week confinement. When people find they share a common interest like a love of running, video games, or sourdough pizza, that immediately creates an affinity between them.
12. Trello - 4 Reasons Your Remote Team Needs Extra Empathy At Work
Lots of resources on this list focus more on the practical aspects of remote work. They're full of tips and tricks to be productive and effective while disconnected physically from your team.
This post explores the psychological effects a little more. It shows why companies should prioritize caring and empathy while their teams are far flung.
Work is normally a social space for most people, with lots of little conversations, shared laughs, and shared lunches. When everyone's working from home, that dynamic changes drastically. And employees may need a little help and understanding to adjust.
13. Spendesk - How to manage company spending for remote teams
This is a highly practical guide from our own blog. When most companies embrace remote working, they take care of the technological aspects right away. They have tools for video conferencing and project management, and they think about how they'll do their stand up meetings and one-on-ones.
But most don't think about the less glamorous aspects. Including spending. How will your team members pay for the things they need at work when they're far away from their managers and the finance team?
This article helps you figure that out.
Other
14. Wordpress.com - [Webinar] A Crash Course in Remote Management
If you've had enough of reading for now and want more multimedia in your life, Wordpress.com is here for you. Another remote company from the start, they have experience from managing distributed for years now.
This webinar introduces Nicole Sanchez from Vaya Consulting, and is full of very practical steps companies need to take to be more effective.
Highlights
Vaya encourages companies to re-define what specific tools and processes are for. Just because you have every software under the sun, it doesn't mean you know how to use them effectively: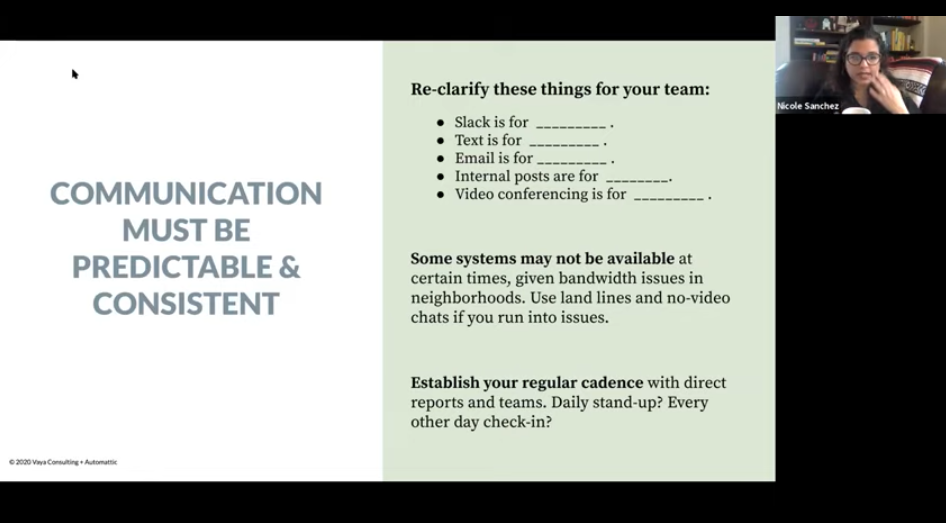 Great remote tools
On top of inspiring resources and ideas for team-building activities, there are plenty of excellent tools that can make working from home more manageable.
Below are a list of some of our favorites here at Spendesk, plus a few other tools and engagement ideas for your remote teams that have come recommended. If you're looking for more extensive or complete lists of tools, here are a few bonus resources:
15. Range - The software you need to lead a distributed engineering team
This is a great piece to read first. It's not a list of tools, but rather an explanation of the kinds of tools you'll need, and why each is important. And while it's aimed at engineering teams, pretty much any modern company could use the suite the article sets out.
16. Skillcrush - 27 Tools Every New Remote Worker Needs
As the title suggests, this post is specifically for workers to help them get their at-home environment up to scratch.
17. 6Q blog - Ultimate List of 90+ Tools for Managing a Remote Team
This list is more aimed at organizations trying to make remote a reality for their teams. It has lots of excellent tools, including some of the ones we'll talk about right now.
Collaboration and communication
We'll chunk up our list of tools into smaller categories to make it easier to navigate. So to start, here are the tools we love that let you interact with team members no matter where they are.
Everyone is talking about Zoom at the moment - and with good reason. The tool is fairly simple to use, works very well for teams, and lets anyone anywhere join a meeting or group discussion.
At Spendesk, we've used Zoom for years for larger team meetings, even when most people are in the room. Which means that, during periods where everyone is remote, nothing really changes. Our meetings are still accessible to staff and easy to participate in.
360Learning is an online learning platform that advocates collaborative learning, meaning you learn from your peers. The best thing about it is anyone can create a course to share knowledge with their team.
This means you'll be able to easily onboard new hires and train your team or customers remotely.
Unlike most LMS which are often clunky and require some technical training to operate, 360Learning's platform is drag and drop and works like a Wordpress blog. Everyone can declare a course they want to see created, volunteer to create it, actually create the course, and get feedback on every part of the course.
Which is far more effective than a simple survey, where most users just give a 7/10, because they've already forgotten the key content.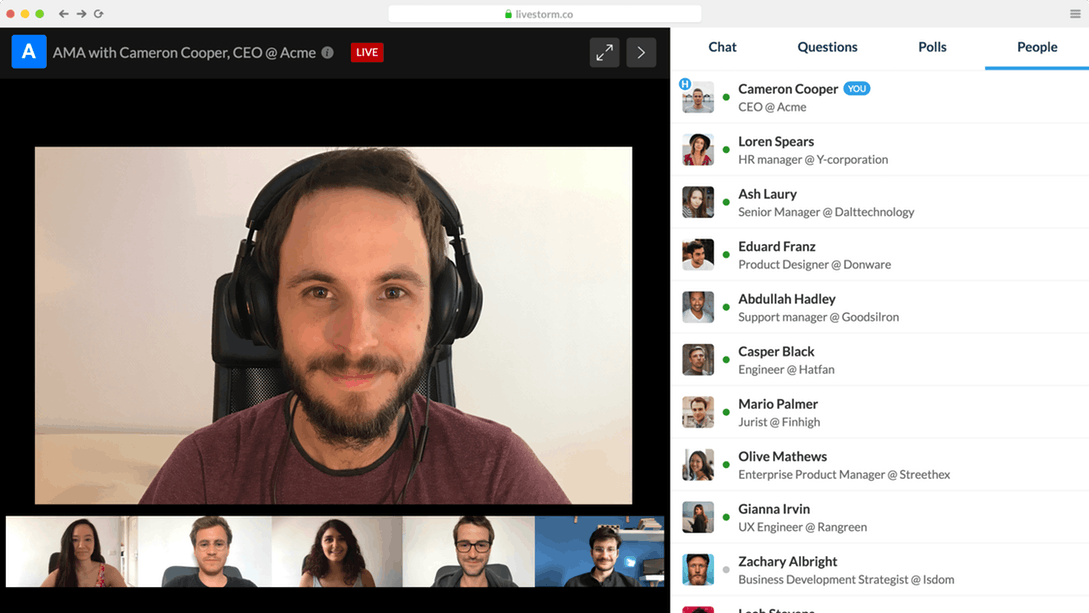 We predominantly use Livestorm for webinars, although it does offer online meetings as well. And the nice thing about webinars is you can host them from anywhere! It doesn't really matter whether you're in the office or in your bedroom.
So at Spendesk, our webinars can continue whether we're remote or not. Our Customer Success team regularly hosts sessions for new customers, to help them set up and succeed with our tools. We also have partner webinars (to publicly share ideas), and virtual events for our CFO Connect community.
And while working from home, nothing changes.
Livestorm is our favorite, but the digital market landscape offers tons of webinar platforms that could fit nearly every company's budget and requirements.
Discord is best known as a video chat and text app built largely for gamers. But many of our teams here at Spendesk use it to communicate with one another - whether they're in the middle of a game or not.
The main difference between Discord and many of the other communication platforms is...it's free! It's also designed to be very easy to use, and can be run from your browser or a desktop app.
If you have techies in your team, they're already using Discord. And it's very easy for the rest to join them.
Loom has a simple but incredibly useful premise: it lets users record their screens and send the videos as messages, including a selfie video of themselves alongside it.
Our Customer Success and Sales teams use Loom to record short explainer videos for our users, and to introduce themselves in the process. The receiver doesn't have to watch them live - these videos can be sent by email or LinkedIn message.
Which makes this an excellent tool for asynchronous video communication - ideal for remote teams.
We probably don't need to say too much about Slack - it's pretty much everywhere these days. But if you're not yet onboard, it's an easy-to-use messaging app that lets teams talk to one another, with public or private groups for topic-specific conversations.
As your whole team moves remote, Slack becomes the default hangout space. It's good for important work conversations, but you can (and should) also create channels for jokes, memes, "remote office musings," and more.
Notion is a robust knowledge sharing and collaboration platform. It takes the best aspects of Google Docs, Trello or Asana, and other project planning tools, it puts them all in one place.
At Spendesk, we've spent the past two years turning our Notion space into a comprehensive wiki. Everything from how to use the printer to how our salaries are structured is in there and easy to find. This becomes invaluable when you can't turn to your neighbor to asked simple questions.
We went fully remote overnight (in March 2020), and everybody still had all the knowledge they needed at their fingertips.
Slite is a great alternative to Notion - another company wiki, template builder, and knowledge space. It's probably a little simpler to use too, so it's a great option for companies that need to get up and running quickly.
ProofHub is a comprehensive project planning tool. It lets teams create and manage tasks, send teammates reminders, build workflows, and plenty more.
The beauty of this is that it can be done from anywhere, together at the same time or asynchronously, which is ideal for remote teams. And it's easy and intuitive to use, so no need for long training sessions to get up to speed.
27. ProjectManager
ProjectManager is a robust suite of project planning tools, more advanced and more comprehensive than many of the others on this list. It's built to be one your-stop project management hub - as the name suggests.
It includes tools to create Gantt charts, dashboards, time tracking software, scheduling tools, Kanban boards, resource management, and more. And while its features are useful for all teams, ProjectManager is designed to suit IT and tech teams, professional services and project management teams, and even construction organizations.
Planable is a planning and scheduling tool for social media teams. It lets distributed teams collaborate on social campaigns from anywhere, with plenty of added extras to make social profiles shine.
No wonder it's used by more than 5,000 teams, at brands like Jaguar Land Rover, Viber, and World Food Program.
Trello is a classic project management tool. Teams put their projects on Trello boards (Kanban-style), and move them left-to-right as steps are completed or they're ready for review. Our engineering and product teams use Trello because it's probably the simplest and clearest way to track their projects - even with all the other tools we have.
There are also a few sample Trello board templates specifically designed for remote teams, so you don't have start from scratch.
Asana offers much the same functionality as Trello, so we won't go into great detail here. If you're new to this, test out both Trello and Asana and see which one works best for you!
Practical, office, and HR
Most companies think of collaboration and communication as the biggest hurdles for remote workers. But there are plenty of back-office processes that are essential too, and often get ignored.
If you go remote, the only real option is to decentralize core business processes. Here are our favorite tools to do this.
With employees all over the place, how will your teams pay for the things they need? Online subscriptions and tools, office supplies, and travel are all essential. And most of your team probably doesn't have an acceptable way to manage them.
Spendesk is the ideal way to manage spending for remote teams. Every team member has access to funds when they need them, but your finance team is always has complete control and visibility.
Which is basically the definition of a good remote tool!
These are three great platforms to help HR teams and employees manage leave requests, payroll, and health. Employees can see their payslips and leave balances in their own personal spaces, and don't need to bother HR or their managers with every little question.
This makes communication about important topics like pay and vacation asynchronous - so important for distributed teams. You can make a leave request in the platform, then go about your day safe in the knowledge that your manager will see it and respond when they have time.
Keeping focused, tracking time, and more
Outside the office, it can be hard for some workers to stay on task. For others, the lack of distraction can actually be a good thing.
For those in the former category, here are a few apps to test.
Self Control is a very clever concept for those who find themselves in internet rabbit holes. Available for MacOS users, it lets them block specific sites for a set period of time. If Twitter, YouTube, and Facebook are just too inviting, this is the perfect solution.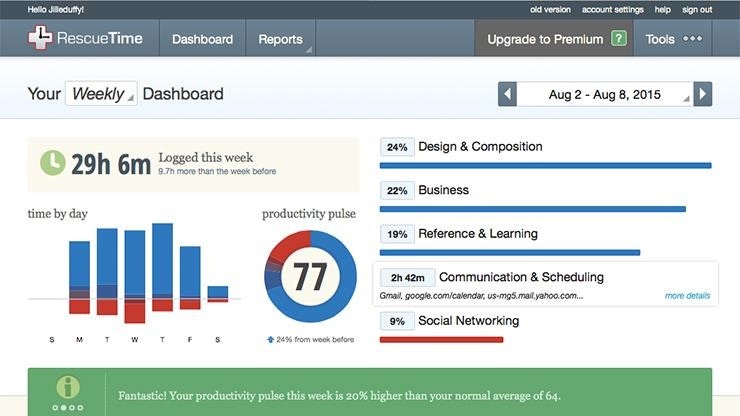 Rescuetime is a more robust productivity tracker. You can track time spent on tasks, block distractions, and analyze how you spend your time to make improvements in the future. For workers trying to "hack" productivity, start here.
This is a nice calendar app used by many of us here at Spendesk. Add it to your Google calendar, and it'll automatically block out focus time, move meetings to slots that suit everyone best, and help you balance meetings with deep work time.
It's very useful when you're face-to-face to team mates, but also excellent from afar.
These tools both help you deal with tricky timezone issues. Enter the cities where your employees are based, and it'll tell you their time compared with your own.
Nothing overly complicated, but it's a lot more practical than constantly Googling "what time is it in…"
Team health and wellbeing
Working from home can be tricky because the lines between work and home are easily blurred. Before long, remote workers will need activities and exercises to separate their work lives from their residence.
These tools and virtual team building ideas can help.
These are all highly-respected and popular meditation and mindfulness apps. And as we've embraced remote work here at Spendesk, our team has loved using them.
They all have different levels of paid subscriptions and free trials. Once you sign up, you have access to a huge range of guided meditations, breathing exercises, sleep aids, and other ways to unwind.
Major change can be stressful, and affects the way people feel and function. Give your teams the chance to relax and disengage from work by suggesting productive things they can do from home, with a little help from these tools.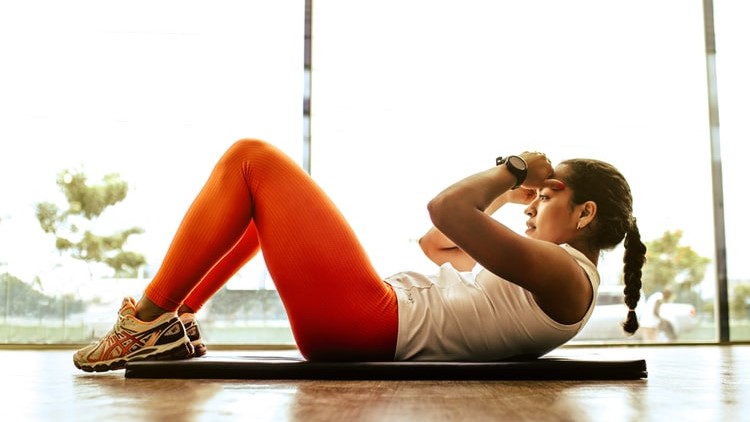 These apps are all free (or have free options) and give your teams relatively simple workouts to do at home or at the park - with or without equipment. Bear in the mind that simple doesn't mean easy!
It's too easy to slip into a sedentary, unhealthy routine when you have no commute and less structure in your day. And while hardcore fitness isn't for everyone, there's a good chance your teams will feel better and be more productive after a little sweat. Consider using a wellness platform if you want to promote physical wellbeing across your entire organization.
How to work from home
These days, working from home is nowhere near as daunting as it once was. For employees, managers, and founders, there are seemingly endless tools and resources to get you up to speed and working efficiently in no time.
We've shared some of our favorites above. Hopefully they're what you were looking for.
But what did we miss? Let us know what you'd add to our big and evolving remote stack.
More on remote work