Product Update: September 2020
Article
September is always a busy time for businesses. Teams get back from vacation fresh, focused, and ready to attack the big plans they made before taking time off.
And that's exactly how we're all feeling at Spendesk. Of course, this year's vacation was a bit different from the norm. Most of us stayed local, and saw more of our families, and explored the backyard more than before.
But we're still well-rested, and ready to make the rest of 2020 count! And we're starting with some very exciting product updates.
Let's get into them!
Effortless receipts capture with Play By the Rules by Spendesk
Define your own rules and collect more receipts
Play By the Rules is the big update many finance teams have been waiting for. As the name suggests, spending becomes a game where managers and finance teams set up rules, and the employees have to follow them - otherwise they get blocked.
For example, the Finance Admin can decide that, after three payments with late or missing receipts, employees can't spend money any more. Spendesk makes these rules clear to everyone involved, and automatically blocks spending for those who break them.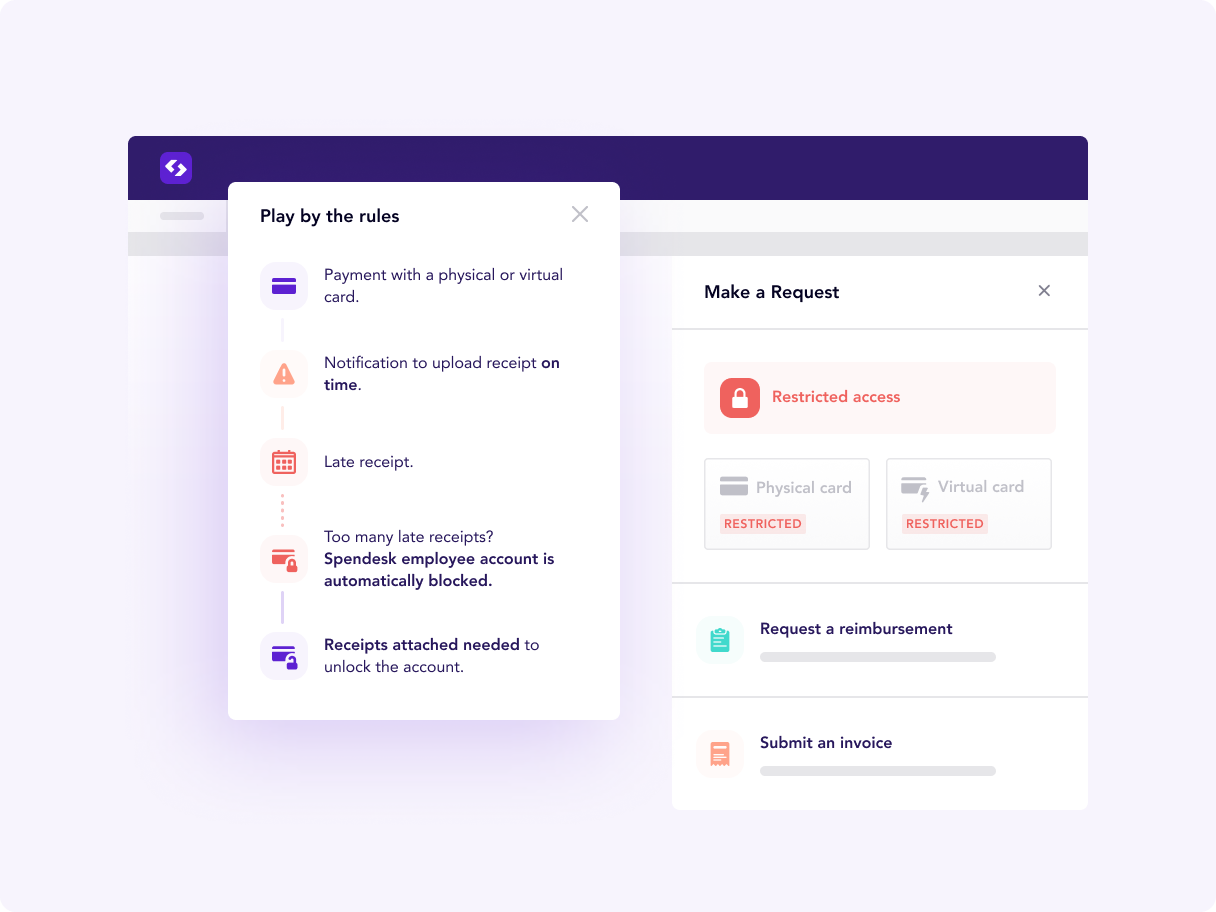 (Of course the Finance Admin can choose to unlock the account if necessary, but it's a great reminder for the employee not to forget it next time!)
As always, features are made to fit each company's structure. Feel free to adapt your rules according to your own deadlines, restrictions and needs!
Results from early adopters show that more than 92% of receipts are attached to expenses with Play By the Rules, versus 74% without it.
So, what are you waiting for?
Monitor your progress with a dedicated Control Dashboard
Play By the Rules also comes with its very own data center. The Control Dashboard shows you - at a glance and in real time - just how well your team members are playing the game.
You'll see:
The percentage of receipts collected

The average time to provide receipts

A list of late receipts (and the biggest offenders)

All your active control rules, and the users currently blocked by them
It's basically headquarters for financial controllers who want to easily track compliance with the rules in place... And more! Check it out to see other fresh graphs.
Between the rules themselves and this simple dashboard, gathering receipts is now child's play.
Smoother bookkeeping of supplier invoices
If you manage invoices in Spendesk, you can now add an account payable for each supplier.
This brings more clarity to your bookkeeping experience as it directly updates the credit line information in your purchase journal export.
Two ways to add your accounts payable:
Add accounts payable when you check your supplier invoices (via Invoices > Review) or

Enter them all one by one by going to Invoices > Suppliers.
If you have lots of  accounts payable to upload, your Spendesk account manager will gladly help you import them in bulk. Please, just ask.
Our new Expert Knowledge Base - a 24/7 Help Center
We just launched a new database to help answer your questions any time. Our new Expert Knowledge Base is here to help 24/7, with expert answers and how-to guides for using Spendesk.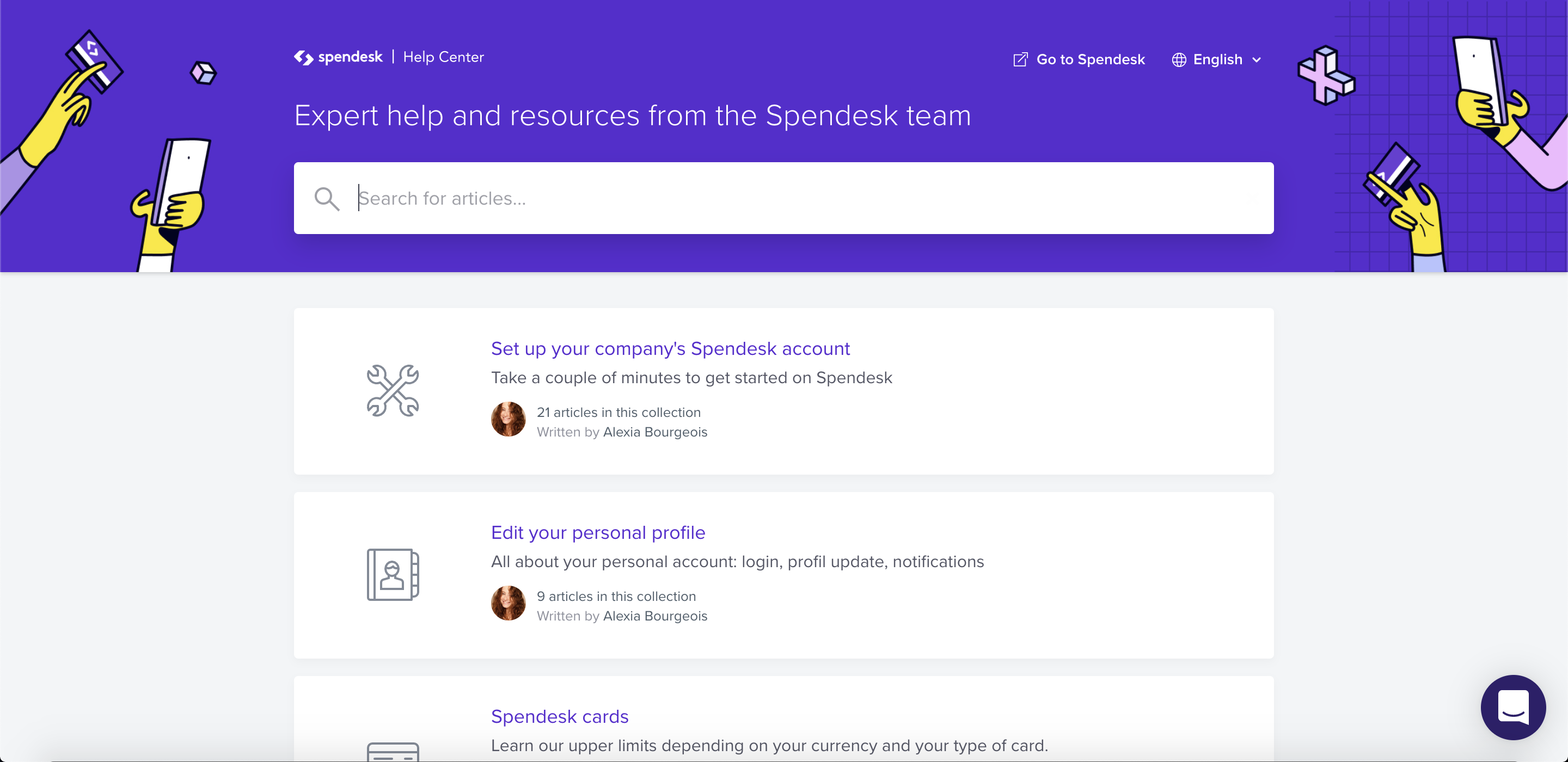 And for more instant help, get proactive recommendations every time you contact the Spendesk Support team. Answers to common questions are now easier to find than ever!
Discover our Expert Knowledge Base
Time to set your rules 🏆
We hope you're excited to test out these new features and get even more control over your company spending.
Play By the Rules, the new Control Dashboards, and these other exciting updates are already live. If you can't see them in your Spendesk account, just get in touch!
P.S.: Share your love for your favorite spend management solution management. Please leave a review on Trustpilot.