Spendesk's new and improved mobile app for iOS & Android
Article
We're delighted to introduce our new Spendesk mobile application! In addition to getting a new look and feel, the new mobile app contains a host of new features, which have been developed based on customer feedback. A big thank you to the users that participated in the beta testing and worked with us hand-in-hand to create a great user experience.
The plight of the traveling employee
When building the original Spendesk mobile application, we interviewed employees all across Europe who either traveled for work or spent company money outside the office. They all had two things in common. Expense reports sucked, and it was impossible to keep track of every receipt.
So we thought, wouldn't it be nice if employees could track expenses in real-time and capture receipts as employees spend.
And thus, the Spendesk mobile app was created, and tedious expense reports and reimbursement paperwork became a thing of the past.
What's new
Everything! The app was totally redesigned from scratch for a better on-the-go experience. Spenders can categorize payments easier, managers have a better overview of team spending, and finance is happier with a simpler receipt capture flow.
One handy mobile app for the whole company
For Spendesk cardholders
The mobile app works in conjunction with the Spendesk card. Employees can:
Track their spending in real-time

See their card balance

Request top ups

View their PIN code

Block and unblock their cards

Snap a picture and submit receipts on the spot
For employees that spend out of pocket
We ultimately want to get rid of expense reports for good. Nevertheless, we know that in practice, not all merchants accept cards and sometimes employees need to spend out of pocket. So for this reason, the Spendesk app can process expense claims, too.
Rather than waiting until you get back to the office, you can file a claim on the spot with the Spendesk mobile app.
The process couldn't be simpler:
Pay with cash or your personal card

Open your Spendesk mobile app

Snap a photo of your receipt

Submit your expense claim to your manager

Follow the status of your claims
For managers
Managers can review and approve (or deny) all types of requests on-the-go. From card payments to invoices, managers have full visibility into what and how their team is spending.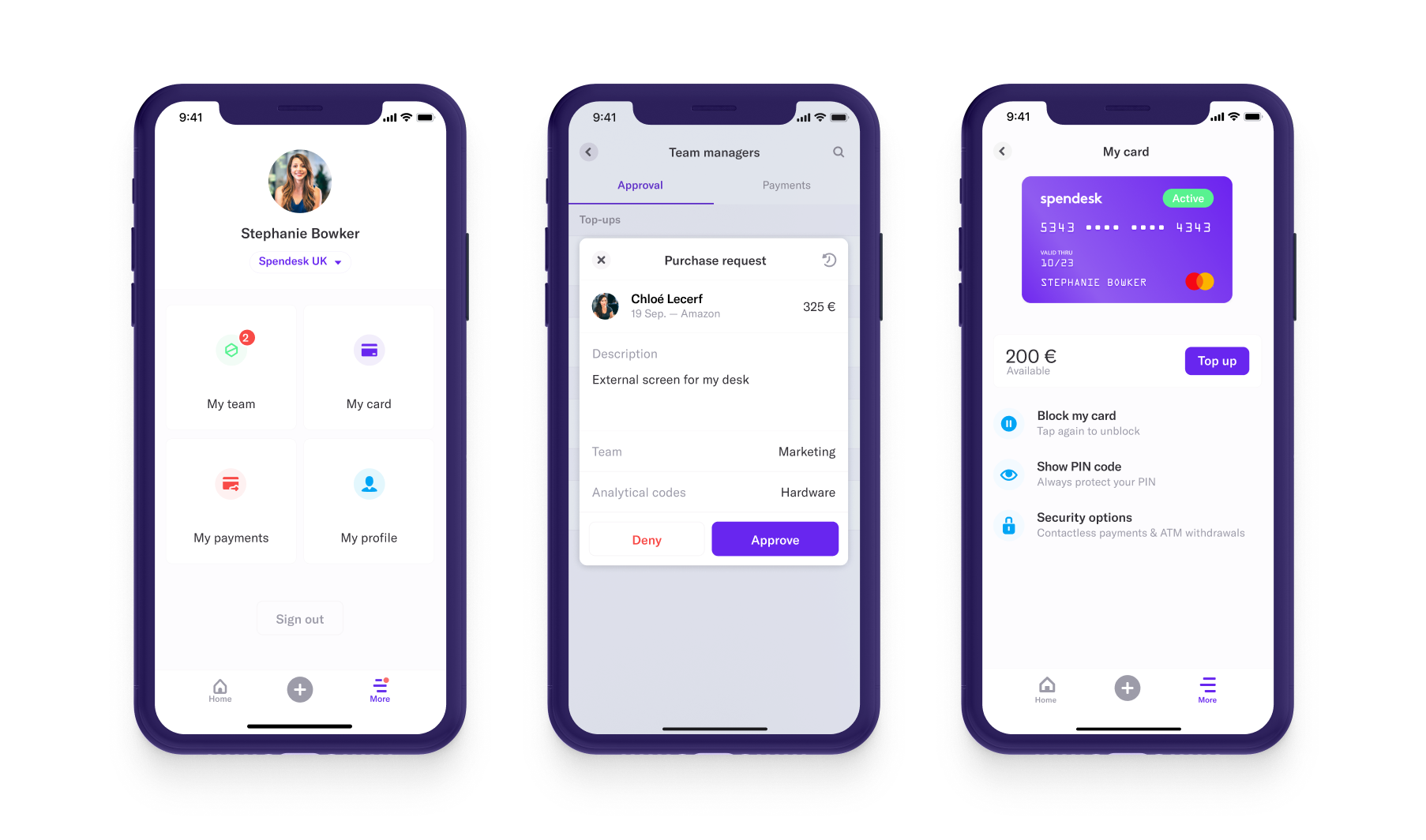 For finance teams
Finance teams love the mobile app as it helps employees keep track of their receipts. They can rely on an automatic and decentralized process where they no longer have to chase down employees themselves. Plus, just as within desktop version, the finance team has full real-time visibility into all company spend.
All in all, the Spendesk mobile app makes the process of tracking payments simpler and more efficient for everyone at work.
Just the way it should be.
Already a Spendesk user?
Upgrade your Spendesk mobile app and prepare to be dazzled.
Not yet on board?
Let us show you how Spendesk helps companies spend smarter.
Book a demo today!