60+ fascinating business travel statistics for 2022
Article
Let's start with a statistic right away: travel and tourism accounts for 10.4% of global GDP, and nearly 10% of jobs. That's enormous!
Business travel makes up a significant portion of that, and companies everywhere need ways to make the process easier and more practical for employees.
In this post, we'll look at more than 60 interesting statistics that illustrate:
So let's get right into it, starting with an overview of the business travel industry itself.
---
The COVID-19 effect on business travel
This post was originally published in early 2019. And while many of the statistics you'll find further down are from this first iteration, the COVID-19 pandemic and ensuing economic crisis have cause massive upheaval in the business travel world.
Here are a few of the most significant results of this situation:

---
The (classic) state of business travel
The rest of this article reflects the business travel ecosystem prior to the COVID-19 pandemic of early 2020.
Without a doubt, work travel is growing again. The industry took a hit after the global financial crisis in 2008, and followed that with several years of slow growth, if any.
But this is now mostly in the rearview mirror. Business travel is rising, and is expected to continue this trend well into the 2020s. And the new threat to future growth is likely trade wars and tariffs, rather than financial hardship or uncertainty.
So how much travel spending are we talking about?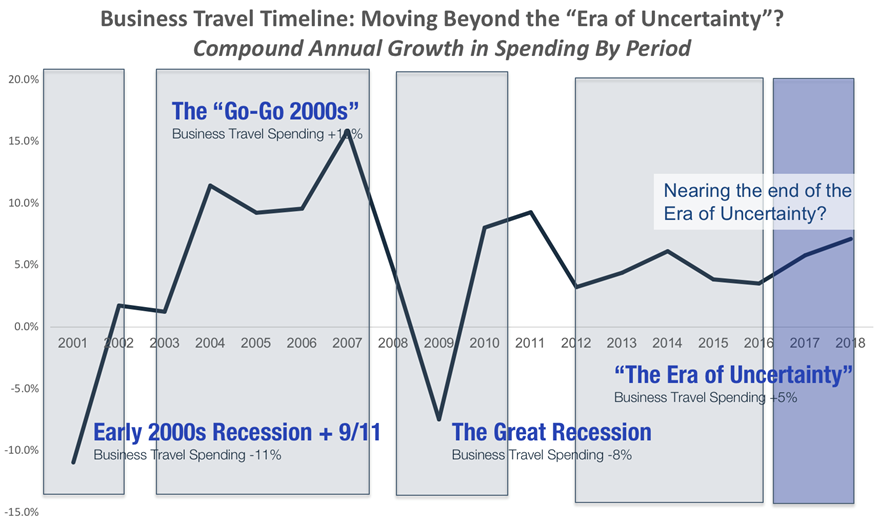 Image source: GBTA
Image source: GBTA
On top of added safety, many employees take great satisfaction from their ability to travel for work.
Workers love to travel
For some employees, being away from loved ones and routine is stressful. But not everyone sees travel as a burden.
If you're one of those people who doesn't enjoy the work travel experience, you're certainly not alone. But a significant number of travelers love it.
It may mean that you need to examine your company's travel policies, and look for easier and more enjoyable ways to get around.
Starting with the difficult process of booking travel.
How businesses book travel
Whether for personal travel or business, the process to book flights and accommodation has changed immensely. Sites like TripAdvisor and Expedia have reduced the need for expert advice, while Kayak and Skyscanner mean that you can book trips in record time, from anywhere.
For business, we've also seen new companies like TravelPerk emerge to make the booking process easier. And spend management platforms like Spendesk have made paying for travel simple.
So what does the modern travel booking process look like? Personalization and flexibility are key.
And mobile phone usage is growing quickly, both for bookings and doing travel itself.
Image source: Google / PhocusWright
One of the specific challenges for business travelers is fitting within company travel policies. These can feel restrictive, and often add to the negative feelings that can come with work travel.
How travel policies impact employees
Travel policies are there to guide team members throughout the journey. They tell them what they can spend, and often where they can spend it. And this all helps keep them (and the company) compliant.
So do employees actually respect their company's travel policy?
For many travelers, the big issue is flexibility. They want the ability to choose how and when they travel, and some wiggle room when options are limited.
In the end, companies need to create policies and procedures that suit their staff. "The user experience gap that exists between consumer and old-school business travel solutions is obvious even as early as when a traveler is booking his or her trip," writes TripActions.
"This can lead many to altogether ignore company tools and policies as they look to personal preferences over the company dime, making it very difficult for businesses to track and optimize travel spend."
Now, let's look closer at the changing landscape for booking work travel.
The sharing economy
New technology has had a major impact on the everyday lives worldwide. The range of gig economy apps outside of traditional hotels, taxis, and other transport has changed leisure travel forever.
But have these changes had the same effect on business travelers?
AirBnb
In 2014, the well-known homestay service launched AirBnb for Work to specifically tailor to the corporate crowd. So has this endeavor paid off?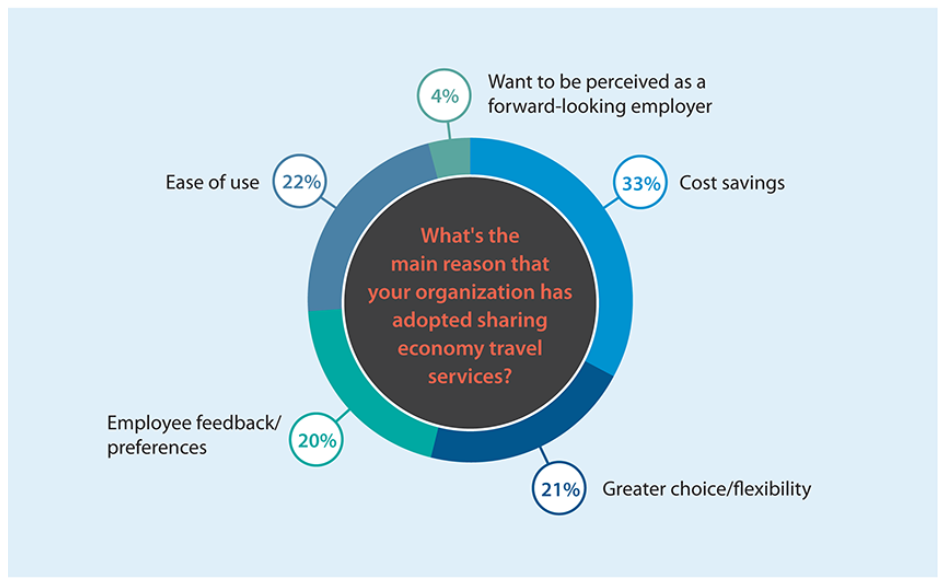 Image source: Small Business Trends | Data source: Chrome River
Uber & Lyft
The other poster child for the modern sharing economy has been Uber. The ridesharing company is now active in 65 countries, with more than 75 million riders and 3 million drivers.
Image source: Small Business Trends | Data source: Chrome River
Whether it's for convenience, style, or cost-saving, it's clear that the sharing economy has become a key feature of business travel.
Region-specific travel facts
The travel industry isn't the same the world over. Different work cultures mean that business travel isn't viewed the same from market to market.
So what do travel trends look like when we zoom in on certain countries and geographic regions?
EU business travel statistics
What does the travel industry look like in the EU?
U.K. business travel statistics
Key details about the corporate travel industry in the U.K.
Image source: Office of National Statistics
U.S. business travel statistics
Useful insights into the state of business travel in the United States.
Asian business travel statistics
Home to several fast-growing economies, what does work travel look like in Asia?
Bleisure travel
More than just a buzzword, "bleisure" travel (business + leisure) has come to represent a significant percentage of all business travel.
Don't sleep on business trips
As corporate travel grows and evolves, it's vital to manage the process of booking and paying effectively. This means giving employees the freedom to handle bookings themselves, and the ability to pay easily while on the road.
And of course, a good travel management tool makes this much easier.
Too many companies approach travel as an afterthought. There are no clear systems in place, and employees are left to figure things out on their own.
This taints the whole experience, and adds more administrative work for your finance team. Every extra hour they have to spend helping travelers is an hour lost.
And in the end work travel should help your business grow, and bring a little excitement to your team members. Don't take that for granted.