The 5 biggest takeaways from the Spend Trends Report 2019
Article
We're excited to share the results of our Spend Trends Report 2019. This report looks at the spending patterns of more than 1,000 Spendesk users.
The data comes from more than 800,000 transactions, adding up to over €120 million spent. The companies in question come from 35 European countries, and are mostly fast-growing, modern businesses.
In other words, keep reading to find the spending trends of tomorrow's biggest companies.
Here are the key trends in company spending for 2019.
Get the full Spend Trends Report 2019 for free.
1. Amazon has taken over
By far the most popular vendor for company spending is the Amazon Marketplace. Businesses in our sample made nearly twice as many Marketplace purchases as any other supplier.
What's more, when we combine all of the other Amazon services (Amazon Retail, AWS, and more), that number is closer to four times as many transactions.
In terms of total amount spent, Amazon is also the clear leader. Combined spending on all its platforms is significantly higher than Apple, the vendor in second place: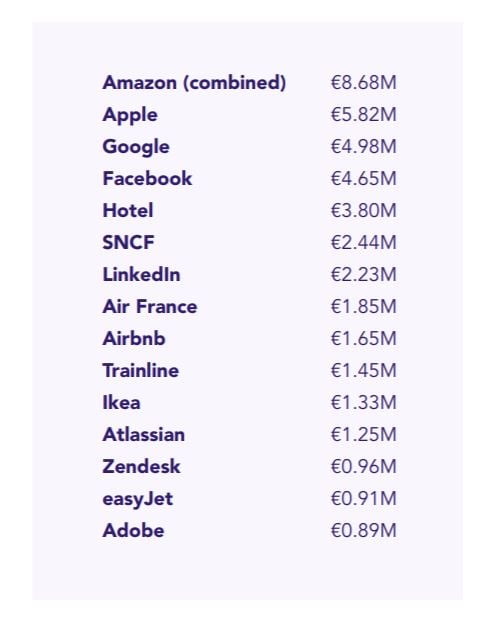 All of this is probably a surprise for most readers. We think of Amazon as a classic consumer destination, where people buy books, electronics, and knick knacks in their private lives.
But clearly businesses are following suit.
It may also be surprising because this report mostly focuses on European businesses. We might expect continental companies to be a bit slower to fully embrace this American behemoth.
But as our analysis shows, modern European businesses not only love using Amazon, it has become an integral part of the company culture.
The big takeaway from all this is that people like to buy the same way at work as they do at home. Why go through specialty office suppliers when you already know and love Amazon?
Plus, benefits like same-day delivery and the ability to check product reviews before buying are clearly added incentives.
2. Uber is now a staple in Europe
Just as Amazon now rules the online shopping roost, its compatriot Uber is the go-to ground travel choice for businesses. In both France and the United Kingdom, companies in our sample took twice the number of Uber rides of taxi trips.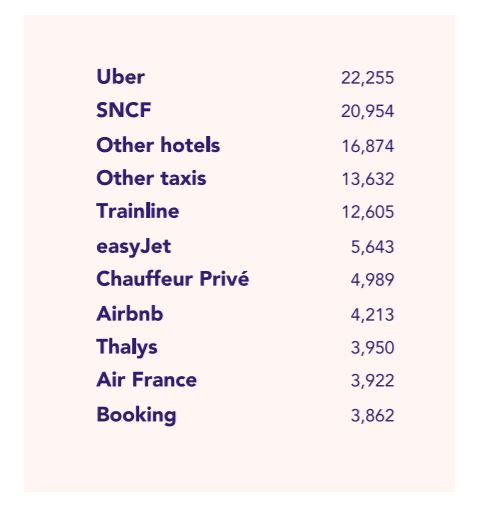 In most cases, an Uber is easier to book, simpler to pay for, and also simple to expense. Because every ride is logged, the user doesn't have to worry about asking for a receipt which they may end up losing anyway.
And because so many employees use Uber in their own private lives, they can do the same at work without added hassle.
The exception: Germany
Despite its rapid growth and adoption, Uber hasn't yet overtaken taxis in Germany. German companies in our report still prefer to book taxis about 55% of the time, compared with 45% for Uber.
But this discrepancy probably has a simple explanation: Uber is currently only available in a handful of German cities. In context, the proportion of Uber trips is already quite high, and we would expect it to overtake traditional taxis - probably by the time we release our next Spend Trends Report.
3. SaaS spending is going up
The data in this report goes back to 2016. And even in this short amount of time, we see a significant increase in company spending on subscription software.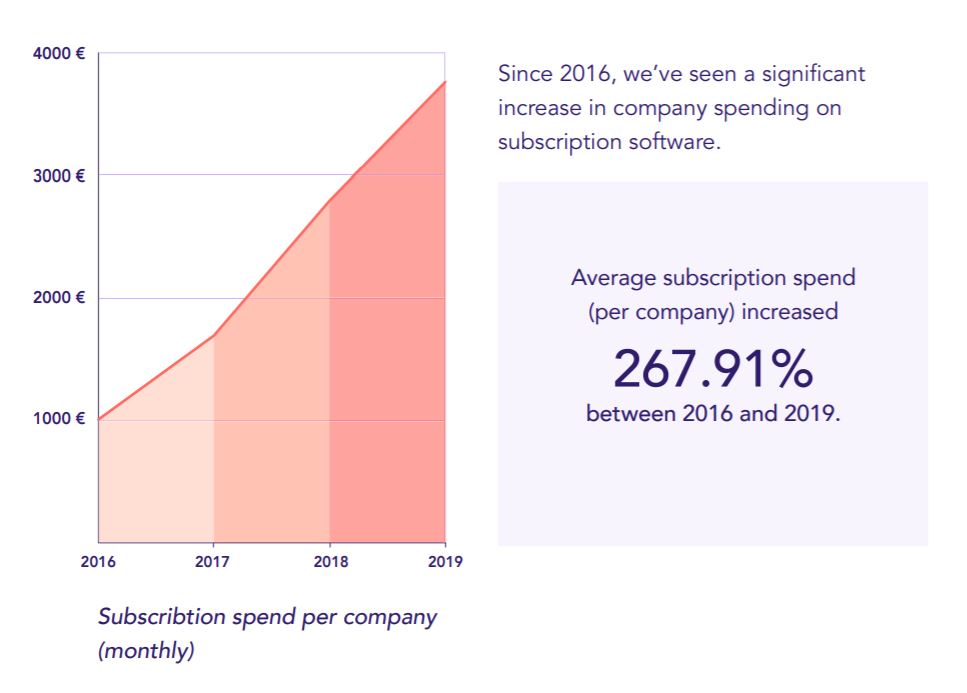 This reflects the digital transformation taking place across most industries. Businesses are using more tools than ever. And rather than building these in-house, it's often easier, cheaper, and faster to take a subscription.
SaaS tools are becoming one of the top categories for company spending, alongside travel and office expenses. And speaking of travel...
4. Travel spending is also increasing
We've written before about how business travel is growing again. Companies are sending their teams on the road to meet clients, attend conferences, and visit other offices.
And based on our data, they're spending more than ever while doing so. Travel spending more than doubled for businesses in our report.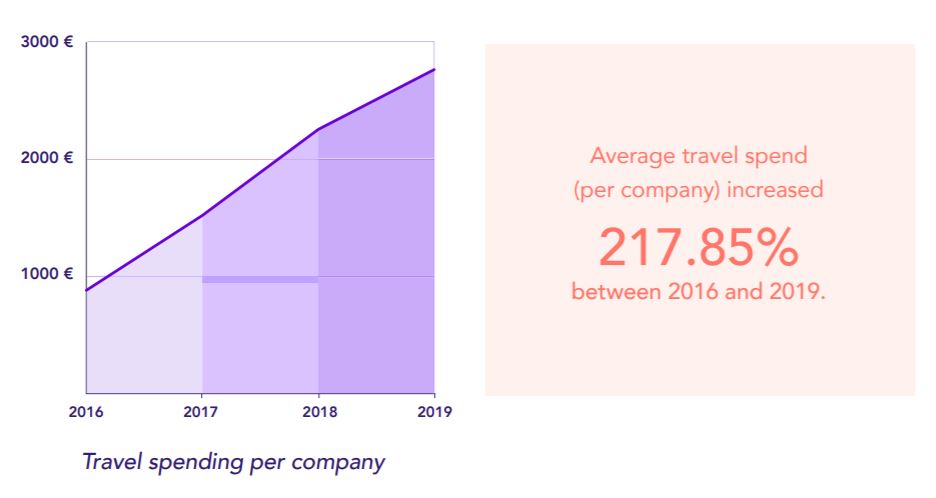 Perhaps they're travelling more often, taking more expensive trips, or simply spending more while they're on the road.
Whatever the case, we know that managing travel is an important issue for most companies. Employees want easy ways to book trips and pay for things while they're away from the office.
Corporate travel management tools are fast becoming an indispensable addition to the company stack.
5. Marketing teams spend more than other business units
We've devoted a whole chapter to this in the report. The same digital transformation that's causing SaaS spending to grow has also meant that marketing teams have huge expenses - more than any other business team.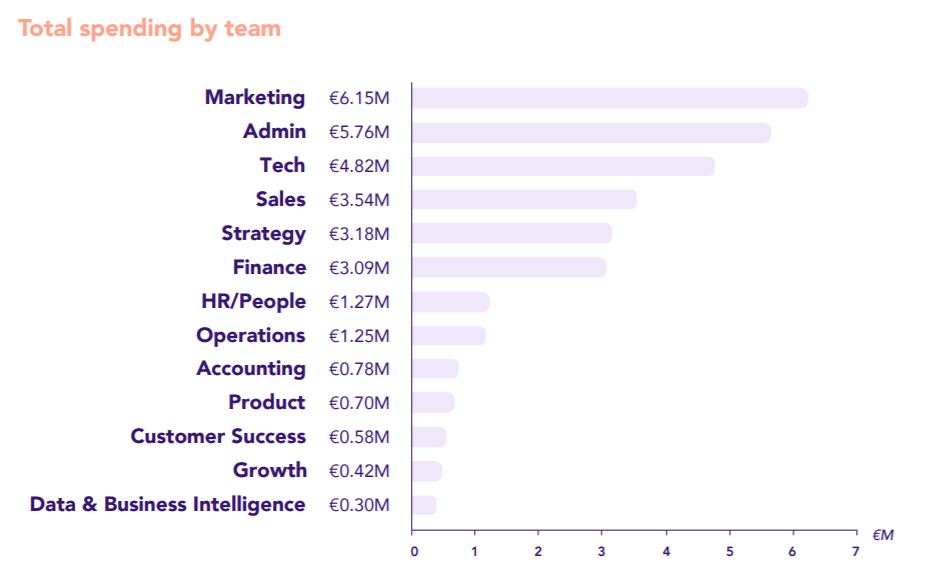 Much of this spending is online, - specifically on social and search advertising. Google, Facebook, and LinkedIn are among the top 10 vendors for business spending.
Marketing teams do also have more traditional expenses including travel, design, and collateral, and combined all of these make marketing teams the biggest spenders overall.
Marketing is closely followed by Administrative and Tech teams in overall spend. Naturally, Tech will be responsible for large and costly SaaS tools as well.
Administrative teams tend to pick up all the other expenses affecting a company - catering, furniture, repairs, and decor - and it's not surprising at all to see them this high on the list.
Just barely scratching the surface
This post is only a brief summary of what's available in the full report. It helps to shed light on a whole range of interesting company spending insights.
For business owners, it lets you compare your own spend practices with the average and identify areas for improvement.
For journalists and writers, there are plenty of juicy statistics and key trends to help you paint a fuller picture of European business practices.
All of this is free to download now. All you have to do is click: