Budgetary control: Turn your budget plan into reality
Article
Tracking and controlling budgets is tough work. Not only for finance teams, but also for managers. They generally feel weaponless, juggling Excel files, data pulled by finance, shared credit cards, and supplier invoices.
It's all over the place, and the whole company wastes energy, time & money just to spend their budgets, respect the rules, and meet business objectives.
But what if the finance team and budget owners could see their teams' spend in real time and adjust approvals accordingly? What if finance & budget owners could always be on the same page, with real-time budget updates?
Good news: this dream can become reality with Spendesk Budgets. In this post, we'll break down the concrete ways you can better manage budgetary control in your finance teams.
What is budgetary control?
Budgetary control is the management of business funds, income, and costs to run company operations effectively. This often includes analyzing actual financial results against the budget plan, and optimizing for future allocation based on the results.
Every finance team puts lots of effort at the end of the year to prepare for the next period, gathering departmental input to prepare budgets. But making the financial plan a reality is still a major struggle.
Here's the reality for most finance teams. Business budgets live in Excel sheets, and are often disconnected from the day-to-day of spending processes, for a few reasons:
Managers don't have real-time updates on their budgets. They need to make fast decisions on purchases, spending approvals, and more. They often lose time analyzing data from their finance team, and end up exceeding budgets.

Finance teams lack real-time visibility on what's been spent versus what was planned, and only know that budgets have been exceeded once it's too late.

The two work in silos and waste their energy in this ineffective process. 94% of budget owners track their spend in a separate system from the finance team.
According to Workday, "47% of CFOs say their current finance function does not have the right mix of capabilities to meet the demands of future strategic priorities."
We've heard the same story countless times. Teams were sharing credit cards with no real-time visibility on spending or spend commitments. Even worse, some had to manually compute every pound/dollar/euro spent to then align them with the company budget.
With the right spend management software, these same teams can pre-approve business expenses with a click and monitor all operational spend in real time. Plus, essential details are always logged to identify each purchaser to their corresponding budget.
4 ways to get more control over company budgets
At Spendesk, we help businesses perform simple, effortless, and reliable budgetary control. A good budgeting system connects teams, budgets, approvals, payments, & real-time reporting in one place.
Here are four tips to help finance teams hold their teams accountable for managing their budget with no admin, thanks to spend process automation.
1. Centralize team budgets
Connect budgets to operational spend approvals and payments made through Spendesk. Every cost center has an owner and budget directly linked to teams' spending requests.
2. Make approval decisions based on available balance
Budget owners can track budgets and approve spending based on available balance. They can check their budgets with no effort, before approving any new request.
Spendesk automatically updates their budget for them.
3. Get a live overview of what's been spent
Budgets are automatically updated in real time based on approved spend commitments and payments made. This includes purchase orders, card requests, and invoices to pay. All teams have access to the data, meaning no miscommunication or long email chains to track down basic information.
4. Adjust & hold everyone accountable
Finance teams don't have to waste time approving every expense request or chasing down receipts. No more end-of-quarter surprises, thanks to real-time visibility on budgets spent compared with what was planned. You can now focus on the important strategic work: growing the company.
Instil a strong budget control system
If there's one core piece of advice to take from this post, it's this:
Successful business budgeting doesn't happen by chance. It requires intent, knowledge, and consistency.
You need a clear budget control system, with agreed-upon checkpoints and managers to ensure you stay on track. This starts with intention - a clear agreement that budgets are important and need to be taken seriously. This comes from the top down.
Next comes knowledge and expertise: you need the right skills to create the process, and then training to get budget managers up to speed. And then you need to be consistent, to stay on top of budgets and hold teams accountable.
The final piece is good tools, which make all of these other factors far simpler. With good business budgeting software, you build a process that suits your business perfectly and trust the tools to do the heavy lifting.
How Spendesk Budgets deliver smart budgetary control
With Spendesk Budgets, everyone wins:
Finance teams have real-time visibility on what's been spent vs what was planned. They empower their teams to be truly accountable for their budgets.

Managers can track their budgets in real time and make informed decisions to stay on budget.

The whole company can save time, money and energy, and reach their objectives.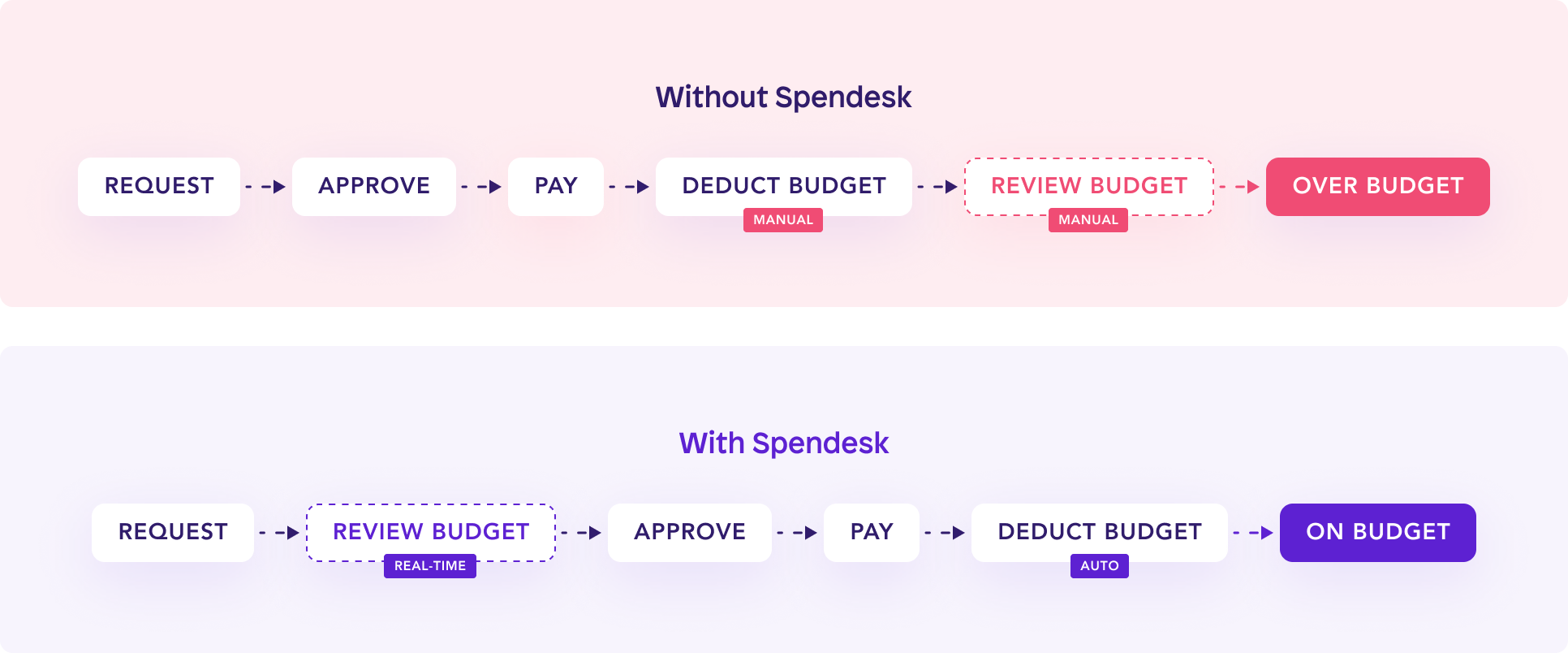 Building the future of finance teams
From day one at Spendesk, our mission has been to liberate businesses and their teams from internal bureaucracy. By fixing broken spending processes and removing low-value added tasks, we believe that everyone can be empowered to do their best work and focus on what matters.
We've been committed to going even further since 2016. Keep watching for new features and services that will free finance teams - and all business teams - from the tasks that are sapping their energy.
This is just the beginning.