Reimburse with Spendesk: approve & pay expense claims in one place
Article
Let's face it, expense management is hardly a soul-stirring subject.
It's a painful task that finds itself at the bottom of everyone's to-do list -  employees wait until the last minute to submit claims, and finance has to scurry to catch up.
Which makes end-of-month closing that much more painful.
For companies using traditional (paper) expense reports, it can add up to half a day's worth of work each month. And 19% of claims reportedly contain errors!
Even most modern expense solutions handle the approval and payment workflows separately, which leaves room for mistakes and duplicate work.
Generally, employees shouldn't have to pay out of pocket for company costs. Which is why we built pre-approved expense cards to give finance more flexibility and peace of mind about giving employees access to cards.
But for when expense reimbursements are the best option available, we think it's about time we let finance teams manage the entire process in one place.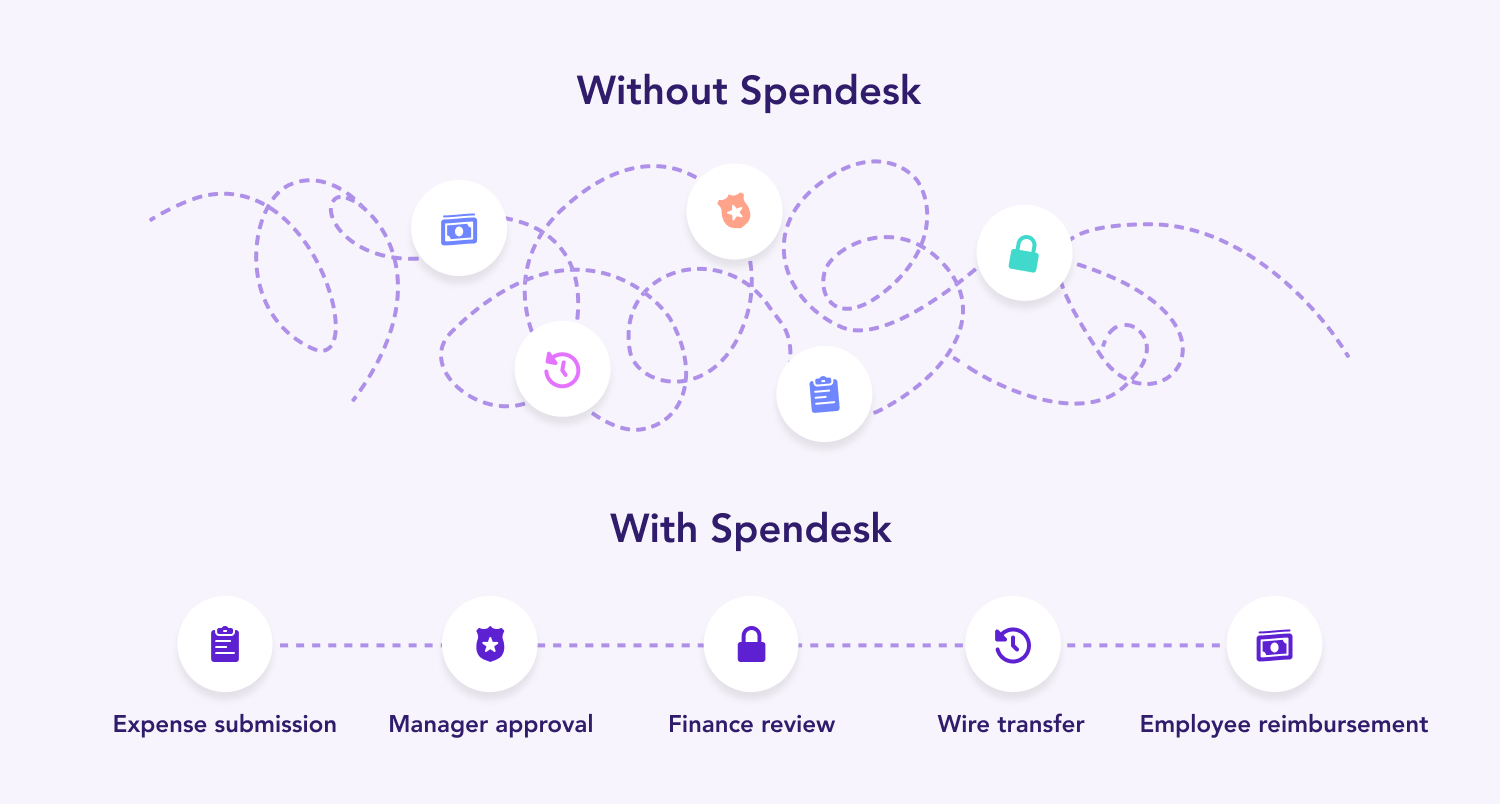 Introducing Reimburse with Spendesk
Reimburse with Spendesk lets finance teams review and reimburse expense claims from one place.
What does it mean for you and your team?
More time: Save serious hours each month with automated expense reconciliation and payment processing.

Full traceability: Access a complete audit trail from approval to payment on every expense claim.

Reduced risk: Eliminate errors and duplicate payments, as all expense information is centralized in one single place.
How does Reimburse with Spendesk work?
Employees submit their expenses in Spendesk using their mobile phone.

Their manager approves.

Then the finance team reviews and schedules wire transfers to reimburse employees. They have a dedicated 'Schedule reimbursements' tab.

The Account Owner validates the wire transfers using a unique and secure code that will be sent on their mobile phone.

The employee receives the money in their bank account the next day (depending on the transfer initiation date).
Et voilà! All expense management stages in one central tool, and reimbursements happen in a few clicks after a validation.
Note: Account Owners are always asked to verify transfers with security pass codes. You get peace of mind, and can be sure that every reimbursement goes follows a fluid and seamless process.
"Looking at the new Expense Claim flow with wire transfers, you have no idea how innovative and simple this is, compared to my antiquated bank. We love using Spendesk. It's very useful, simple to understand, and it solves a real frustration for us."
- Gautier Vedrenne, Eranos
How does it integrate into your existing expense management experience?
Reimburse with Spendesk is available for all customers using the Spendesk expense claim module in the Standard plan.
The feature can be turned on by all Account Owners by visiting "Settings" > "Settings & billing" > "Wire Transfer":

Once the feature activated, you'll still be able to choose between using Spendesk wire transfers, an XML SEPA file (in the Euro Zone) or downloading a .csv file to complete your usual reimbursements.
With Reimburse with Spendesk, you can reimburse employees in your wallet's currency. So if your wallet is in Euro, for example, you'll be able to perform reimbursements for employees using a Euro bank account.
Let's demystify expense claims, take quicker actions, and focus on what matters!
Already a customer? Simply send us a message.
Not a customer yet?