9 ready-to-use Notion finance templates
Article
Running a finance team is a lot like managing a Formula 1 pit crew.
To make the biggest gains in the race, the pit crew has to prepare and organize the pit stop in advance. Each team member works in an automatic routine to cover all bases.
Similarly in business, your finance department can automate daily work, helping you optimize your budget and prepare for the end of the tax year.
In this article, we're sharing how you can automate some of the key financial functions of your business using Notion finance templates.
What is Notion?
Notion is not your average project management tool. It facilitates collaboration and integrates with a vast number of technologies to increase productivity in every area of business and day-to-day life.
At Spendesk, we use Notion to automate finance functions like budgeting and spend monitoring. We also use it to manage and track content marketing ideas and projects.
As an all-in-one productivity tool, Notion replaces the need for a handful of other project management softwares. Plus, you can customize your Notion display to suit your businesses preferences.
How Notion templates work
One of Notion's key features is a fully customizable interface. You can create your own display from scratch and include the exact features that your team needs. There are tens of thousands of page design iterations used on the platform everyday.
Fortunately, many ready-to-use templates are available online for free, so you have easy access and inspiration to create your own Notion display pages.
Here's how to work with Notion templates:
Click on the public template link that you'd like to use.

Click on the Duplicate button (top right of the screen).

Follow the prompt to log into your Notion account, if you're not already logged in.

The template has now been added to your workspace. Simply change the field names and update details to match your business needs.
9 ready-to-use Notion finance templates
Here are nine of the best Notion finance templates:
1. Notion Budget Template | Spendesk

At Spendesk, we live and breathe company budgeting. But we know that not everyone else has the same level of passion, or wants to spend valuable time and money honing their accounting skills.
This pre-populated budget template gives you a clear breakdown of your company spending, so you can better plan for the next accounting period. Plan your budgets for the month, quarter, and year ahead with no technical or financial skills. Plus, it's totally free to use.
2. Product Launch Kit | Prototion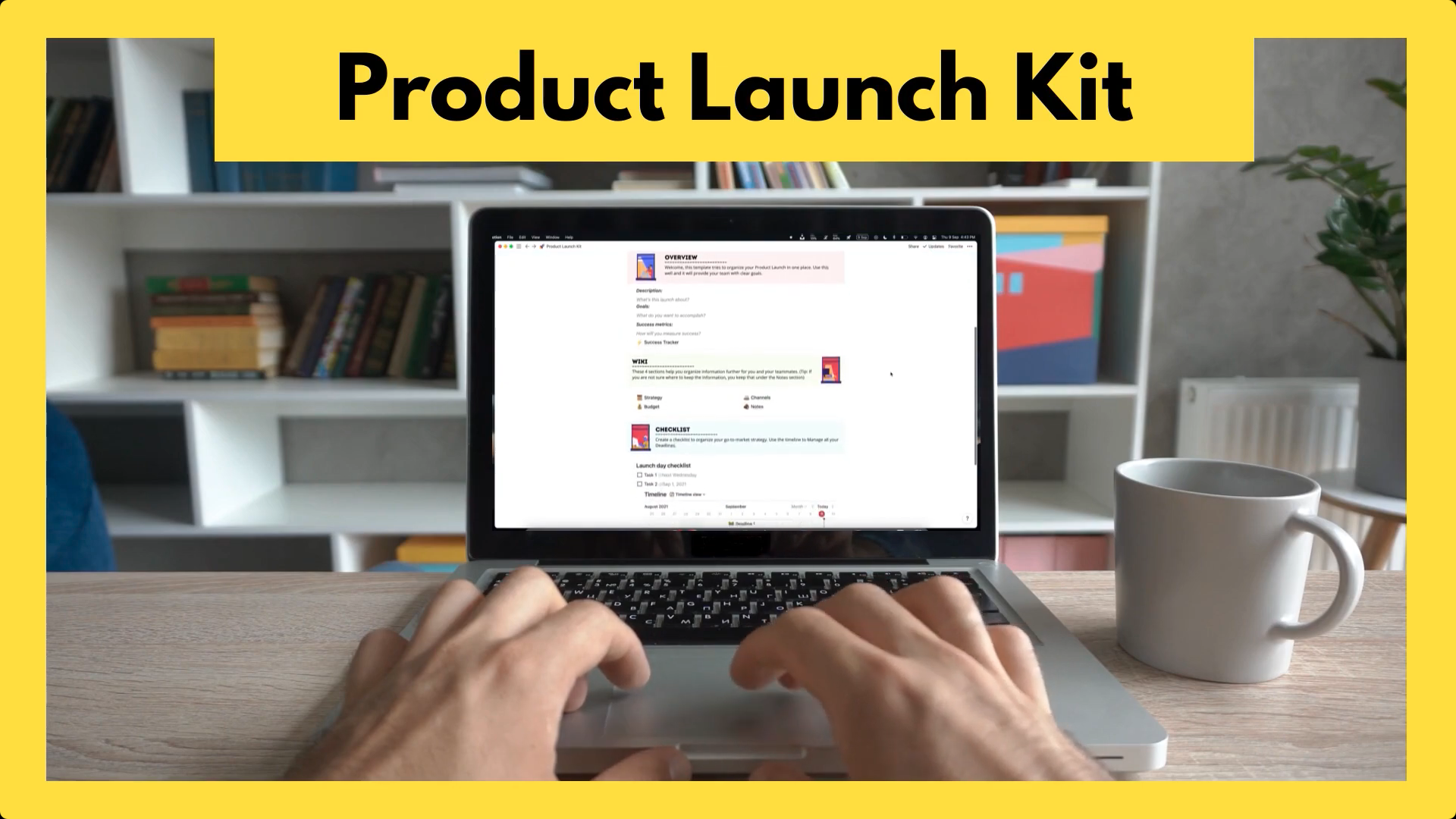 The Product Launch Kit is a great template for teams to organize and measure the progress of new product developments. Alongside tracking integration with sales and KPI displays, the kit also allows you to set success metrics and organize your team.
This Notion template facilitates financial management, with a whole section dedicated to strategy and budget. Teammates can collaborate and add their own expenses or expected costs, with a clear budget overview of new product launches.
3. Eisenhower Matrix | aNotioneer
The Eisenhower Matrix is a long-standing tool used to make decisions quickly and easily. The two elements of this concept are importance and urgency, helping you decide what to act on immediately vs delegate for later.
This Notion template is not specific to finances, but it can help finance teams organize tasks and assign projects to different members of staff.
The Eisenhower Matrix is effective for bigger finance teams or larger corporations. It can often feel like accounting is the job that's never finished. This Notion template will help you move productively through tasks in a logical manner.
4. Budget Tracker | Easlo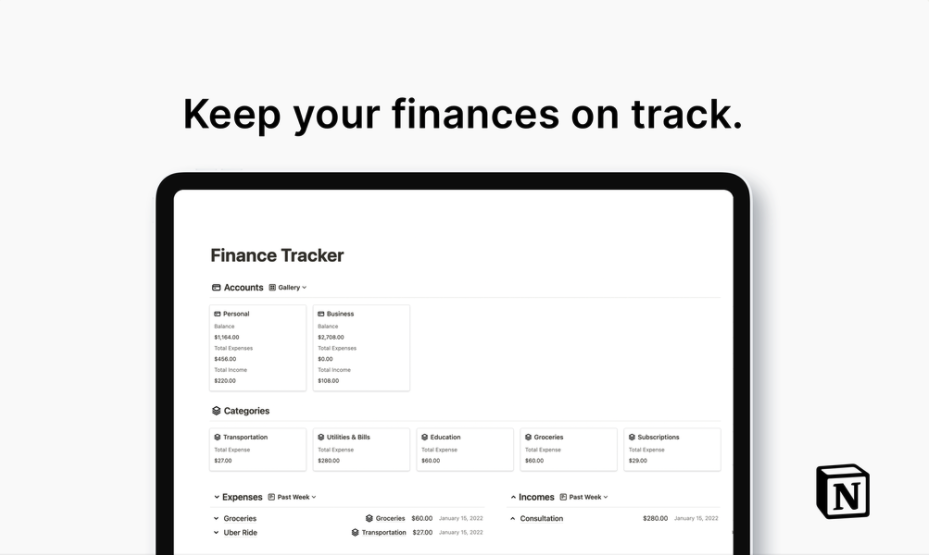 Easlo's Budget Tracker is a comprehensive Notion template for displaying and managing income and expenses. You can check in on your goals at any time and generate financial reports to easily display the company data.
This budget tracker is useful for balancing the books, since it focuses heavily on comparing incomings to outgoings. It can also help finance teams identify cost savings opportunities in their daily operations.
5. Weekly Agenda | Marie Poulin
Too often, 'boring' finance functions like receipt reconciliation fall behind, as we overlook them for other business priorities. Digital strategist Marie Poulin created Weekly Agenda as a broader productivity tool to help all business teams prioritize their tasks.
While the template is currently designed for work-life tasks, you can easily tweak the headings to separate financial reporting, tracking, and general money management. The easy-to-read kanban view has been proven to maximize time and efficiency.
This template allows you to break down your finance team's priorities into a gamified list view for every day of the week. Gamification can improve motivation and productivity, helping your finance team turn new tasks into regular habits.
6. Invoice Manager | Sahil Vhora
This invoice management template by Sahil Vhora could be exactly what your finance team needs. Avoid falling behind on your accounts payable by using this Notion finance template to instantly highlight progress on what's been paid and what is still outstanding.
The smart dashboard provides in-depth statistics and a snapshot of your business' finances, at any time.
7. Finance Tracker | Zoe Chew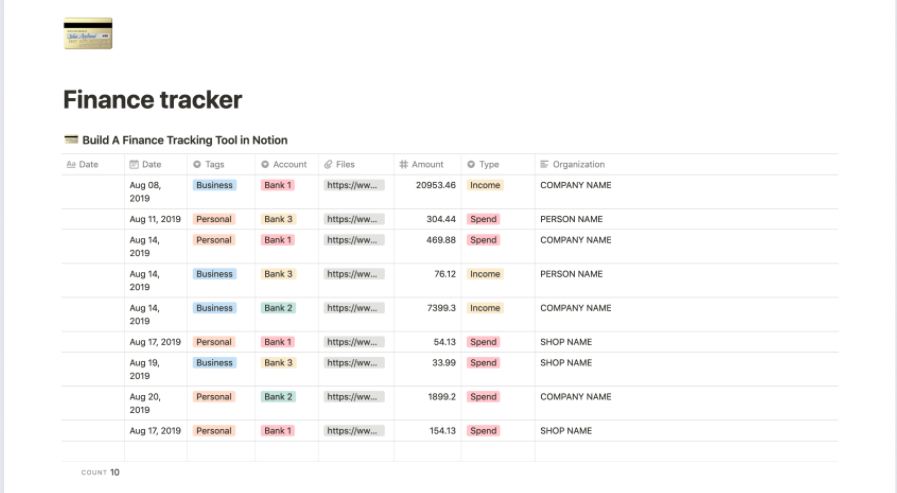 Zoe Chew is a product builder and productivity hacker. These skill sets make her templates highly suitable for companies looking to improve their productivity with more efficient finance processes.
Zoe's finance tracking Notion template helps teams manage income and expenses in a simple and consistent way. Users can easily pick out key features and figures at a glance. If your finance team is frequently short on time, this could be the Notion finance template for you.
8. Ultimate Finance Tracker | Easlo
This finance tracking template enables businesses to incorporate income, outgoings, receipts, bills, and subscriptions into their Notion dashboard. It help finance teams allocate funding at the right time of the month and provides a quick overview of account activity.
This template is a good choice for teams who don't want to deal with clutter. Its minimalist design allows for easy readability and high spend visibility. It's even works well for home budgeting, including keeping track of your kids' credit cards.
9. Company Home | Notion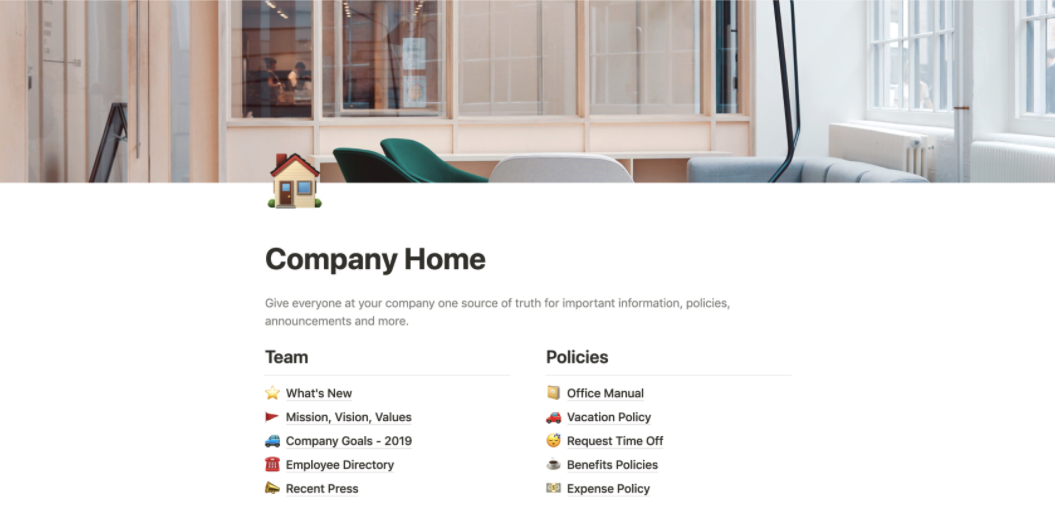 Straight from the horse's mouth, this template for company-wide management comes directly from Notion. In addition to standard project management features, this template has sections for your expenses and benefits policies.
This template makes the most of Notion's capabilities, facilitating cross-team collaboration between finance and other departments. As a single source-of-truth, it organizes and streamlines company communications, policies, and more.
Download your favorite Notion finance template today
If you want your finance department to function as effectively as a slick, well-oiled pit crew, you need to start automating different areas of your work. Notion's finance templates are a great way to simplify processes and reduce your overall workload.

Download our Spendesk Notion Finance Template today to get started.