The art of interviewing: why our teams receive interview skills training
Article
Growing a business means hiring people fast. And scaling a business means hiring people even faster - at scale.
At Spendesk, we're in the thick of significant growth.
In just one year (Oct 2019 - Oct 2020), the company doubled in size. We hired north of 90 new Spendeskers remotely during the first lockdown period alone - from mid-March to the end of October. All of this with a very small talent acquisition team.
Scaling a team means scaling recruiting activities. But we're adamant that scaling fast shouldn't mean adjusting our standards or ignoring fit. Still, we needed to move faster and bring more prospects through our hiring process.
So we decided to transform our business into a recruiting engine, and give as many team members as possible specialized interview skills training.
Why we invest in interview skills training
Like most growing companies, our hiring process doesn't just rely on the recruiters in our Talent Acquisition team. Candidates meet a range of future teammates right away, many of whom don't have a rich background in hiring.
This is a great way to spread the work, but it also means more of our people need to know what they're doing. It's relatively easy to train a handful of managers in interviewing skills, but job candidates meet far more than just that handful.
So it's essential that our employees know how to interview, and what to look for in great candidates. And it also gives them confidence. If you've never conducted a job interview before, you obviously need to go in with a plan and some skills to support it.
Here are a couple of key examples already in place at Spendesk
Case study 1: Sales teams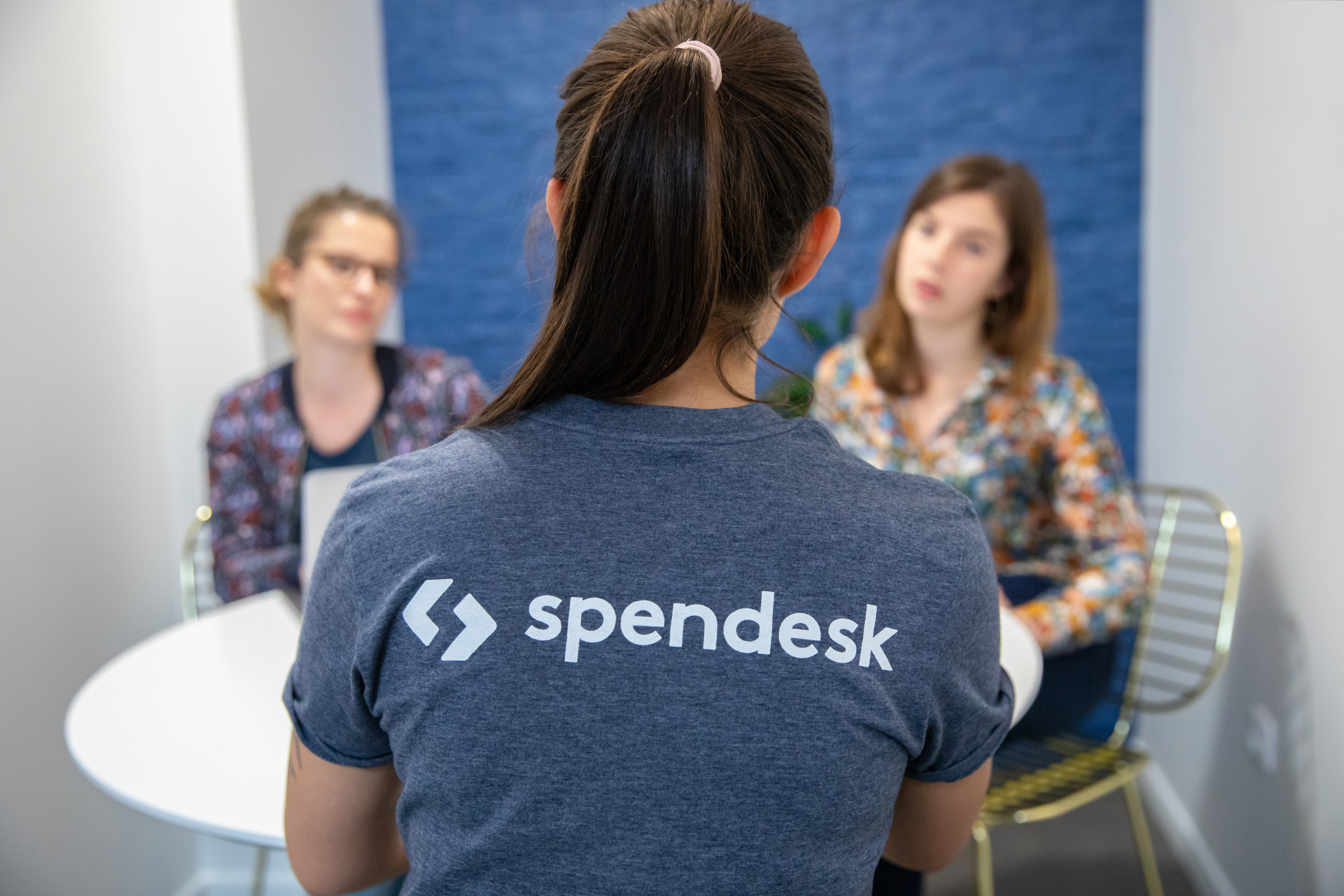 As I mentioned, we've doubled in size in just 12 months. And the majority of this growth has been in Sales.
We're working hard at present to scale our go-to-market strategy, and for that we need to expand our sales teams. Business development representatives, account executives, and sales leads have been our most-hired employees in 2020 - and will be probably in 2021 too.
Which means that our existing salespeople meet countless candidates and lead a lot of interviews. And to ensure our teams are well prepared and quality-conscious, we created a specific plan and certification for Sales.
Certified interview skills for salespeople
To begin, the team received a general training session on "how we hire salespeople at Spendesk". This was a whole day, with two external experts who ran an interactive session on how to better assess sales candidates.
Specifically, they discussed:
The recruitment process structure

How to give feedback

Assessing hard and soft skills

Identifying cognitive bias
Because we want to get things right, we decided to go deeper and separate the hiring process for business development reps (the top of the sales funnel) and account executives (bottom of the funnel).
For each role, employees need to attend a specific workshop which includes role play, then shadow a master interviewer, then be shadowed themselves and receive an assessment.
You only get certified by the master interviewer once you pass each step.
We still have a waiting list of employees wanting to get certified. And now we don't need to rely only on sales managers to move candidates through the process.
Case study 2: Culture fit interview training
That was the Sales-specific approach we developed. But the second key step in our hiring process applies across all our teams.
Assessing the right skills is great, but it's also crucial that new hires are aligned with our values. We take this seriously - culture is at the heart of Spendesk, and it's mandatory that new hires are completely aligned with our values.
So how do we "culturally assess" a candidate?
In September, Spendesk founder and CEO Rodolphe ran three one-hour training sessions on cultural fit interviewing. To highlight the importance of this training, Rod quoted Jeff Bezos:
"I'd rather interview 50 people and not hire anyone than hire the wrong person."
When you grow a business at this pace and scale, ensuring cultural alignment when hiring is the most important driver to build and keep a consistent culture over time.
This isn't about hiring the same kinds of people with identical interests. Nor just choosing our friends. It's also not about assessing the fit or motivation for the job.
It's about hiring people whose values, beliefs and behaviours fit in with our company's identity and culture. Which is why our culture fit interviewers often don't come from the same discipline as the candidate.
An interviewer from marketing can easily meet candidates for product, sales or customer care roles.
And we have a similar certification structure for culture fit as I detailed above for our Sales team.
Those who attended the training sessions are certified "culture fit interviewers." We also have master interviewers who are shadowed by trainees, and then shadow the newbies themselves.
The art of interviewing comes from practice and consistency
If there are few lessons that I hope you'll take from this article, they are these:
If you want to go fast, you need to spread interviewing responsibilities amongst your team.

But that doesn't just mean opening the floodgates - employees need to learn good interviewing skills.

And while there are core principles that apply across all interview types, you should create trainings that guide employees through interviews for the specific positions they're hiring.
Going forward, we'll roll out these interviewing training sessions quarterly and bi-annually, so everyone can be trained or get a refresher.  We also have the project to extend these programmes with functions across other replicable positions, such as engineering and customer success.
We're trying to grow faster than ever, which means we need even more talent on board. This is only possible if our employees are equipped with the interview skills they need.
See our current job openings on the Spendesk Careers page.