10 top spend management software solutions for 2023
Article
Good help is hard to find. For growing businesses, finding the right people, tools, and advice to build is a key challenge. And it's especially when it comes to managing money.
Finance leaders are constantly looking for ways to improve processes and execute faster. And if you don't have a finance team yet, you need that help even more.
So in this post, we'll look at our top ten spend management software solutions for 2023.
Whether you're a freelancer, a growing startup, or an established enterprise, we've got some handy tips and suggestions to help you save time, money, and stress.
To kick things off, let's run through a few basics.
What is spend management software, exactly?
Put simply, spend management software is any tool dedicated to helping your business manage employee expenses quickly and conveniently.
This can run the full range, from simple receipt scanning tools through to credit facilities linked to accounting software.
Despite these new expense management tools, businesses still rely on a handful of techniques to take care of company spending:
Petty cash: Lots of companies keep a box full of loose cash and coins on hand. And no-one every truly knows how much is in there or what the rules are.

Company credit cards: Despite the risk of fraud, the lack of accountability, and the delayed oversight of spending, a lot of businesses still can't seem to kick the habit with this one.

Expense claims: Rounding off this unholy trinity is the dreaded expense claim. Here, employees pay business expenses out of their own pockets, hold on to the receipts, fill out a claim form, and waited ages to be reimbursed.
Fortunately, managing expenses no longer has to be quite so painful.
Now, there are better ways for businesses to pay for things, and employees can manage their expenses conveniently, securely, and quickly.
But what makes good spend management software, exactly?
What makes a good spend management software?
When it comes to spend management, not all software is created equal.
No matter how big your operations are, you need a solution that offers:
Real-time expense tracking: You don't want to have to wait until the end of the month to find out how much you've spent. Instead, find a solution that tracks expenses in real-time, providing a reliable snapshot of employee spending.

A quick and simple overview: If you can't do basic spend analysis at a single glance, something's not right. Good spend management software presents expense information in a clear, compelling way, putting you in control.

Customizable payment options: Not every employee needs access to the same funds. Your software should let you choose the amount available to each person, and what they can spend it on.

Easy document capture: Businesses spend a lot of time storing and processing documents like invoices, receipts and purchase orders. A good software solution helps you capture and store these documents quickly and conveniently.

Time-saving automation: The most significant downside to traditional expense management is that it takes up so much time. A great spend management platform can free you up to focus on better - and more fun - things.
This might seem like a lot, but it boils down to a simple idea: find a solution that gives you and your team a quick, secure and convenient procure to pay process.
With that in mind, let's take a look at our software picks.
Expense tools for growing businesses
Expense management can be particularly tricky for growing businesses.
If you're a medium-sized startup, you might think you can just get by relying on tried and true methods like employee expense claims.
Trust us - as soon as you start using a dedicated expense management tool, you'll never want to go back.
For growing businesses, it's important to find a software solution that is intuitive and quick to integrate, all while being affordable. Fortunately, we've got a couple of suggestions.
Spendesk
Spendesk is a comprehensive spend management solution with a bunch of intuitive and helpful features. With Spendesk, businesses can automate recurring expenses and automatically match invoices to expense claims (thanks to OCR software), saving a lot of time.
Where Spendesk really comes into its own, however, it in its flexibility. Spendesk allows companies to tailor debit cards to individual staff and categories of spending, and also offers single-use virtual credit cards for online purchases.
Spendesk also offers same-time payment validation via push notifications, as well as a point-in-time overview of expenses, bringing everything together in a single comprehensive dashboard. Spendesk also integrates with most accounting tools.
Pros: Intuitive to use; strong focus on security and flexibility; great integration.
Cons: Better suited to growing businesses rather than lone entrepreneurs.
FreshBooks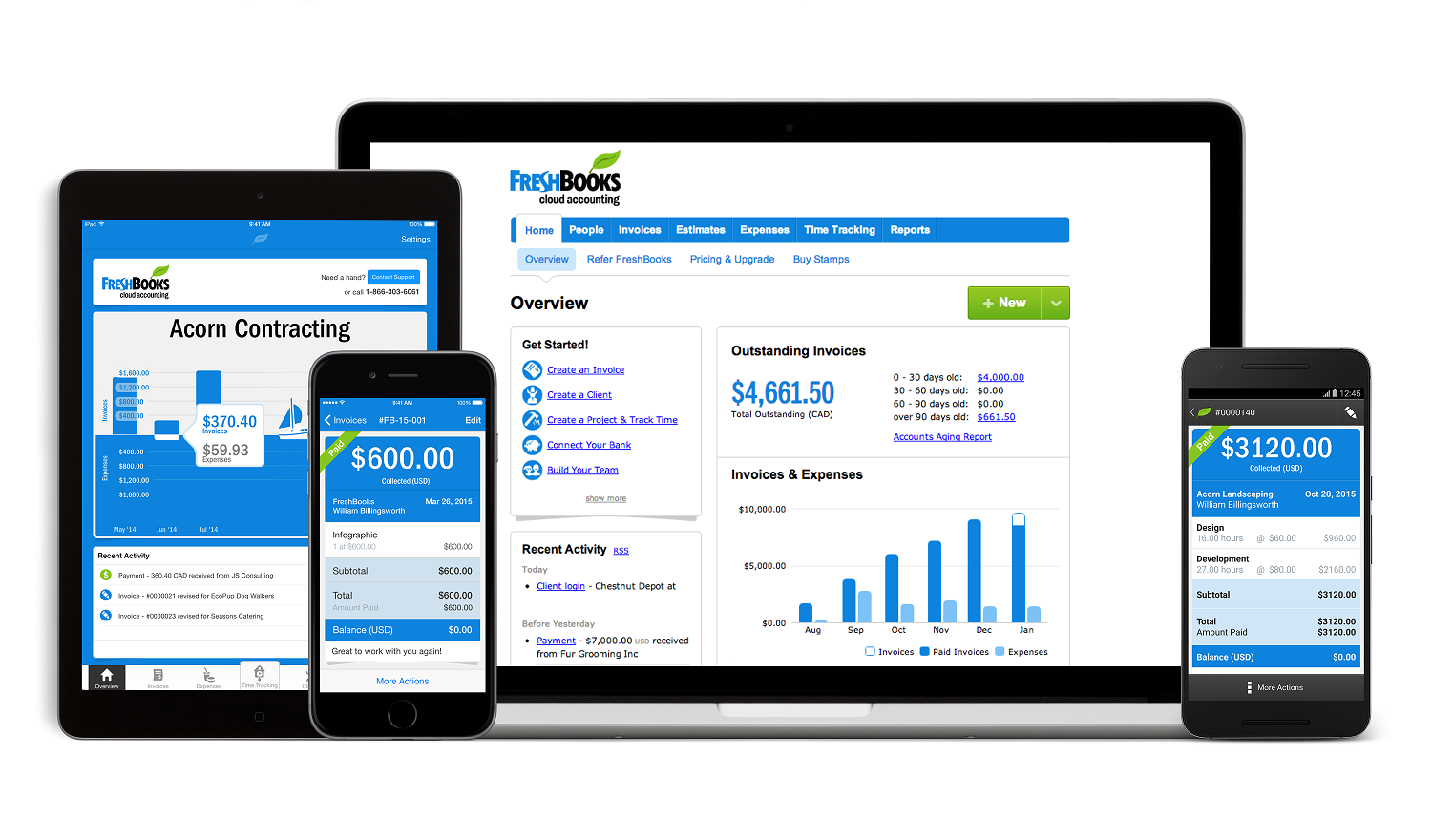 Marketed primarily as accounting software, FreshBooks also features an automated expense tool allowing users to record and manage expenses. For a lot of growing businesses already relying on FreshBooks for their accounting needs, this is a handy little feature.
Though it might not incorporate the wider range of features included in other expense management tools, for a lot of growing businesses, FreshBooks is a good place to start.
If you're already using FreshBooks to help manage your accounts, be sure to check out its automated expense management tool - you might not realise how useful it is.
Pros: Widespread; easy to use; intuitive user interface.
Cons: Foremost an accounting solution; limited functionality beyond expense tracking.
Finally, let's take a look at some of the tools out there for larger enterprises.
Tools for freelancers and solopreneurs
If you're a freelancer or solopreneur (it's a word, trust us), you want a quick and nimble spend management tool that's easy to get to grips with.
For people working either alone or on a smaller scale, simplicity is key. After all, you probably already have a pretty decent idea of your expenses if you're the only one making business purchases.
With this in mind, we have a couple of great tools to save you Lone Ranger types a bunch of time and effort.
Wave
Wave is an excellent all-around bookkeeping tool for freelancers and budding entrepreneurs. Because most people in this position lack finance skills, the platform does most of the heavy lifting for you.
It lets solo business owners accept credit card payments, process invoices, and keep their books in order.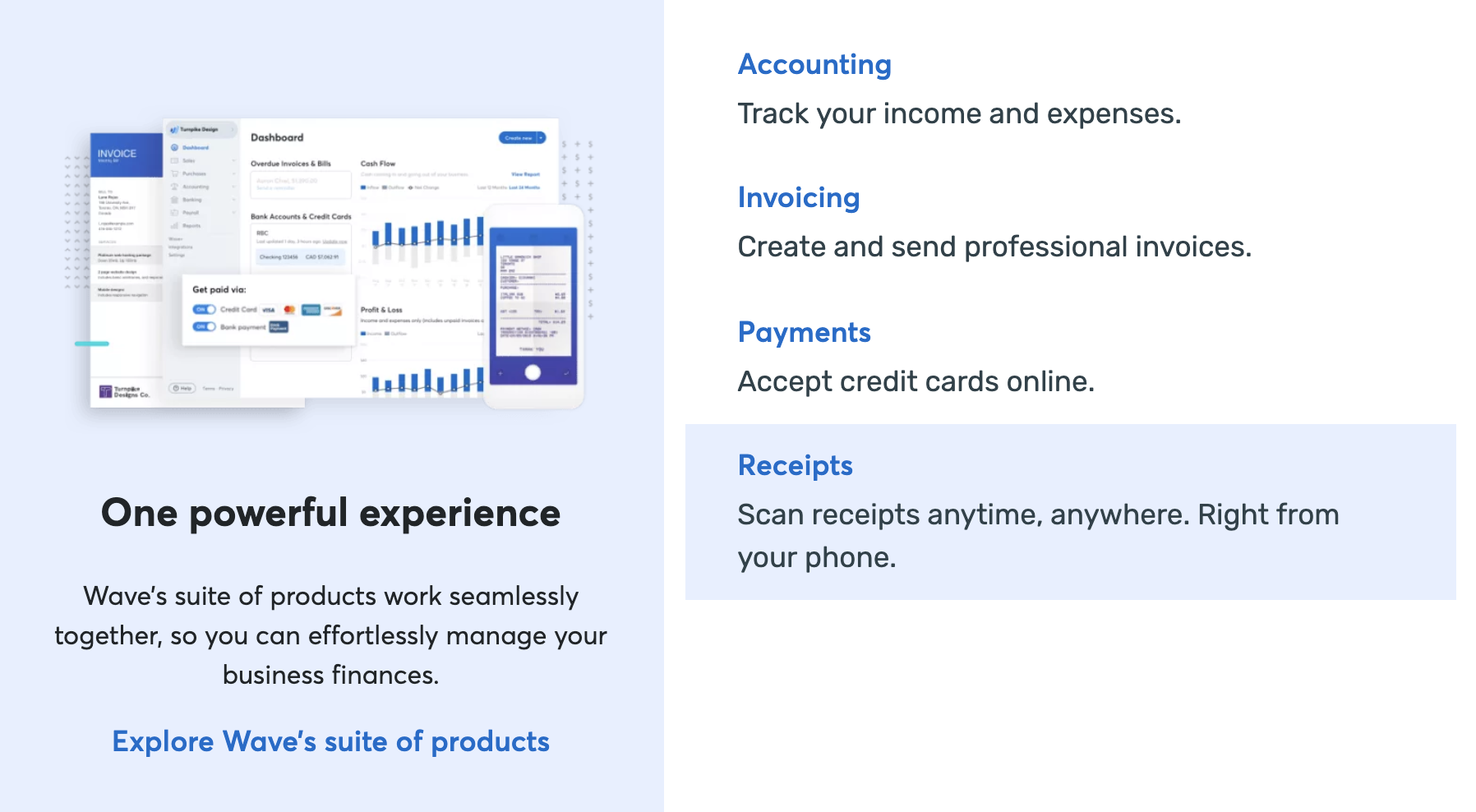 And of course, Wave features the all-important receipt-scanning software that on-the-go spenders need to track expenses.
The very best part? You need to pay for credit card processing (if accepting payments), but everything else is free!
Pros: Gives freelancers all of the important tools they might otherwise lack. 
Cons: May have more tools than some users need.
Expensify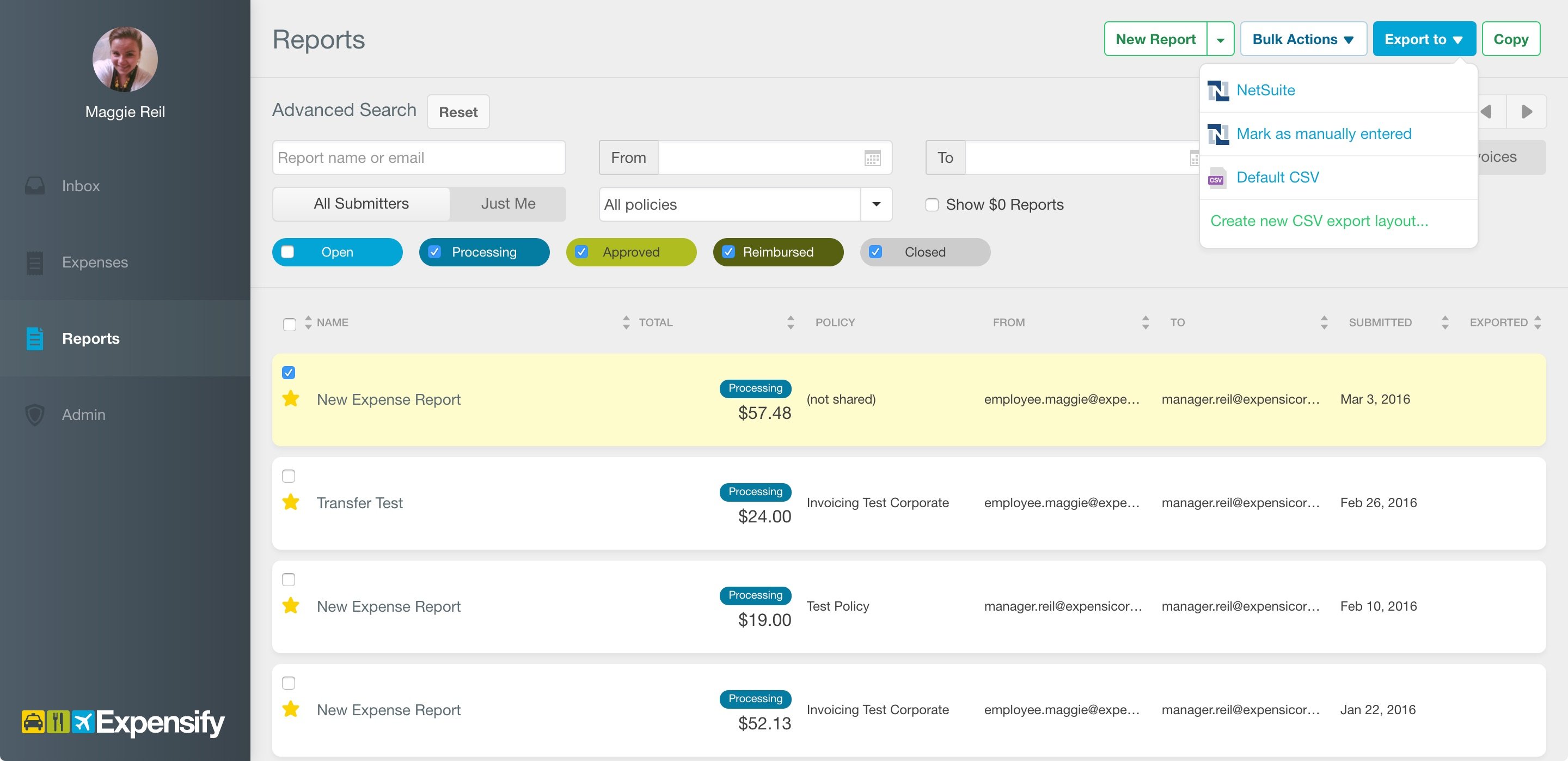 Image source: SuiteApp
Expensify is a handy expense management tool used by many small businesses. With Expensify, users can import expenses from an existing credit card, and can generate expense reports quickly and easily.
Aimed at freelancers and emerging businesses, Expensify helps to automate recurring payments, and also makes it a lot easier to record and process expenses.
Expensify also wins points for its smooth user interface, presenting expense information in a single screen.
Pros: Easy to use; well-suited to small and emerging businesses.
Cons: Some reports of software integration issues.
Dext
Dext (formerly Receipt Bank) focuses on nailing one thing: easy data extraction from invoices, bills, receipts, and other expense documents.
With Dext, users no longer have to worry about keeping physical copies of documents, and can instead scan and automatically upload them to a range of accounting software.
Dext also seamlessly integrates with your accounting software: Xero, Quickbooks, Sage, and more.
This simple design has already saved countless hours of time for freelancers and small business owners. Check it out, and see how it could help you.
Pros: Simple concept; great integrations; time-saving data extraction.
Cons: Limited features aside from its core purpose.
Now, let's take a look at a couple of handy tools for growing businesses.
Scanbot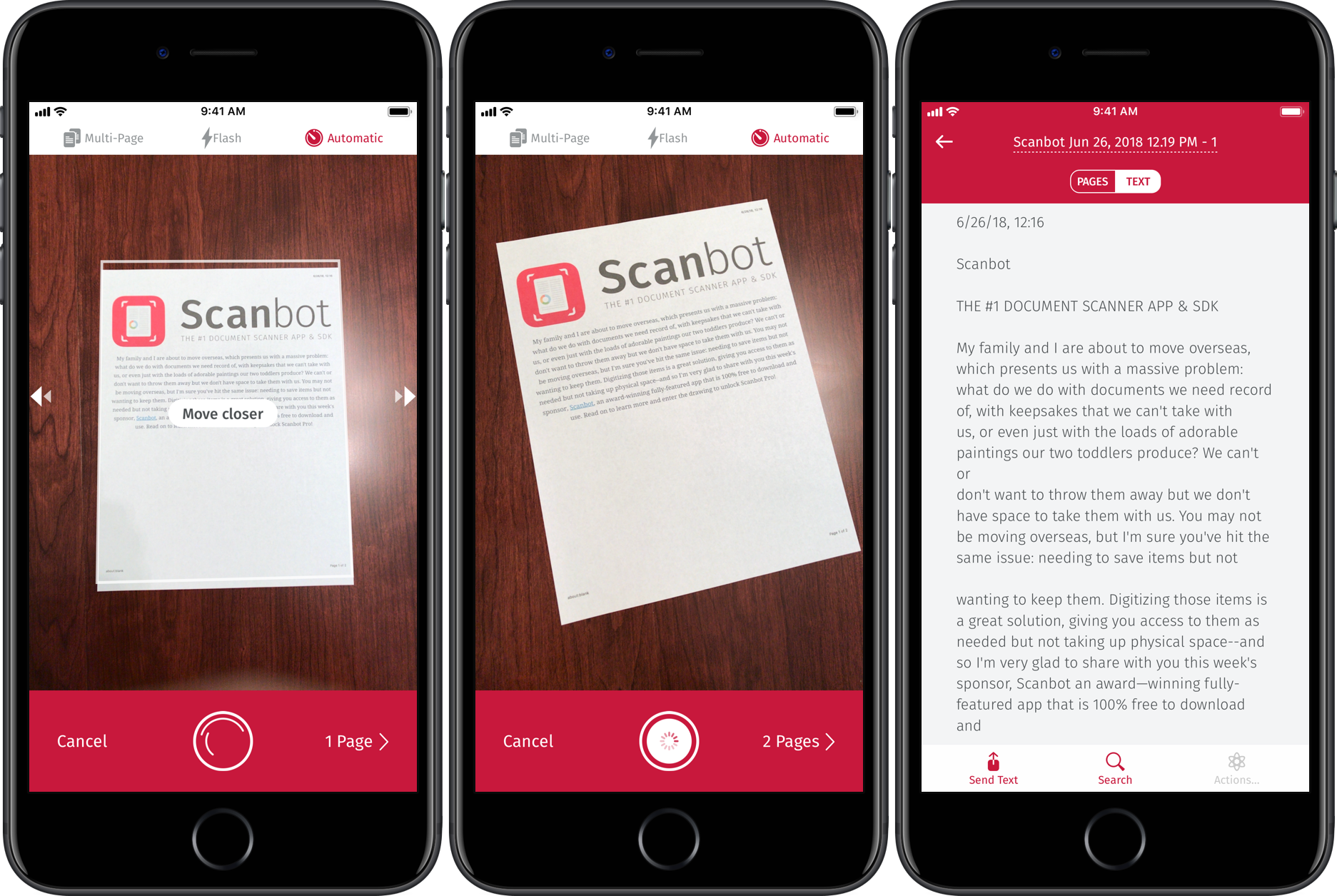 Scanbot is a bit of a bonus on this list, because it's not strictly speaking just for spend management. Instead, this great tool lets you scan any document with your phone.
Naturally, that includes receipts and invoices. You can instantly digitise these documents and save them to the folder of your choice. Business travellers can therefore save every receipt as they go, safe in the knowledge that they'll have it when they need it (later on).
Pros: Very simple to use and has lots of applications. 
Cons: Not specifically designed for expenses, so may lack some features.
Scannable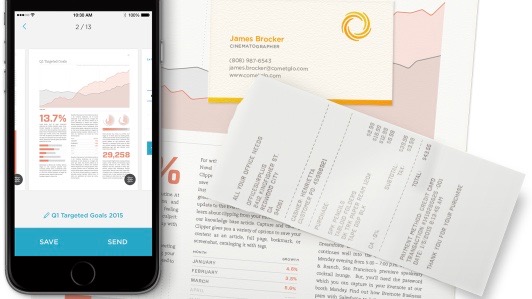 Created by the team behind Evernote, Scannable is similar to Scanbot (above). It lets you scan any document using your phone. The added benefit for Evernote users is that it integrates natively with the larger tool.
This makes it even quicker and simpler to save receipts alongside expense report forms. And since Evernote files are designed to be easy to find, it'll never be too tricky to track down your receipt from weeks ago.
Pros: Easy to use and connects with Evernote.
Cons: Not specifically designed for expenses, so may lack some features.
Enterprise tools
For larger companies, spend management is a high-stakes question. After all, the more employees making purchases, the more time is spent processing reimbursements.
A larger number of employees can also contribute to a higher likelihood of expense fraud, as it is often more of a challenge to keep tabs on where company funds are going.
Enterprises are usually looking for more robust supply chain management, strategic sourcing, and all around procurement software.
But fear not! We've got a couple of useful tools to help you stay on top of things.
Certify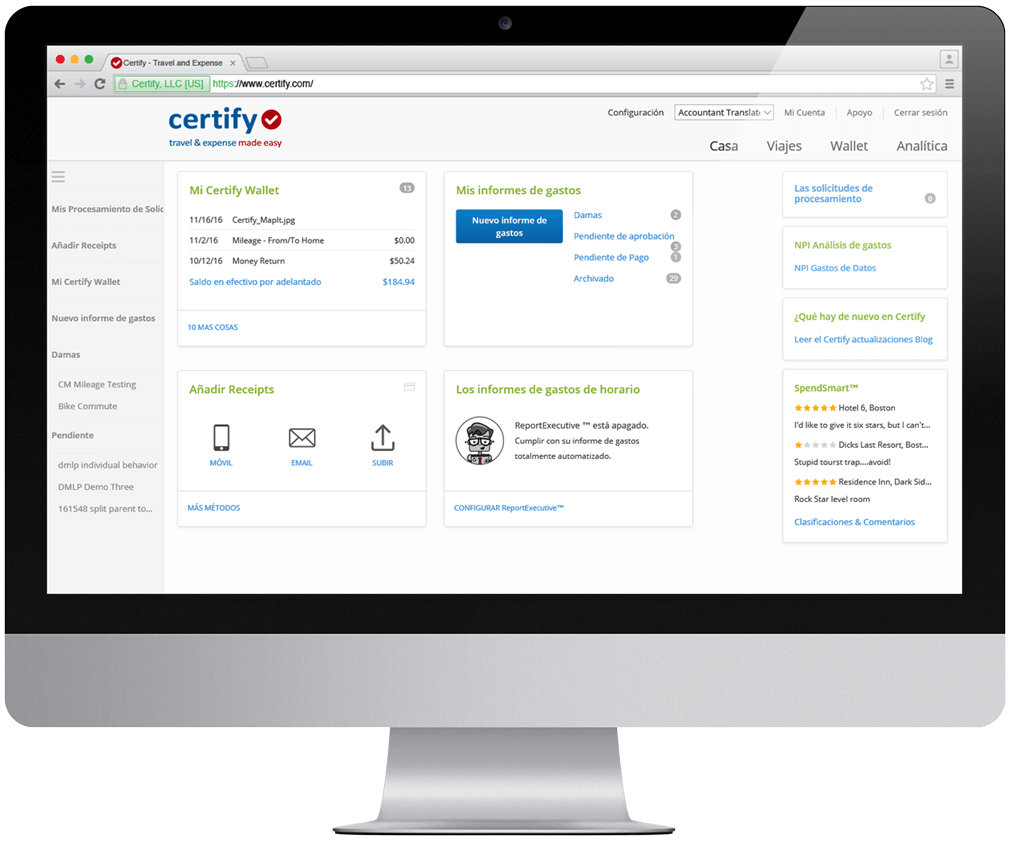 Aimed at simplifying the spend management process, from travel expenses to automated accounts payable, Certify helps larger companies to streamline their systems and save time. For larger enterprises with a workforce on the move, this is particularly helpful.
Certify includes a handy mileage calculator, and its web-based platform makes it easy for users to take care of common travel expenses like tickets and meals. Companies can also customise approval flows, making sure expense claims go to the right place.
Certify also includes an intuitive and easy-to-use interface, allowing users to manage their expenses quickly and painlessly no matter where they are.
Pros: Can handle accounts payable and travel expenses; great mileage calculator.
Cons: Not as suitable for growing startups.
Certinia
FinancialForce has rebranded to Certinia. It's a multi-purpose cloud accounting and ERP tool run on Salesforce and aimed at helping startups organise their operations and projects. Built with tons of features, Certinia is well-suited for businesses of all sizes looking for a comprehensive ERP platform.
While more of a general ERP tool than a bespoke spend management tool, it does feature a powerful cash management function. With Certinia, users can streamline cash and banking management, among other features such as automated workflows and direct and indirect spend visibility.
Pros: Powerful system and comprehensive customer database maintenance capabilities.
Cons: Many features and modules, lengthy configuration process.
Bonus: Spend management for agencies
Agencies have a unique challenge when it comes to managing spend. They have different budgets for each client, and need to carefully keep track of time, spending, and resources for each. But many simply don't have that clear spend data at hand.
In researching this post, we found an interesting expense and project management tool that appeals especially to agencies.
Avaza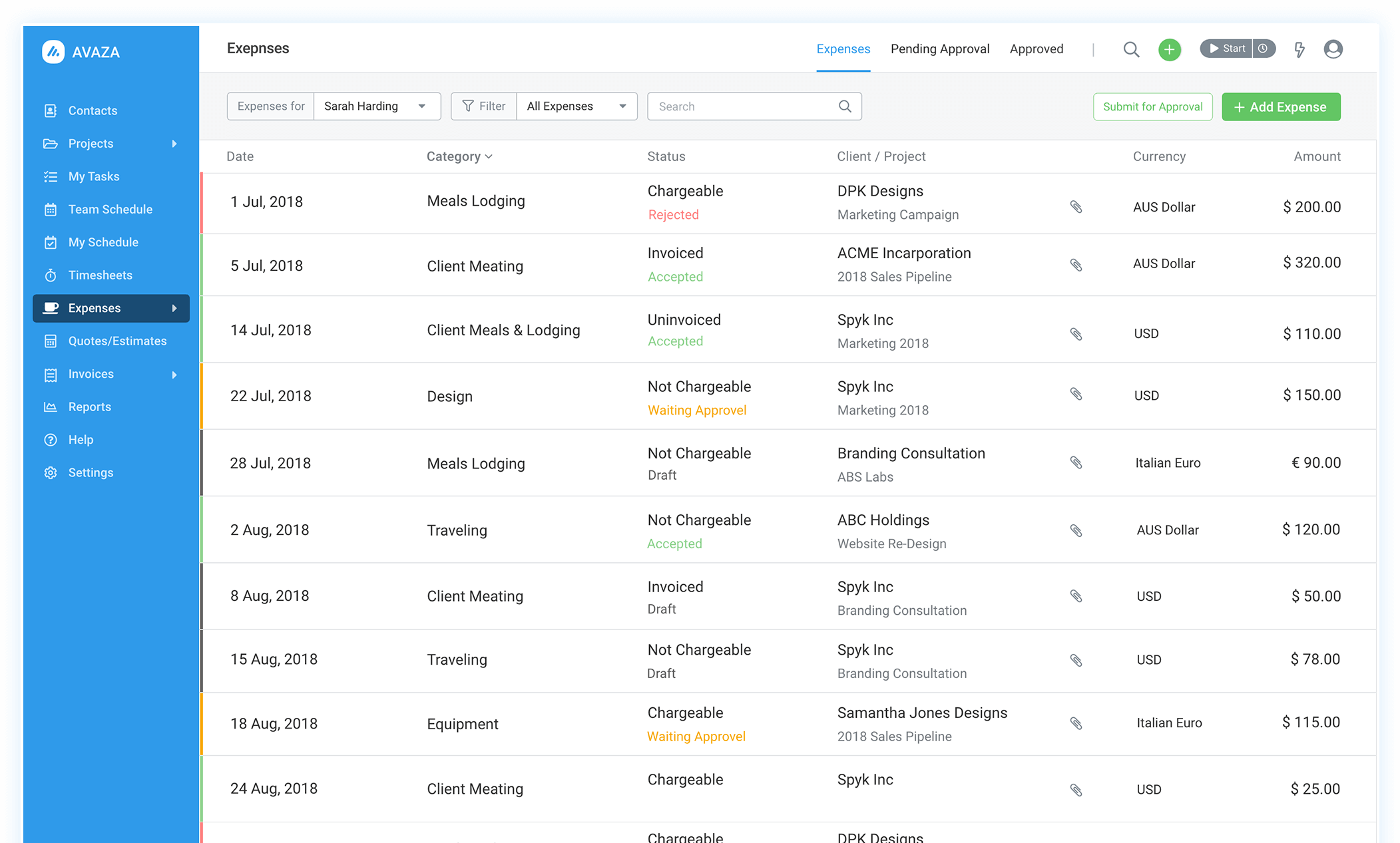 Avaza combines the key features of project management tools like Trello or Slite, alongside some good expense management features. Users can track time spent on a project either manually or in real time, which is a big need for agencies and consultants.
The tool lets you create budget estimates for projects, then track spending as the project goes along. Expenses are assigned to the correct project and can be labeled non-billable where appropriate.
Pros: Free trial lets you test most features; customisable depending on the project; combines lots of tools in one.
Cons: No accounting features; may be too large for managing small projects.
Conclusion: Know what you need - then go get it
When choosing a spend management solution, it helps to know what you're after.
If you're a freelancer or small business owner, you'll want something that's simple and easy to use. If you're a growing business or a large enterprise, chances are you'll want something a little more comprehensive, with enough flexibility to suit your needs.
Whatever you decide on, it's time to take business spend management seriously. Not only will you save a lot of time and effort, you'll also have a higher degree of certainty over where your funds are going.
Good luck out there!