9 procurement tools for modern businesses
Article
We're now firmly in the era of cloud computing and automation tools. Companies everywhere understand that they can get more done, more quickly and cheaper, with a little help from modern technology.
And yet this doesn't seem to have caught on among procurement managers:
"Fewer than 10% of companies have deployed procurement solutions based on key technologies such as the Internet of Things, Big Data, and blockchain technology. That same research also shows more than 60% of companies either use no tools at all or rely on systems primarily based on Microsoft Office to handle their workflow and supplier relationship management (SRM)." - PLANERGY
This simply shouldn't be the case any longer. Procurement tools are too useful and much too readily available to ignore.
In this post, we're going to show you why they're so powerful, and give you some options to look into. But let's start with a little background information.
What do procurement tools do?
The chief goal for your new tool should be to make life easier. The procurement process involves a lot of moving parts: procurement orders, supplier details, budget management, and the actual purchases themselves.
You should endeavor to manage as many as these steps as possible from one place - your procurement platform.
Of course, this is usually easier said than done. And the more your business relies on procurement, the more you're going to need help.
We're going to look at eight specific tools below. There are two ways to think about them as you read:
Pure procurement platforms. These are here to handle procurement, and basically nothing else. This can be hugely helpful for companies with a dedicated purchasing team, and complicated processes that are currently hard to manage.

Tools that deal with procurement as part of your other business processes. Lots of companies - perhaps the majority - don't actually need a tool just for procurement. Instead, they need something to help them manage a range of challenges or processes, with procurement and purchasing as one such example.
Take a moment to think about which category your business falls into. Are you a large business that needs to purchase a lot of stock, with a team or person who does basically nothing else? Or do you have unusual and highly complex procurement challenges?
If so, you likely need a tool just to handle this.
Otherwise, you might find that you want something that takes most of the worst parts of procurement off your hands, but that also offers more to the rest of the business.
Either way, we're going to look at each option shortly.
What to look for in a procurement system
There are a huge number of tools on the market. And while we're going to suggest some great ones shortly, you may start with one of them and end up somewhere else altogether.
Some may not be available where you are, or perhaps price keeps them out of range. So you're almost certainly going to have to shop around.
But it's important to know what you actually need. Here are the must-haves for a good procurement solution.
1. Automation
This is basically the whole point of modern business tools. If they're not going to take some of the most tedious work off your hands, they're simply not worth your time.
Procurement automation should include a workflow to handle purchase orders, receive approvals from managers and executives, and simple tracking that avoids the need for data entry.
Basically, a good platform should take all of the worst parts out of managing procurement.
2. Budget and spend oversight
Aside from making the payments themselves, the most essential part of procurement management is reporting. You need to always know how much spending with which suppliers, and to be able to optimize costs wherever possible.
So if you're going to invest in a tool, it needs to be considerably better at all this than your currently Excel sheet.
Look for tools that provide:
Real-time oversight: including for funds that haven't yet left your bank account but for which you're already committed.

Team and project budgets: you need to be very clear about which teams are spending and why.

Comparisons with previous periods: it's always valuable to see when spending either spikes or slows compared with recent months or quarters.
Most of all, make sure you can have these things without having to manipulate the data yourself. It should be easy and readily available whenever you need it.
3. Approval tracking
When company money's going out the door, someone needs to be ultimately responsible. And in a lot of businesses, managerial approval usually consists of an email chain that needs to be checked every time a purchase is made. Which is more work for finance.
Instead, your procurement tool should include rules about who can spend and on what. If it's a manager or executive, perhaps no questions need be asked. But when the average employee makes a purchase order, their manager should be notified (automatically) and required to give approval before the order progresses.
And naturally all of this should be recorded and clear to the procurement manager or finance team. Because you don't want to have to go and ask people in person (or via email) for every single payment.
4. Easy collaboration for teams
In theory, purchasing isn't really all that complicated. Provided you have a good supplier and know what you want, making a transaction is quite straightforward.
But it gets trickier if you want to include others in the process. Your colleagues don't have the same sort of experience and procurement knowledge as you do. And they're very unlikely to read a full product manual or go through a tedious onboarding process just to make a few payments.
You want a tool or platform that'll walk them through each purchase, in-line with policy and without overcomplicating things.
5. Necessary integrations
Doubtless you're already using accounting and spend management tools. Your procurement platform should talk to the others without you having to cut and paste for hours.
Before you eventually commit to a tool, check that it's going to be easy to connect to the other vital parts of your finance ecosystem.
Now without further ado, let's look at some tools!
9 procurement management systems to investigate
This list contains a range of different solutions for all kinds of companies and business models. Procurement is a broad concept that tends to look different in each company, so the tool you choose needs to match the way you operate.
So check out these descriptions and if one of these options makes sense, dig deeper and see if it's a fit!
1. Precoro - Total purchasing control
Precoro calls itself "ground control for purchasing." It helps you create custom purchase orders easily, track manager approvals, and assign each payment to the correct budget as you go.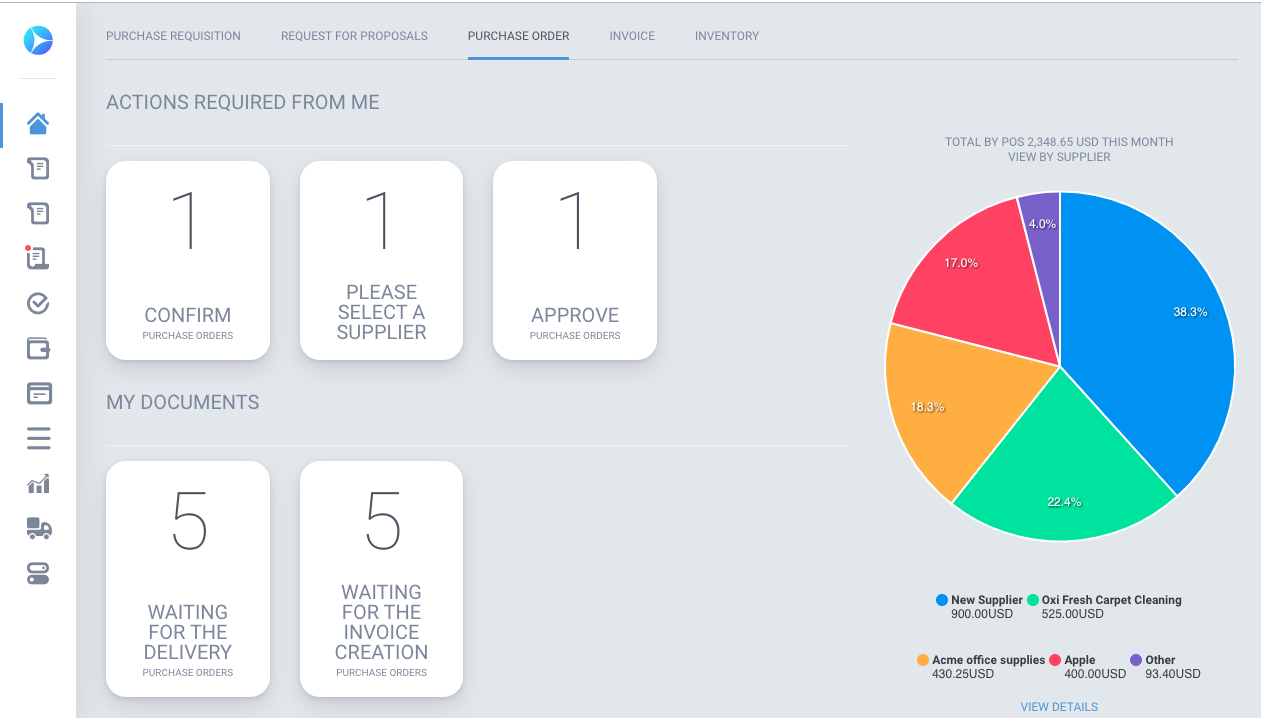 For those businesses with complex and ongoing procurement needs, this is a very good option.
Per GetApp, every Precoro plan includes the following:
Purchase order creation and delivery

Billing

Spend data analysis

Approval workflows

Real-time budgeting

Vendor management

Catalogue management

Three-way matching

Receiving
A small but very useful aspect is the ability to create "free forms." While you can use templates and keep things simple, users can also add extra fields to procurement forms to make sure that all important information is captured.
This gives you the flexibility you need for specific purchases, while remaining consistent and in complete control.
Pricing: Plans start at $29 USD/month per user.
G2 rating: 4.4
Capterra rating: 5
As the name suggests, Promena helps businesses handle sourcing and manage suppliers. And especially those businesses who need to put out RFQs (requests for quotation).
When you put out an RFQ, Promena will handle each bid and keep them all nicely organized. This is a time-consuming (and therefore costly) aspect of many procurement teams' jobs.
From there, Promena manages the process right through to reporting:
It is at the same time a useful way to manage each purchase easily, and also a powerful tool to look back at recent spending and see where your money has gone. This empowers your finance and procurement teams to be both high-functioning and forward-focused.
Pricing: Promena e-Sourcing offers custom quotes.
G2 rating: 4.5
Capterra rating: 5
3. TradeGecko - A well-managed inventory
TradeGecko is an inventory management system that helps you connect your supply chain with your customers. It's ideal for "multi-channel or multiregional wholesaler[s] or distributor[s]," meaning businesses who rely on buying and selling stock regularly and to scale.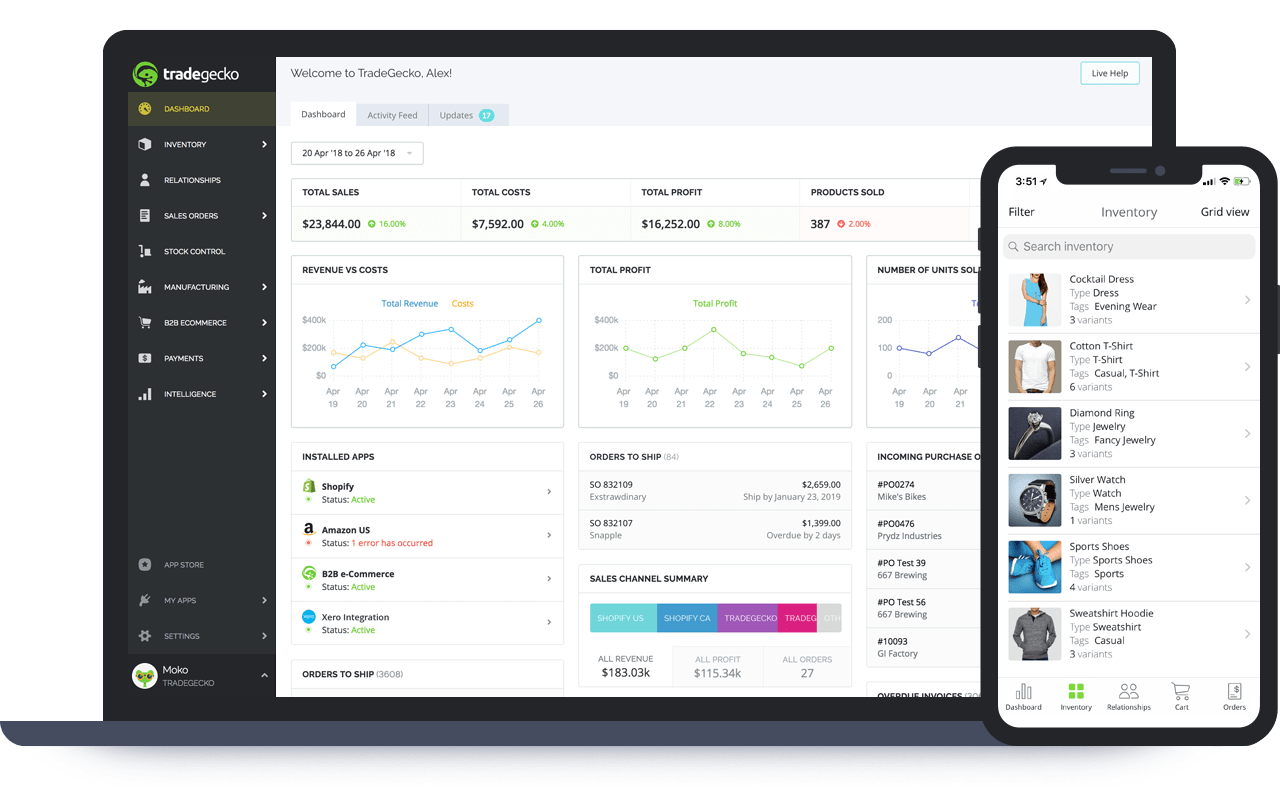 As FinancesOnline explains, "the manager can process the order, send quotes, and fulfill them once they've been paid. What is really cool about this system is that it doesn't require an additional accounting system to perform invoicing and to close deals – the company processes and tracks payments from the same platform where an order was made."
For companies who primarily need to manage inventory, TradeGecko has some useful features:
Automatically orders new products when you need them

Tracks semi-fulfilled orders, especially when delayed by a lack of inventory

Connects with your other tools to give you one source of truth
It even has an e-commerce store to make life easier for both you and your wholesale customers.
Pricing: Plans start at $39 USD/month.
G2 rating: 4.3
Capterra rating: 4.5
4. Orderhive - Procurement for e-commerce companies
Similar to TradeGecko, OrderHive is an online inventory management system. But this tool is aimed specifically at e-commerce retailers - companies selling goods online directly to consumers.
It includes a wide range of features including:
Order and inventory management

Purchase tracking (including barcode systems)

Warehouse and returns management

Invoicing and payments

Analytics and reporting
And of course it works with every major e-commerce platform, including eBay, Amazon, Shopify, and Etsy.
This is a more affordable option than many of the others on this list. And while it offers a comprehensive set of useful features, it's never going to be as robust as the enterprise options you'll find above and below.
But for lean businesses moving lots of stock online, it's a great tool to explore.
Pricing: OrderHive offers a 15-day free trial. Paid plans start at $49.00 USD/month.
G2 rating: 3.6
Capterra rating: 4.5
For companies at the "full-scale ERP" end of the spectrum, it's hard to look past Oracle's procurement tools. These are actually made up of six capabilities:
Purchasing: Automate procure-to-pay

Self Service Procurement: Manage employee requests for goods and services

Sourcing: Increase savings and reduce negotiation times

Procurement Contracts: Streamline the process and ensure supplier compliance

Supplier portal: Collaborate directly with suppliers

Supplier Qualification Management: Assess supplier risk and see all activities throughout the relationship lifecycle.
That's a lot of firepower for companies with serious procurement and purchasing needs. This isn't for the average SMB looking for a little automation or to add some structure.
More likely, you'd go for Oracle Procurement Cloud alongside some of the company's other ERP technology. This could include its Financials Cloud, Performance monitoring, or Risk Management solutions.
But if you are at this end of the spectrum and want to establish a robust, lasting procurement management system, this is a fantastic option.
Pricing: The full Procurement Cloud suite is $625 USD per user/month.
G2 rating: 4
Capterra rating: 4
6. Spendesk - More control over all company spending
Not every company needs the comprehensive ERP. And even if that's the plan eventually, it can take years to get the system running smoothly and reliably.
For medium-sized and growing businesses, there are usually more urgent things to worry about. And chief among them is having easy and smart ways to pay for inventory and supplies, especially when there are a range of different suppliers who expect to be paid differently.
Spendesk gives companies the option to pay with prepaid cards (including flexible limits based on the spender), processing tools to collect and pay supplier invoices, and virtual cards for more secure online purchases.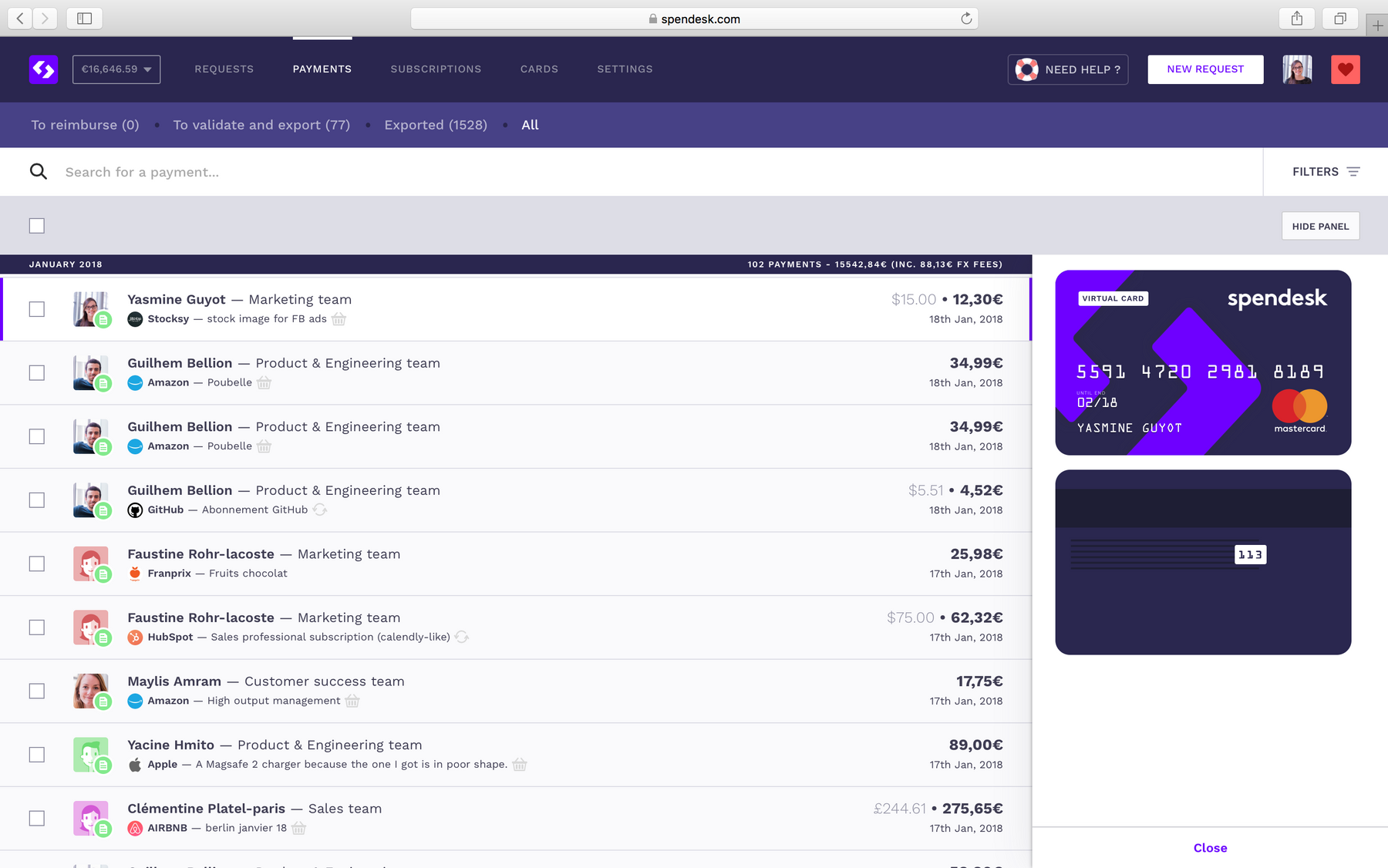 And no matter how you pay, you'll always have:
Managerial approvals recorded

Notifications to ensure that payments are made and proofs of purchase tracked

Purchases matched against team budgets in real time

All company spending in one place, including expenses and other discretionary spend
This is the ideal option for fast-moving teams who also travel or make lots of subscription payments. They want to be able to control all of this spending easily, without adding new and complicated tools for every type of payment.
Pricing: Spendesk creates custom quotes to suit all kinds of businesses
G2 rating: 4.8
Capterra rating: 5
7. PLANERGY - Full command of company payments
Like Spendesk, PLANERGY is a spend management platform. But whereas Spendesk focuses on making payments simple and straightforward for everyone, PLANERGY does the same for purchase orders.
It lets you create departmental budgets and spending limits, pre-approved vendors and purchases, and even set delivery instructions at the time of purchase.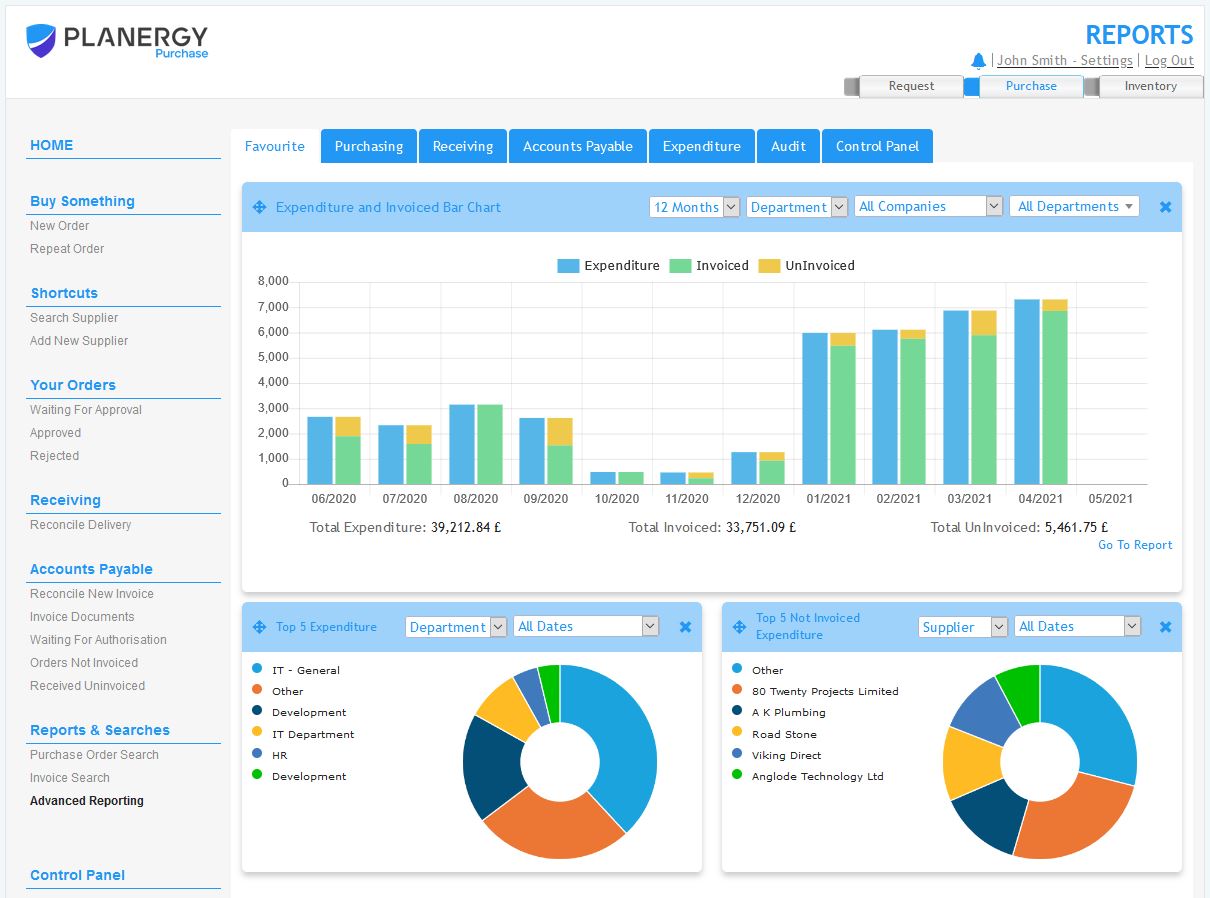 The big savings as a result of this (in PLANERGY own words) are:
Time: there's no more manual handling of purchase orders, and you can manage buying for the entire company worldwide.

Aggravation: you have fewer irreconcilable orders, and fewer errors overall.

Money: you avoid unapproved purchases coming back to haunt you, and can also look for savings opportunities.
It's also designed to be easy to use for everyone in the process. Which may be the biggest win of all.
Pricing: From $14.99 USD per user/month.
G2 rating: 5
Capterra rating: 4.5
8. Gatekeeper - Contract and vendor management
Gatekeeper is built to help you manage the relationship between your company, its employees, and external suppliers. It does this thanks to two distinct (but complementary) platforms:
Vendor Portal: this lets vendors set up their own profile and input necessary data on their end - saving you time and effort later on.

Employee Portal: this handles internal employee requests and makes it easier to collaborate with your teams.
As with all the tools on this list, the goal is to automate and digitize a range of processes that have traditionally done manually. And Gatekeeper gives you a great mix of customizable workflows and ready-to-use templates to make that possible.
Pricing: From $695 USD/month.
G2 rating: 4.4
Capterra rating: 5
9. Veeqo - Inventory management for retail brands
This tool is for a specific kind of business. Retail brands have perhaps tougher procurement and purchasing needs than most others. They're constantly ordering and re-ordering stock, always with quicker turnaround and greater margins in mind.
Which is why retail brands (and particular eCommerce stores) use Veeqo to handle inventory.
The tool actually helps on both sides of the coin - purchasing and inventory forecasts, and order management to ensure that customers always get what they need on time.
If all you need is a tool to track procurement, Veeqo is probably surplus to requirements. But if you want to incorporate orders, shipping, and keep one source of absolute truth for your eCommerce store, this could be the software for you.
Pricing: From $180USD/month per user.
G2 rating: 5Capterra rating: 4.5
Choose better procurement tools
Hopefully this list has given you some necessary and useful procurement tool suggestions. The important thing is to realize just how much time and effort is lost on your existing manual processes, and to take advantage of the wonderful options available to you.
Whether you're an e-commerce business with huge stock turnover, a tech company handling countless invoices from various suppliers, or simple a company that needs help keeping its payments in order, one of these tools may be just what you need.
Looking for other software suggestions? This ebook has lots of good options for finance teams and CFOs looking to modernize:
So what do you think? Which tools did we forget? Let us know in the comments.