Business spending: 100+ compelling statistics and facts
Article
We take company spending seriously here at Spendesk. We're in the middle of massive changes to the way that businesses handle expenses, payroll, and money in general.
Automation and new payment methods are taking over, so stay tuned.
But in this post, we want to take stock of business spend as it stands today. How do companies really spend their money? We've put together nearly 100 statistics that will definitely get your attention.
As is customary, here's an amazing stat that didn't make the cut below: 82% of businesses fail because of cash flow issues. It makes sense - no cash means you can't pay people or buy stock.
But fascinating, nonetheless.
Now let's dive into 100+ more interesting, insightful, and incredible statistics related to company spending.
Coronavirus' impact on business spending
Most of the statistics in this post deal with the reality before (or regardless of) the COVID-19 pandemic and economic fallout in 2020. This international crisis impacted company spending in what felt like unprecedented ways. At the very least, CFOs and finance teams haven't dealt with comparable circumstances since the Global Financial Crisis in 2008.
So before looking at overall spend trends and longer trend lines, let's quickly examine the immediate impact caused by the pandemic.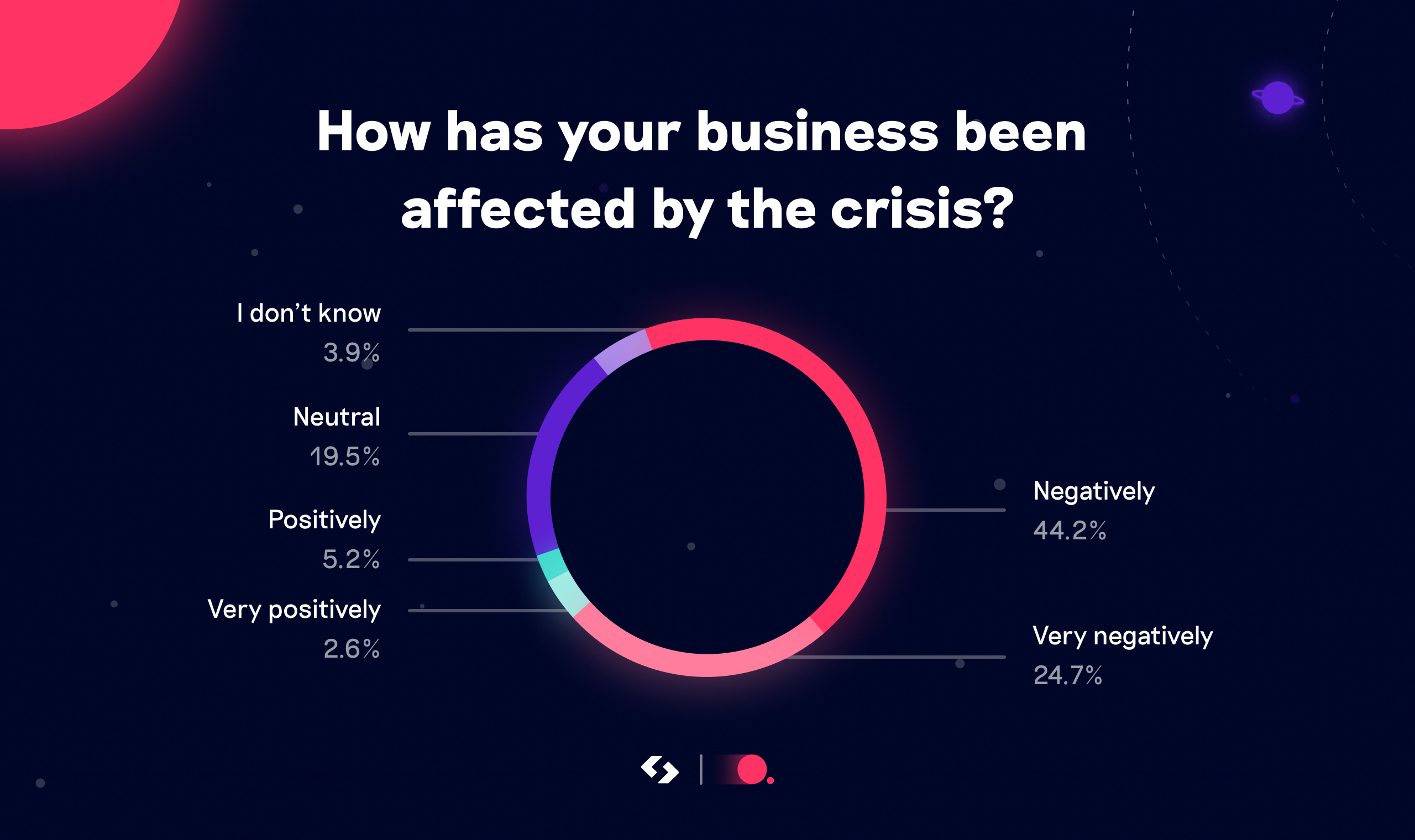 Decreases in business spending
New emphases for growth
The virus changed the very nature of doing business for many companies.
Early indications show just how a profound an impact COVID-19 has had on how business is done. This impact is likely to be felt for years to come.
Let's look now at dozens of key company spending statistics, most of which were gathered before the virus arrived.
Payroll statistics
Here's a fun one to kick off this section: One third of all sick days take place on Mondays. That doesn't have a whole lot to do with spending, but it's certainly suspicious.
Payroll costs - specifically human labor - are usually the largest expenses for a business. People can easily account for 70% of your company's spending.
So what does the average employee cost these days?
Salary statistics
For most companies, salaries are the largest expense. And naturally the amount in question depends largely on your industry and location.
Aside from salaries, managing payroll comes with other, less obvious costs. The time and effort it takes each month to ensure that everyone is paid can really add up.
Payroll management statistics
And here's an extraordinary statistic for companies considering modernizing their payroll tools:
Clearly, the more you can let the machines take care of menial tasks, the less you need to rely on people to get them done. And that means more room for people who add real value to your business.
Not just that, but automation tends to be a lot more accurate. And as it turns out, people make a lot of mistakes:
And those little errors add up:
This is why payroll management software is expected to grow by 9% over the next six years. (Industry Reports)
Office expenses statistics and team perks
On more of a day-to-day basis, companies also need to spend on items and services to keep employees happy in the office. At the small end, this can include drinks and snacks on a Friday evening.
But as employees start to get used to more elaborate perks, the importance of these grows for business owners.
Many of these offers are beginning to move from "team perks" to becoming almost essential. Especially if companies want to attract the best talent available.
Taxes, legal fees, and startup costs
Another big worry for most businesses is the amount of taxes they'll have to pay each year. This is closely tied to the company's overall spending, and filing administrative expenses often takes up a lot of time.
Legal fees are another cost that every business hopes to keep low, but which inevitably blossoms when you least expect. And of course, this can go hand-in-hand with taxes - especially if your books have not been handled well.
While hopefully this isn't something you'll have to worry too much about, legal fees and taxes can be a significant burden on many companies. And it can pay to plan ahead.
Marketing and advertising spend statistics
For many modern businesses, growth is the biggest challenge. And in order to spur this growth and build brand awareness, companies dedicate significant sums to marketing and advertising.
Image: Gartner
Let's turn our attention now to some specific aspects of marketing common in many modern companies.
Content marketing costs
Content marketing is an incredibly popular tool to generate interest in a brand's products and services. Using blogs, video, and social media, marketers dangle enticing content in front of potential buyers, and let customers come to them.
And this approach is undoubtedly growing.
Digital advertising spending
Thanks to now-essential marketing channels like search and social media, digital advertising is perhaps the fastest-growing technique in the marketing world. And it's no flash in the pan - companies are committed to spending large sums on paid search and social.
Clearly digital advertising is an enormous and still-growing market. But this doesn't mean that non-digital marketing is dead in the water.
Event costs
With the advertising and content marketing spheres feeling flooded, many businesses are turning to in-person meetings and trade shows to put a face to their products.
As mentioned above, businesses are working hard to grow. Whether that means more digital ads, investing in content, or attending events, marketing budgets are a major factor for most companies.
Business travel stats
We previously wrote a deep dive on business travel statistics. Here are the highlights from that piece:
To learn more about how companies spend on travel, download our new Spend Trends Report:
Tools and subscription expenses
Another trend that shows no signs of slowing down is the growing reliance on SaaS (software as a service) tools. These platforms give companies top-quality solutions for everything from CRMs to spend management, without having to build them themselves.
This is usually more convenient, faster, and more affordable overall than the alternative. No wonder they're so popular.
Image source: Blissfully
The "SaaS revolution" is in full swing, and this market only promises to grow further.
Research and development costs
Another interesting area for large businesses is their investment in innovation and research. While not all companies have the luxury of dedicating huge sums to these pursuits, they can be the difference between exceptional growth and being overtaken by the competition.
Business spend matters
As we've seen, companies spend huge amounts on everything from marketing to taxes. New tools are emerging, businesses are investing more in office perks, and travel is growing quickly too.
But managing all this spending is still a challenge. And that's what we're here to fix.
If you'd like to learn how to give your team more flexibility and freedom, while also gaining more visibility and control over your spending, talk to us: