12 CFO tools for a great finance stack
Article
We've written before about how the CFO's role is changing. In the past, the finance head was an expert accountant or revenue wizard. But today's CFO needs to be a well-rounded business consultant and asset to the executive leadership, with a whole range of other talents mixed in.
Modern CFOs need to be authorities in:
Human resources and people management

Payroll challenges

Legal rules and regulations

Business strategy and entrepreneurship

Data visualisation

Everything else administrative, legal, and finance
The finance world is becoming more and more high tech. And top CFOs need good tools on-hand to manage all the new challenges that come their way.
So in this post, we're going to show you them. Let's do this!
Want the take-home version? Download our guide:
Keys to a great finance tool stack
We hosted a London CFO meetup in February 2019 on this exact topic. Before looking at specific tools you may want to consider, here are some of the key principles our experts discussed:
You need a wide range of tools. Modern technology, new payment methods, and updated business models mean that CFOs need to rely on a suite of tools to do their jobs. It's still possible to keep this suite relatively lean, but you'll need software that fills a range of very specific needs.

Choose carefully - and don't rush in. As a general rule, it's always smart to think carefully before taking on new software. This is doubly true for financial tools.
Because you're dealing with large amounts of highly valuable data, you want to avoid changing tools every six months or so. This is always difficult, and never fun.

Consider developing in-house. This is a potentially scary step, but if you really need something bespoke, your best option is to build it. But be warned: if poorly executed, this will only lead to more headaches down the road.

"Do-it-all" tools can be overrated. As much as you may want one key tool that integrates with the rest of the company's software, this is usually more hassle than it's worth. Large ERP systems are hard to integrate, and it's a full-time job (or jobs) to keep them running well.

If it works, keep it. As mentioned above, the amount of data you deal with means that changing tools is a huge undertaking. And in a lot of cases, sticking with what you have will be more efficient and easier.
But be sure that what you have actually works, and isn't just "the best we can do for now."

You can still have Excel. Excel (or Numbers or Google Sheets) is still the trusted right hand for most finance professionals. And if you're currently an addict, there's no reason to get rid of it. But there are ways to remove much of the manual data entry involved with tools that interact easily with Excel.
With these principles in mind, let's get to the tools!
Accounting platforms
A lot of accountants are still hooked on the classic spreadsheets of the past. And while these are useful, there are more appropriate options for our modern times. Let's look at a few of the best cloud accounting platforms that help you manage the books from anywhere, and minimise manual data entry.
Note: We've only listed two tools here because we already wrote a whole post about accounting tools. Get more suggestions for good accounting tools here.
Xero is one of the fastest-growing and best-known cloud accounting tools on the market. It's built to make accounting smooth and accessible, and to remove as many unnecessary steps as possible.
Compared with many of the other accounting platforms available, Xero is simple and intuitive. Which means that more sophisticated finance teams may find this limiting. But if you can manage accounts in a smooth and simple manner, then why not?
And the biggest benefit is Xero's huge range of integrations, including everything from payment processing and travel tools to expense management. If you want something easy to use, but also industry standard for growing companies, Xero is for you.
Biggest pros for CFOs
Removes the need for Excel and manual data entry for accounting

Designed to be highly intuitive

Cloud-based, so your accounts are available from wherever you are
Similar to Xero, FreshBooks is a solution designed to simplify and automate all of your most important accounting processes. You can create, modify, and manage ledger entries easily, and can export this data without lots of tedious effort.
Like the others on this list, FreshBooks is cloud-based, so you'll have access to your books wherever you are. Reports are quick to create and easy to understand, which matches pretty much the whole FreshBooks experience.
This is another very good tool for companies that need simple and fast accounting, with none of the boring stuff.
Biggest pros for CFOs
Easy to set up and use

Simple invoicing and auto-billing functions

Sends automated reminders for late payments and other tasks
See FreshBooks' pricing and plans.
Of course, the above options are designed for small businesses. Larger (and fast-growing) companies may prefer something from the next section of our list.
Enterprise Resource Planning systems (ERPs)
It's tricky to recommend a single ERP (or even a few). Your options are wide-ranging, and the benefits of each really depend on your business structure and what you hope to achieve.
Below are three highly-rated ERP options to investigate. But before you choose one, we recommend reading this discussion on how to choose an ERP tool, which gives you the most important considerations before diving in.
FinancialForce is a modern ERP that helps companies track spending, resource availability, employee bill rate (for professional services businesses), and project profitability. Basically, everything you expect from an ERP.
Habiteo CFO Sébastien Delétang - one of our CFO Connect guest speakers - explained why they eventually chose FinancialForce: "There's no API to set up, just a few additional accounting fields but other than that you're looking at the same interface as with Salesforce."
So for businesses already committed to and enjoying Salesforce, FinancialForce is a natural companion. The two tools communicate easily with one another, which keeps finance leaders on top of the company's most important data at all time.
Biggest pros for CFOs
Connects easily with Salesforce

Users describe it as easy to use and simple to set up

Financial records and dashboards make company data readily available
NetSuite is one of the best-known and most popular cloud ERP platforms available. For many CFOs, this is the gold standard. NetSuite functions as an ERP, CRM, business process development tool, and eCommerce platform in one. It's used by companies ranging from small businesses (2-10 employees), all the way up to large enterprises.
The clear benefit of a comprehensive platform like this is the ability to keep all your important data in one place. If your CRM and ERP can talk to each other, that's powerful. And if all you're interested in is the ERP, few have a better reputation.
Biggest pros for CFOs
Highly customisable without too much trouble

Good search functions to help users find reports

Very good user interface

Goes beyond the typical scope of a CRM
Get a free consultation and quote.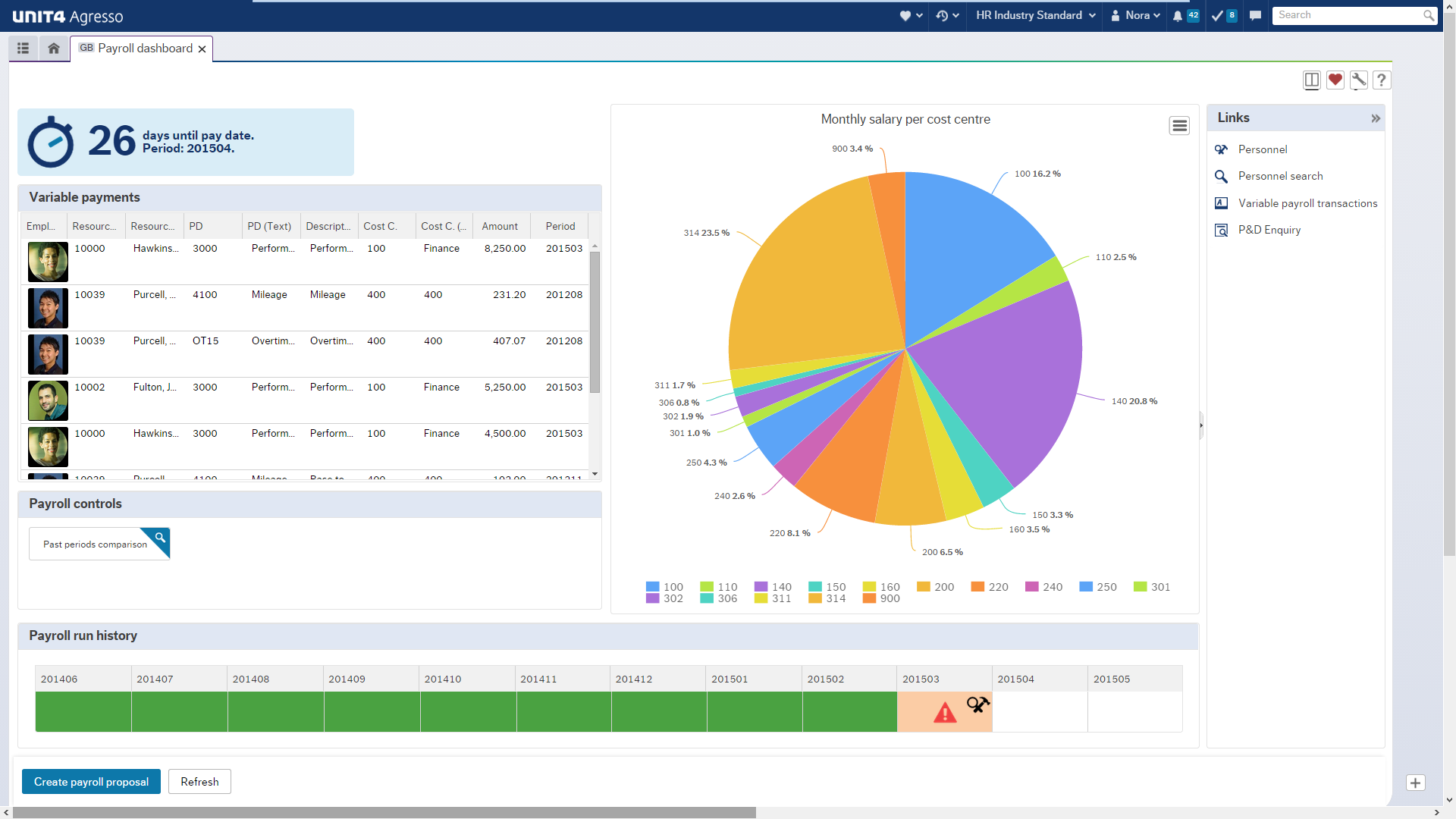 Unit4 was another ERP recommended by our experts (see above). It's hugely powerful and looks slick and smooth.
What makes this platform different from others is that it's highly do-it-yourself. You have enormous freedom to build the system the way you want it. Which is fantastic if you have the time to do so, and if you know exactly what you want. But some startup CFOs may prefer a tool that's ready to go "out of the box." If so, you'll probably want another option.
Key functions include accounts receivable and payable, fixed assets, purchase orders, general ledger, expenses, sales invoicing, and more. Pretty much everything you need.
Biggest pros for CFOs
Lets you build your own system essentially from scratch, to better suit your business

Good workflow design features that let you create your own processes

Great for companies that don't need a comprehensive, heavy ERP
Payment processing tools
To run a successful business, it's usually crucial that customers are able to pay for your services. That's obvious. And there are good tools available to make this smooth and simple.
If your customers pay online via credit card, Stripe is just about the industry standard. It lets you easily issue invoices and accept credit payments through your app or website, without too much technical development.
Which should be vital for CFOs: easier payments means faster payments, which means overall better cashflow management. It also simplifies the process of receiving payment, because every customer can pay the same way.
Biggest pros for CFOs
Good financial reporting tools and can be integrated easily with your accounting suite

Removes the administrative burden of receiving and processing payments

Supports payments in most major currencies

Quick to set up
View Stripe plans and pricing.
Go Cardless solves a similar problem to Stripe (above): helping customers pay easily and on time. But rather than facilitating credit card payments, it works on direct debit.
In a few clicks, customers can authorise your business to take direct payments from them on an ongoing basis. Which means, obviously, that it's perfect for SaaS businesses taking recurring payments. The service also works for one-off invoices, and makes it easy for your customers to set these up quickly.
The best part for finance teams is that it connects directly to your accounting tools. So there's no reconciliation at all - every payment is automatically matched to the ledge and the paperwork is done for you.
Biggest pros for CFOs
Integrates well with accounting tools like Xero and Quickbooks

Easy to implement and works right away

Walks customers through the process and takes all of this burden out of your hands
See Go Cardless plans and pricing.
Chargebee is another very good option, similar to Go Cardless. It lets you create payment pages to share with customers, rather than sending individual invoices by email or post. This works on top of your payment gateway of choice - Paypal or Stripe, for example. (Chargebee is not a payment gateway itself).
The big benefit of this (and Chargebee's core value) is subscription management. If your business receives recurring payments from regular customers, Chargebee helps to keep all of these payments in order. You can manage free trials, send reminders to customers, and view all of your subscription data in one place.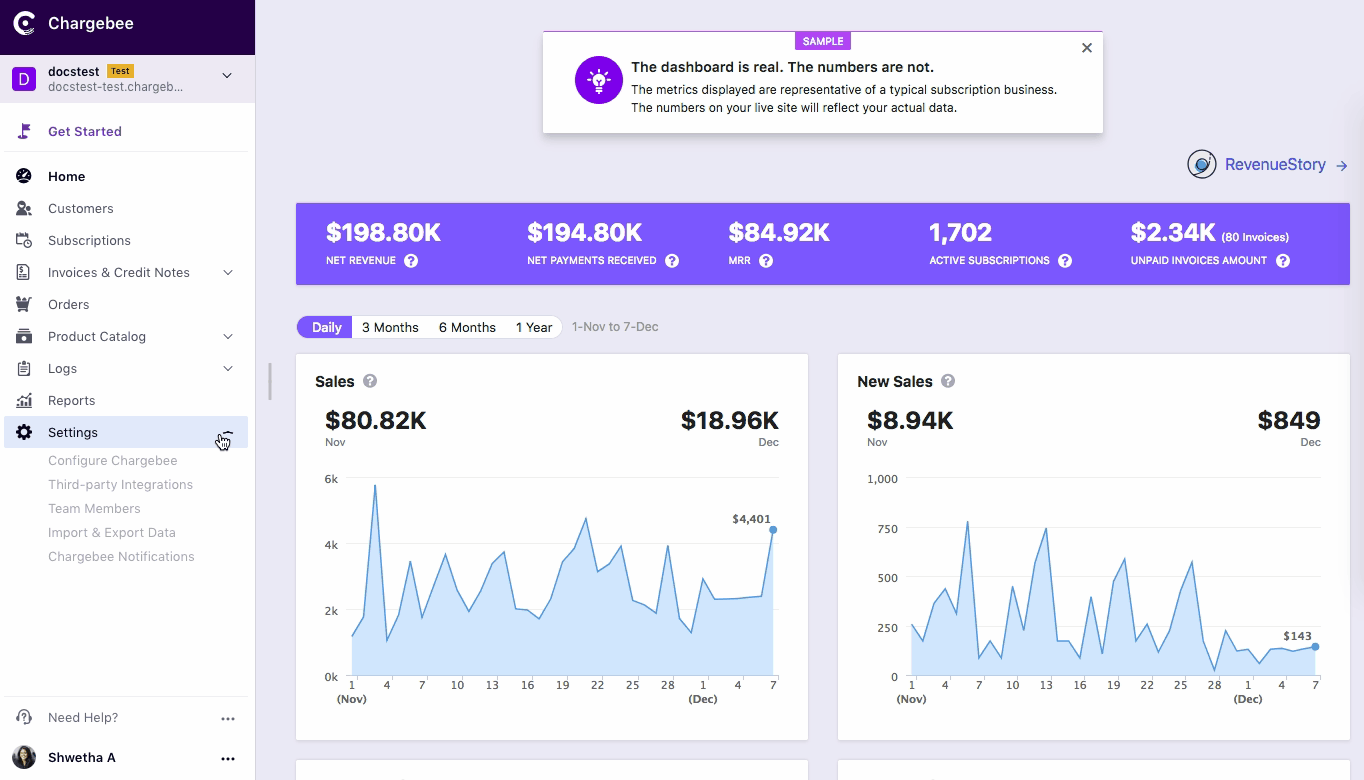 In short, if your finance or billing teams spend large amounts of time tracking payments, Chargebee can likely help.
Biggest pros for CFOs
Takes care of VAT and other taxes on payments, with the correct rates for each country

Includes a ready-to-use dunning process for unpaid invoices

Works with Stripe, Paypal, and plenty more
See Chargebee plans and pricing.
Payroll management and human resources platforms
You may think of payroll as more of an HR function than a matter for CFOs, but these duties are closely linked. Everything from salaries to sick leave affects company efficiency and impacts revenues.
So what are your best options to streamline payroll and stay on top of important staff matters?

BrightPay is a great cloud payroll solution built specifically for the U.K. market. Users can be confident that their payroll processes are HMRC-compliant, and the auto-enrolment feature lets businesses establish employee pensions with no hassle.
The platform's other biggest selling point is its ease-of-use. Based on reviews from Software Advice, users consistently state that you don't even need payroll experience to operate effectively.
For businesses needing specific help with the U.K.'s payroll processes, BrightPay is a great choice.
Biggest pros for CFOs
Usually much cheaper than other well-known options

Good range of features including automatic enrolment and RTI

Less cluttered than some of the larger options available
See BrightPay plans and pricing.
Another HMRC-certified tool, Payfit is hugely popular across Europe. It automatically generates and distributes payslips for employees, tracks their leave balances, and handles pensions and RTI submissions.
It also gives employees their own portal to view all of this, so they always know how much they've been paid and how much leave they still have.
It's certainly more focused towards the European audience, and notably does not provide 401(k) tracking (among other things that U.S. businesses might require). But for companies on the continent (or Britain and Ireland), it may indeed be the perfect fit.
Biggest pros for CFOs
Users find it very simple to use

Saves a lot of time and removes the need for Excel payroll management

Gives employees good visibility over their pay, leave, and more
Like the other two above, Gusto helps businesses automate payroll. This includes everything from payslips and tax filings (federal and state), to time-consuming calculations and compliance with healthcare requirements (including the ACA).
Employees can even set up automated charitable donations directly from their payslips, and specific employee benefit programmes can be incorporated without trouble.
Gusto integrates easily with accounting tools and ensures that all of your most important (and most tedious) processes are taken off your hands. In short, it makes the complex process of payroll management simple.
Biggest pros for CFOs
Automates hard-to-manage essentials like PTO, taxes, and form-filling

Manages specific regulatory factors like 401(k) in the United States

Works well for contractors as well as full-time staff
Spend management tools
Last but not least, we offer an excellent solution - if we do say so ourselves - to stay on top of your company spending:
Spending is tricky thing to manage for most companies. Thanks to outdated technology and old-fashioned processes, most businesses don't truly know who spends what, why, or who gave approval to do so.
Spendesk fixes all this by giving you smart, trackable spend management. Your employees have access to their own cards with customizable limits, so they never need to pay with their own money. Meanwhile, CFOs have full visibility over company spend, with detailed records of every purchase.
In other words, everybody wins.
The outcome is more autonomy for your team members, and better control for leadership.
Biggest pros for CFOs
Real-time tracking of all company spending

Single-use or recurring virtual cards to spend online

Digital receipt capture and storage

Physical cards for every employee to use while travelling
Find more spend management software options here.
Get the tools to free your team
Far too many core finance processes are still manual, slow, and unpleasant. As a result, finance teams are always in a rush - especially during month-end closing.
This is despite the fact that good tools exist that do the heavy lifting for you. You want a team focused on strategy and maintaining a healthy business, not on data entry and filing.
Take a look at a few of the tools above and see which might be a good fit for your business. And for more ideas, check out this PDF guide: