Deutsche Qualität: Spendesk and DATEV integration
Article
We Germans, have many stereotypes that tend to portray us as efficient, well-organized and a nation of people that generally stick to the rules. While being German myself, I can confirm firsthand that not every German would fit this description. We do however receive disproportionately more feedback from our German customers on the value of process.
From speaking to thousands of finance professionals in Germany and across Europe, we can confidently say that a process that hasn't exactly been smooth is the way business spending is managed. Good news, at Spendesk we're huge advocates of efficient, digital processes. It's the foundation on which we've built our platform.
From pre-approval on every payment to automatic receipt collection, Spendesk was built for our German customers. A few notable features include:
A smart, trackable process for every payment

Automatic per diem calculation

Secure, single-use virtual cards

One-click receipt collection

A native integration with DATEV
A real approval process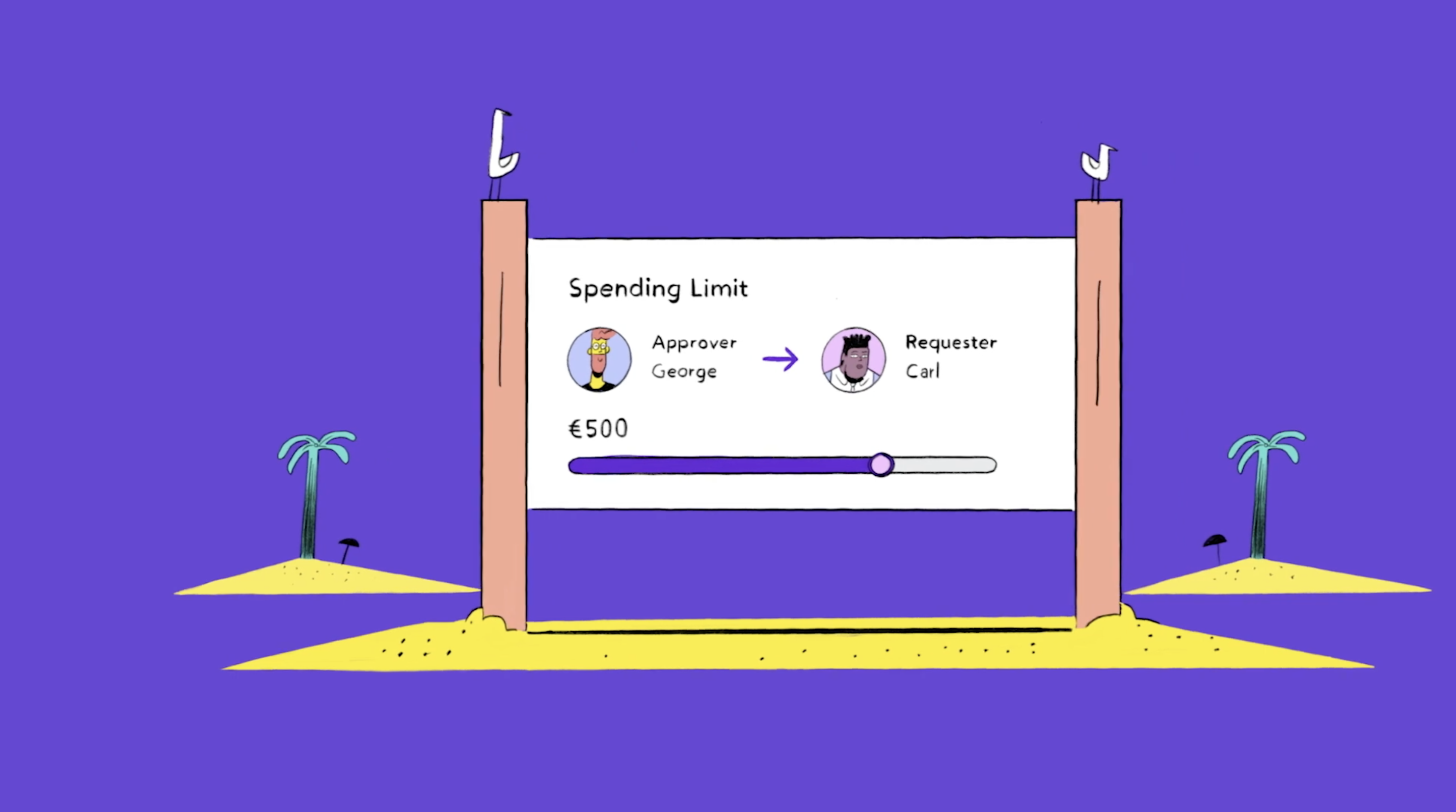 Whenever employees want to pay for something at work, it is unfortunately often unnecessarily complicated. It is usually unclear how much budget each employee has at their disposal and who has to approve their on- and offline expenses.
Also, chances are their manager is not immediately available to validate their request until the next day, a less than ideal scenario that unnecessarily holds up all parties involved.
The solution is to implement a clear approval process to make sure all employees know how much they are allowed to spend as well as who and when they need to ask for approval.
Spendesk helps companies all over Europe and the USA to pay securely with virtual and physical debit cards and to implement said approval process by providing the finance team and the employees with a clear structure and more importantly a centralized platform:
In Spendesk, custom spending policies are defined for employees and teams. For example, it can be decided that all employees in the marketing team may spend up to €50 per month without having to obtain approval from their supervisor.

All payments that exceed this limit require manager approval. Employees can easily make requests, and the managers will be instantly notified and can approve or reject the request in one click. Email chains, phone calls or back and forths on the company chat are a thing of the past.

For expenses that exceed the manager's scope of responsibility, additional validation levels can be added, for example, purchases over €3000 must be confirmed by a second manager who will also be held accountable.
Thanks to this automated approval workflow, both employees and managers save valuable time. Every payment is tracked resulting in less confusion in the team - unless German per diem rules have to be applied...
Per diem & business trips
A subject that regularly complicates expense management for companies in Germany is the calculation of additional expenses for meals and overnight stays during business trips. The rules and rates applied can be quite confusing or "as clear as mud" as my colleague likes to put it.
It is not impossible to have the employees make these calculations in a simple spreadsheet. However, depending on the duration of the trip, this can lead to relatively lengthy calculations, in which (un)intentional errors cannot be ruled out.
For this reason, Spendesk has created a feature specifically for the German market that automates the calculation of the per diem rates that can be claimed per business trip according to the duration of the journey as well as the country and region the employee travelled to.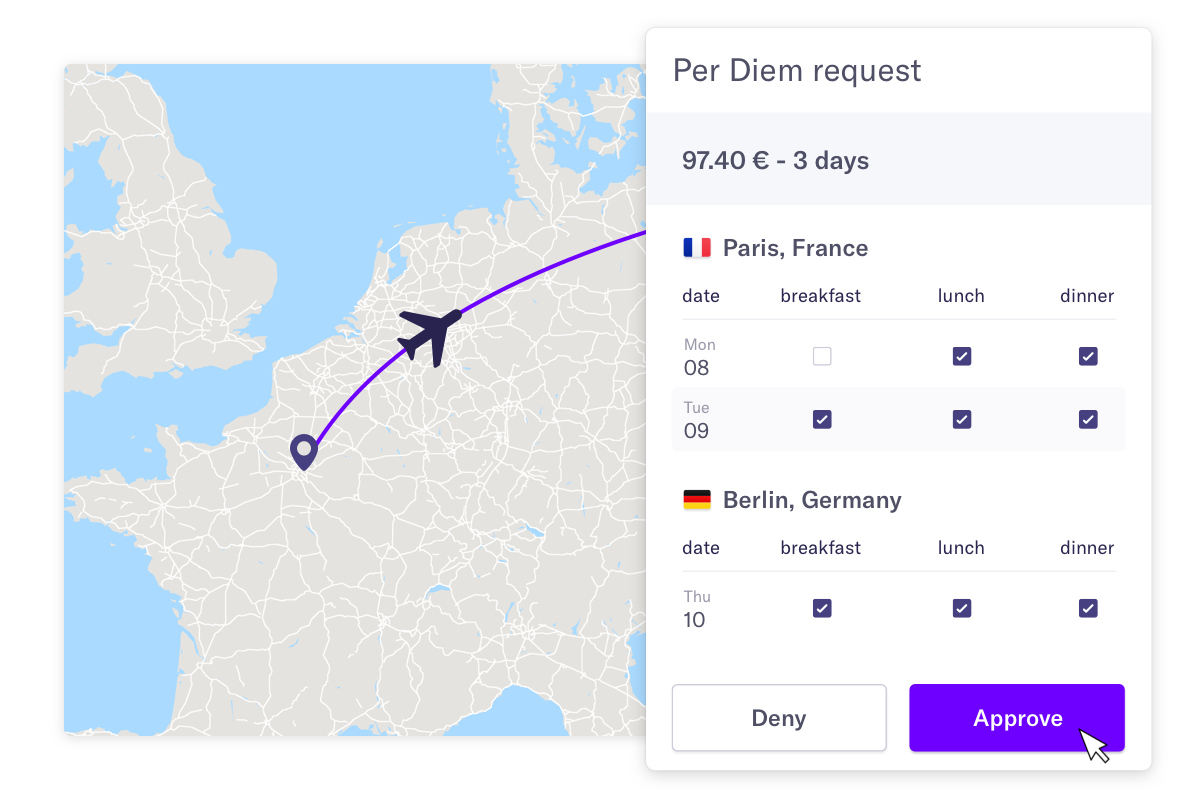 This feature saves finance teams valuable time for every business trip and helps prevent errors from manual data entry.
But the advantages of Spendesk for German companies are not limited to business trips, secure online purchasing is also an important topic.
Secure online payments
Although German companies tend to take the security of their data very seriously, corporate credit cards are (too) often shared among employees or even the whole company. However, with every online payment that uses the same card number, the risk of credit card fraud increases.
In addition, it takes several hours of work for the finance team at the end of the month to understand and identify who made which payment, not to mention going after the missing receipts and expenses that were not justified.
This is where virtual cards come into play: with virtual debit cards, employees can request and pay autonomously and quickly online without having to disturb the finance team. Single-use virtual cards are generated for a specific amount and can only be used for one purchase, making the risk of online fraud much lower. For recurring payments such as software subscriptions, recurring virtual cards can be issued and removed anytime when specific subscriptions become irrelevant.
By using virtual cards, you can figuratively kill several birds with one stone:  The time-consuming process of collecting receipts and matching them to the correct payments is also solved by Spendesk. A little extra that saves more time than you can imagine, the days of manual receipt collection are officially over!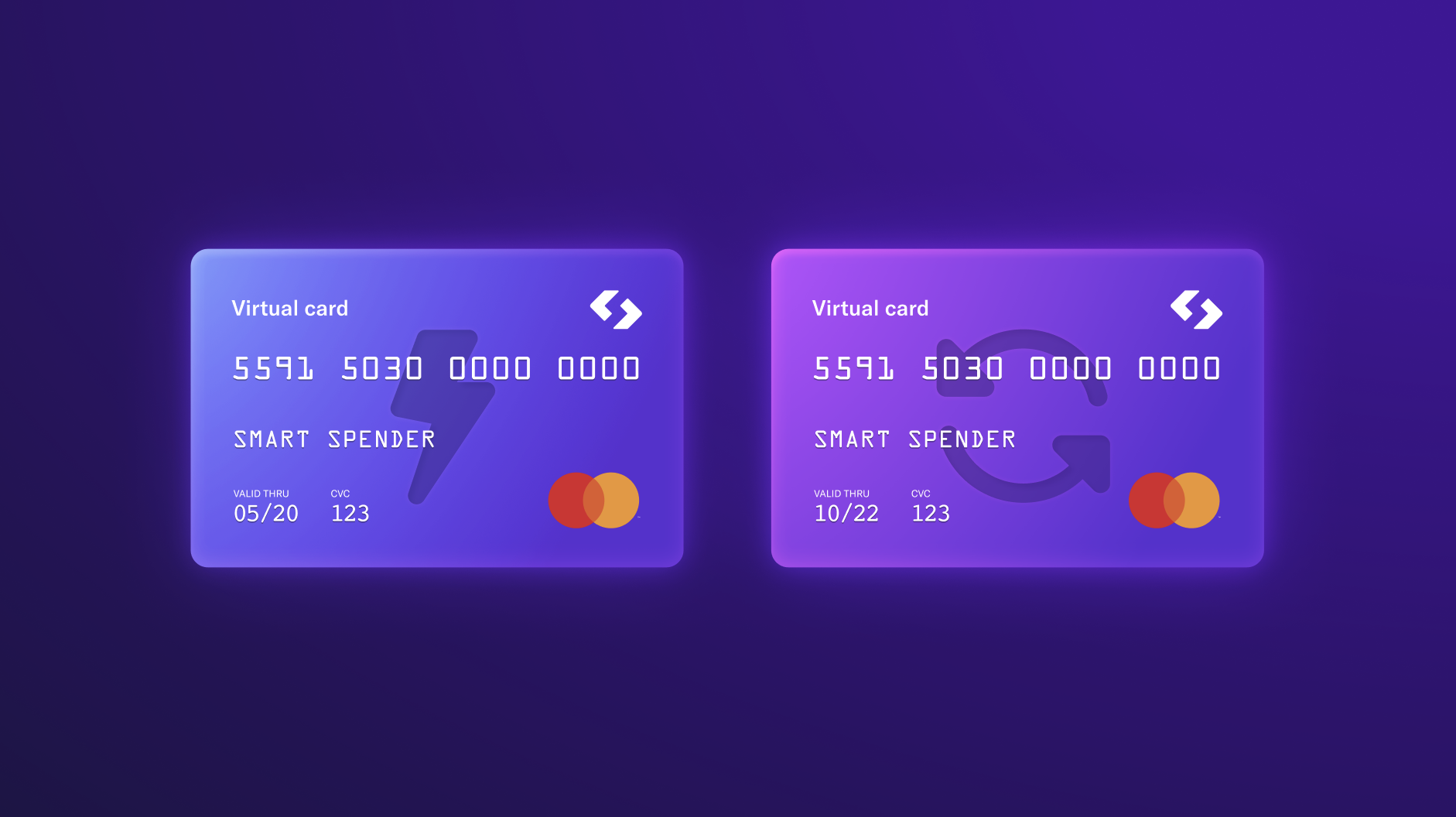 Find out more about how virtual cards work here.
Automated receipt collection
Let's be honest, no one loves end-of-month expense reports, neither the finance team, nor the employees. After every online payment or business trip, the latter have to make sure they are keeping their receipt in their wallet and to hand in their expense reports on time.
For the finance team, each receipt has to be painstakingly matched to the corresponding payment in the system. If receipts are missing, and there almost always are, it is then a matter of finding out who made the payment using the shared company card and tracking down that colleague. Not a very fun task to say the least.
Spendesk solves this issue with an easy-to-use mobile app and desktop platform that prompts users to upload the receipt immediately after each payment. All they have to do is take a photo of the receipt and upload it with a single click. The receipt is then automatically read by the software and matched to the right payment.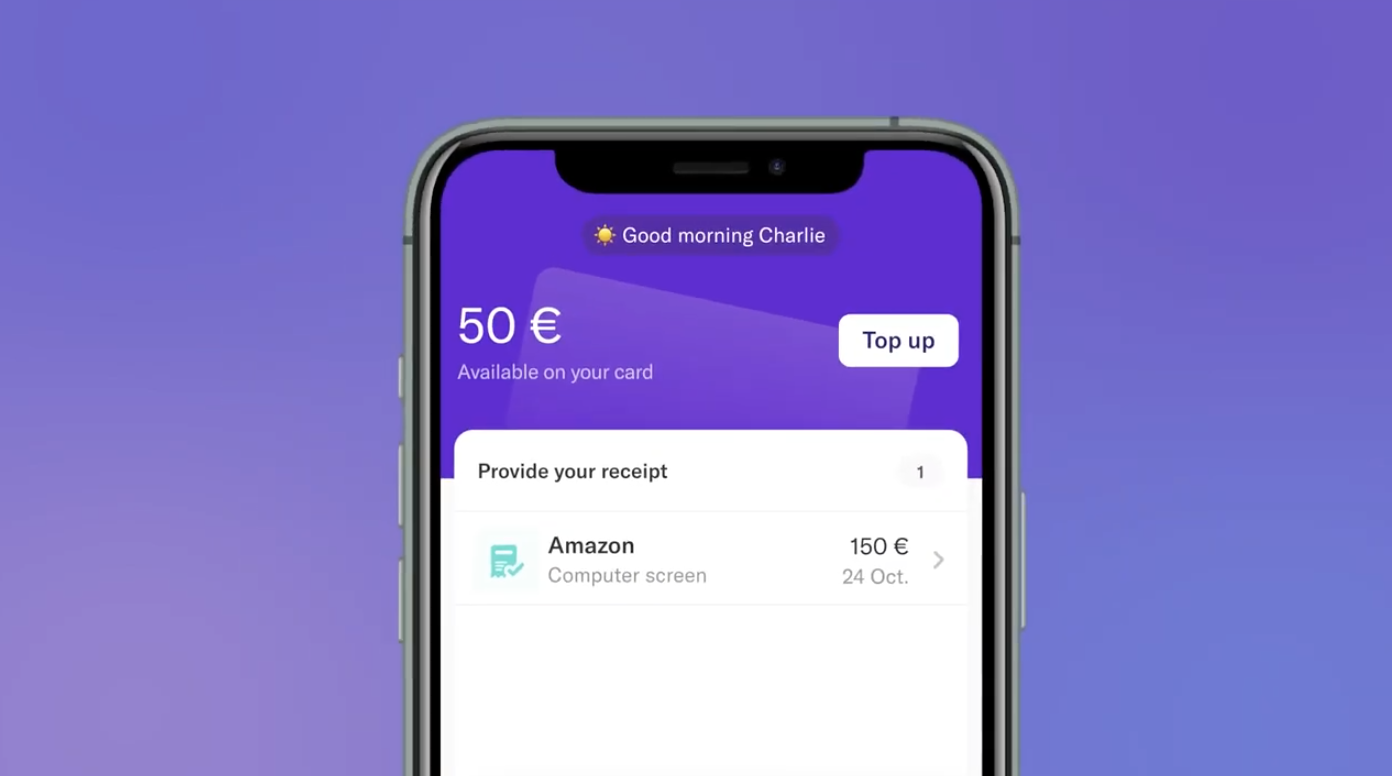 Another advantage: Spendesk will automatically categorize each payment with the right expense account for you to save days on bookkeeping.
But the work of the finance team does not stop there. Once all the expenses have been checked and validated, they have to be exported into the accounting software of choice. In Germany this is very likely going to be DATEV, the N° 1 accounting software in Germany.
With the new integration between DATEV and Spendesk, this has never been easier!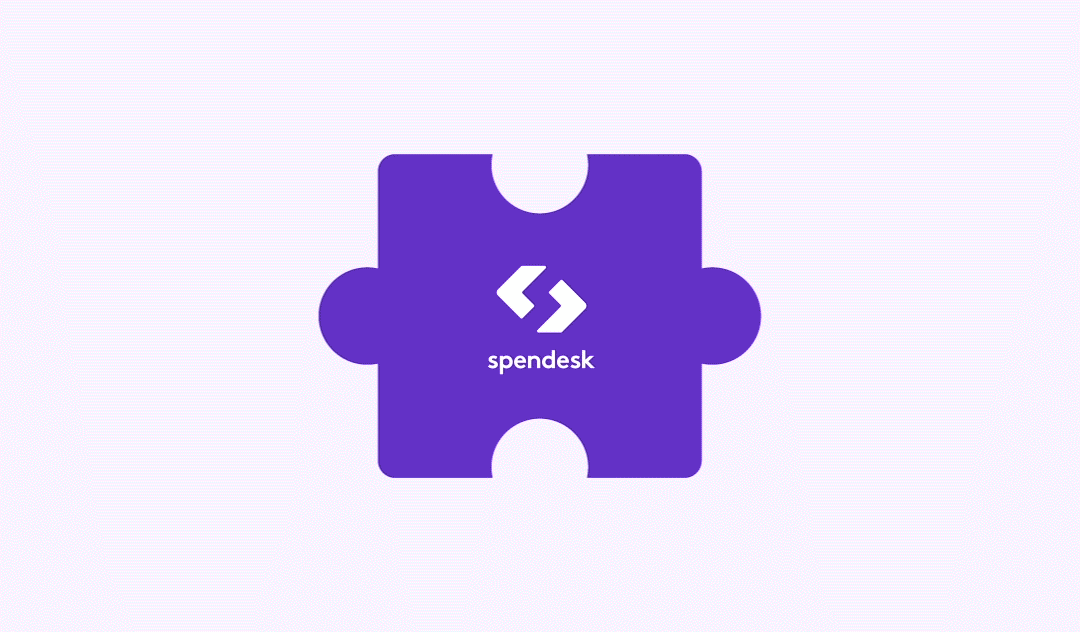 Spendesk and DATEV Schnittstelle
Thanks to the native integration between Spendesk and DATEV, all data can be easily sent from Spendesk to the accounting tool. The integration is intuitive to use and meets all the official requirements of DATEV.
Your spend management data can be pushed to DATEV with a single click which makes the work of your finance team as well as the life of the external accountant or tax advisor a whole lot easier.
Spendesk, 100% built for German companies
The combination of automated:
Processes

Per diem calculation

Receipt collection

Expense account categorization
combined with smart payment methods and a native integration with DATEV,  makes Spendesk the ideal spend management tool approved by German companies.
Erik Pfannmöller, CEO & Founder at Solvemate
Interested in taking Spendesk for a test drive?