CFO salary: finance executive compensation in 2022
Article
Salary discussions are still considered taboo in most of the professional world, even in 2022. Due to this culture of silence around salaries, professionals are often left in the dark about what their colleagues and industry peers earn. Without a clear benchmark of what others are earning, finance professionals may be on the losing end of salary negotiations.
To shed light on CFO and finance salaries, we conducted a survey of over 800 CFO Connect members from all over the world.
The subsequent CFO Salary Benchmark found pay disparities between countries, genders, and ages among various roles in finance. This article covers a selection of the report's findings, which should prove useful in salary negotiations in all finance positions. Let's dive in!
CFO salaries in different countries
CFO Connect is a global community with members all over the world. This survey focuses on finance leaders from Europe and North America, and shows the stark differences in pay expectations.
Finance experts in the United States receive the highest salaries of those surveyed, by a huge margin. French finance leaders earn less than half of what their U.S. counterparts make.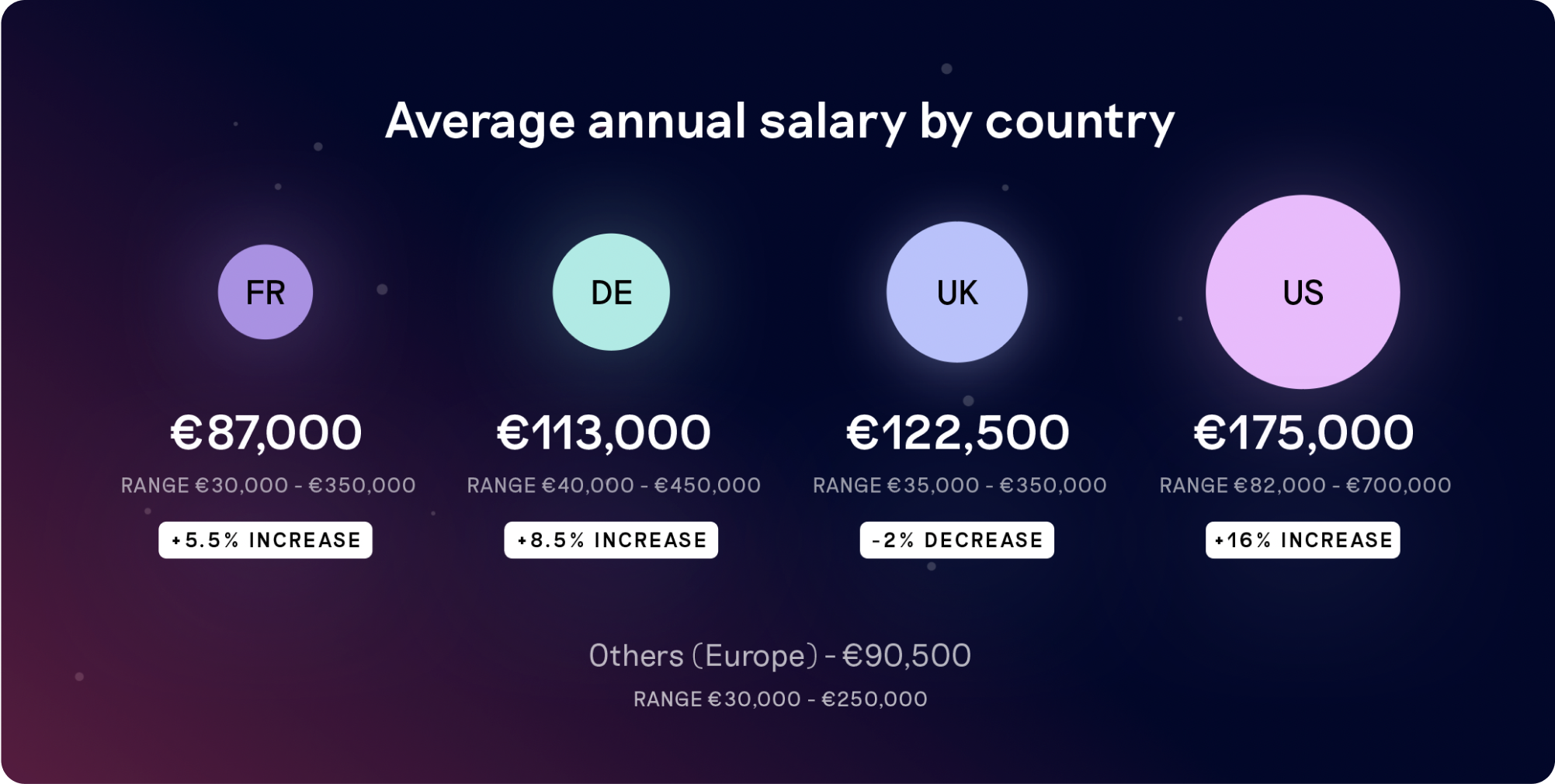 Average French salaries are still higher than those in Italy, Austria, Portugal, and Spain. But all of these countries see lower average pay than the United States, the United Kingdom, and Germany.
Salaries have risen overall
Compared to our survey last year, salaries across the board have increased for finance experts. The one exception is the United Kingdom, where reported salaries have decreased by 2%.
Now that we've seen the discrepancies between countries, let's take a closer look at salary differences between finance roles.
How various finance roles are compensated
Of course, how finance experts are paid depends on their specific title and/or role in the company. Predictably, CFO and VP Finance roles tend to earn the highest salaries, whereas Accountants, FP&A Managers, and Finance Managers are at the lower end of the salary scale.
However, company hierarchy doesn't always dictate salary. Historically, a VP of Finance wouldn't earn more than a CFO, although our data suggests differently. There could be several factors influencing this trend in our survey results: negotiation skills, job title inconsistencies between countries or regions, and company size.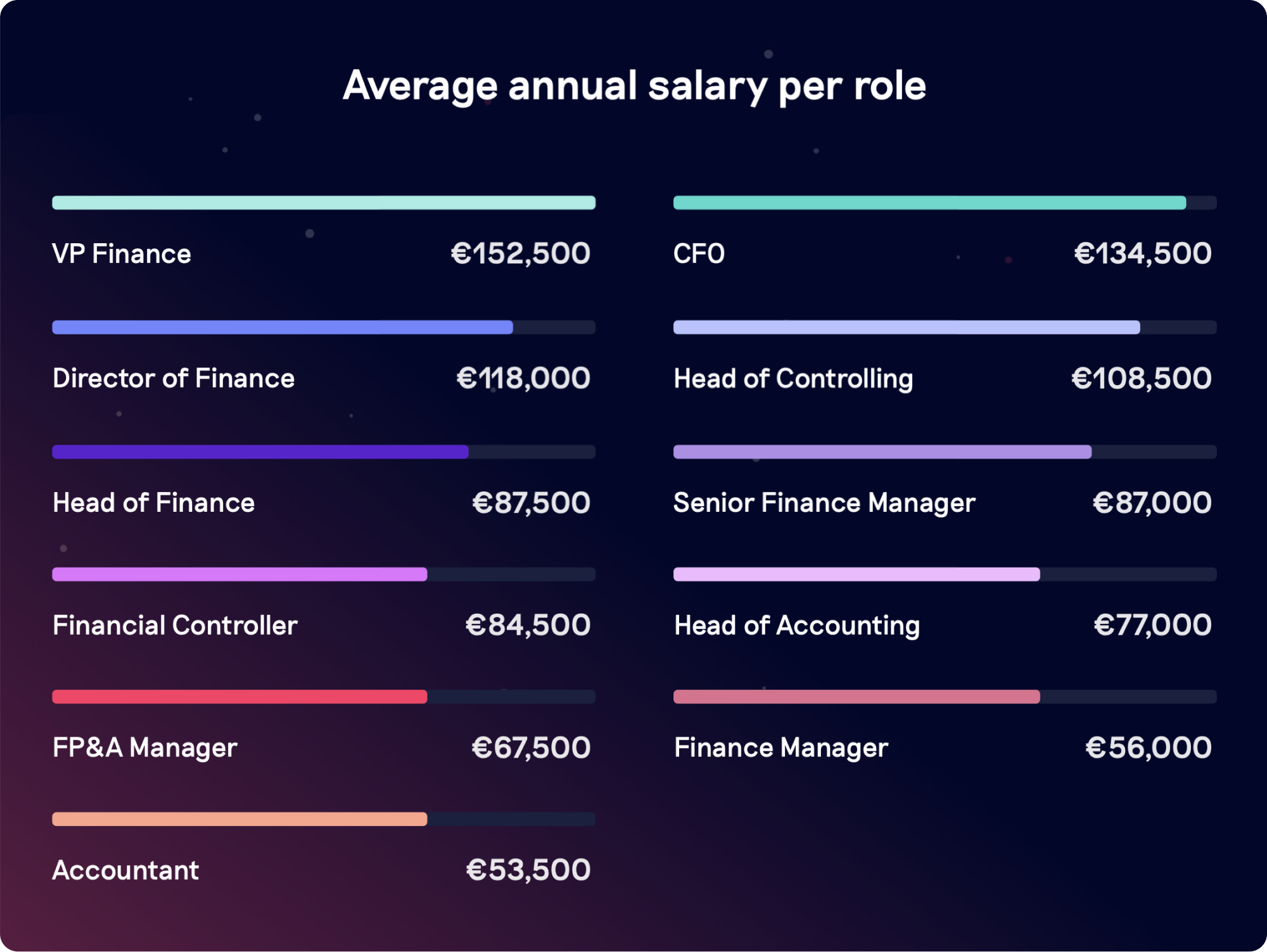 The gender pay gap: a career-long issue
Of the more than 800 finance professional surveyed, 70.6% identify as male and 28.5% identify as female. 0.8% of respondents either preferred not to answer or are gender non-conforming.
Finance is still a male-dominated field, especially in the upper levels of company hierarchy. In fact, of the CFOs who responded in our survey, only 21.9% are women.
And that disparity clearly carries over into salaries. Our survey found that women earn 13% less on average than men in finance roles.
Not only is this gender pay gap consistent across all finance roles, but it exists even at the start of women's careers. Young women in finance (25-30 years old) earn 24% less than their male counterparts.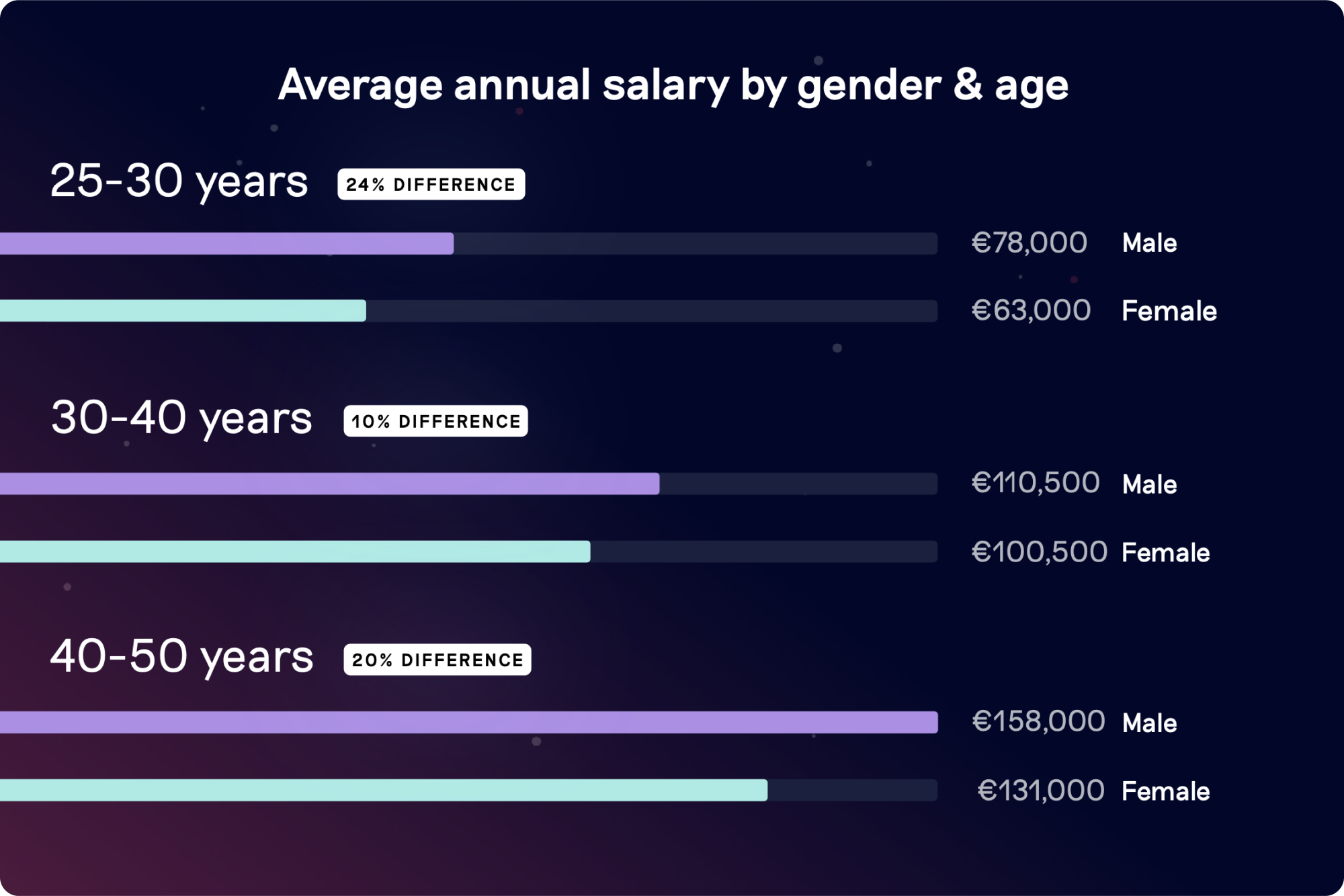 While the gender pay gap may be closing, progress is slow. The fact that men and women start out on unequal footing that lasts for their entire careers means there is still work to be done.
Experience is a determining factor
Not surprisingly, CFOs' salaries grow with age and experience. Older survey respondents report higher earnings, essentially triple the salaries of younger CFOs after the age of 40.
The biggest jump in average salary for CFOs comes between the 30-40 and 40-50 age brackets. After 50 years old, the average salary doesn't increase as much as previous decades.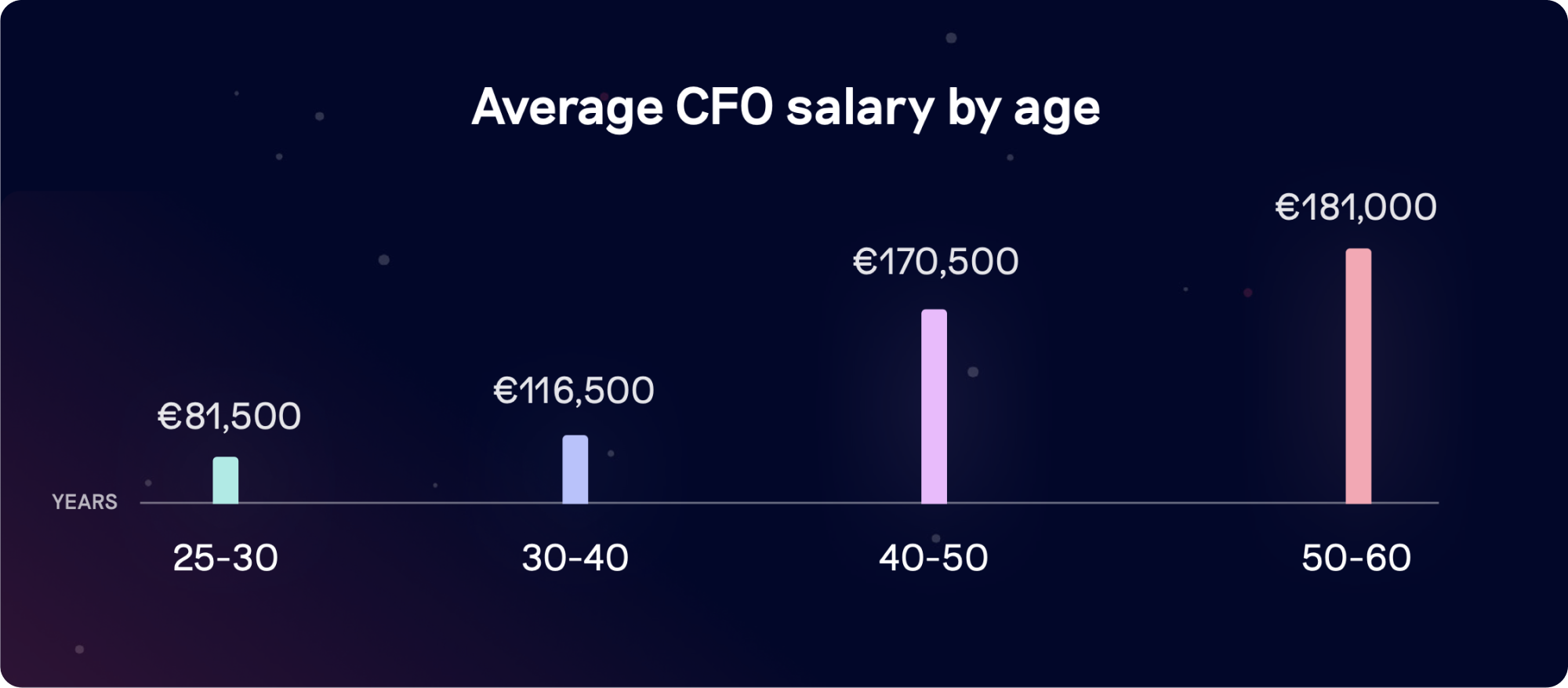 The relationship between experience and salary should not come as a shock. However, the relative plateau after 50 years old could mean that CFOs reach a salary threshold that is difficult to surpass.
Remote-only workers earn more
Working remotely has increased exponentially since the start of the pandemic, for obvious reasons. However, not all finance professionals or finance teams are fully remote.
The U.S. is an outlier in this regard, with 57% of respondents working remotely full time, and their European counterparts working remotely part time in a hybrid model.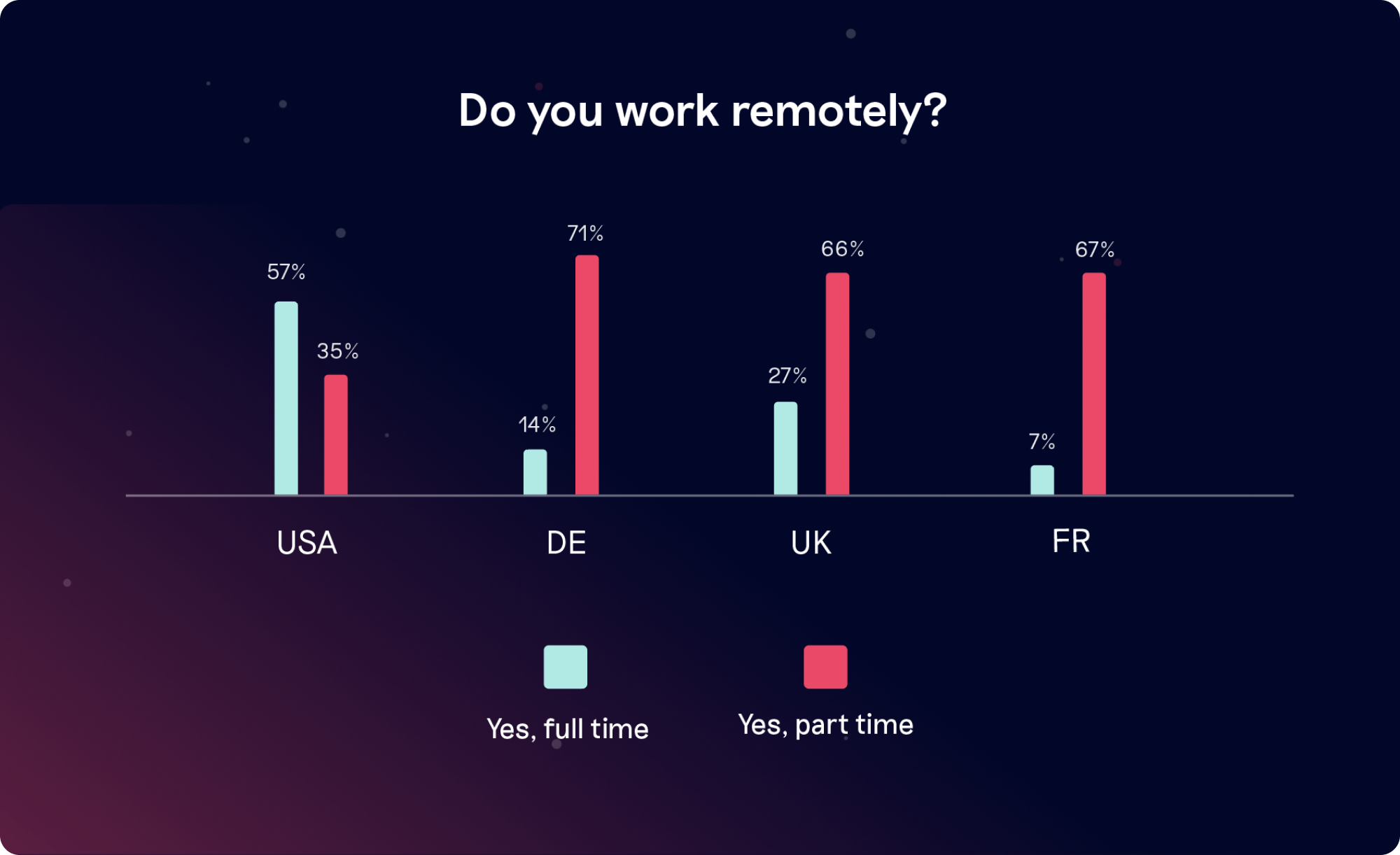 France reports the lowest number of fully-remote finance experts, at only 7%. Cultural differences and attitudes about remote work, especially full-time remote work, could influence how much freedom finance teams have to work outside of the office.
Main takeaways from the 2022 CFO Salary Benchmark
CFO and other finance experts' salaries can vary widely according to geographical location, age, role and, unfortunately, gender. But our CFO Salary Benchmark also explores differences in non-salary compensation, such as health benefits, flexibility to work remotely, and equity.
We understand that salaries can be a touchy subject. Our CFO Salary Benchmark aims to shed light on salaries in finance at every level, to ensure that finance experts can recognize their worth and adequately negotiate their salaries.