CFO dashboards: 6 tools to upgrade your finance function
Article
A CFO's role is strategic at its core. As the 'middle man' between data insights and business decisions, the Chief Financial Officer essentially becomes a translator between the numbers and their impacts.
And while every good translator has a near-perfect grasp of their languages, most of them continue to use an entire suite of helpful tools.
A financial dashboard is one of a number of tools that the finance function has available. Yet many in the finance world still use inefficient, traditional paper analysis methods. This is highly flawed, and highly expensive.
In this post we're going to discuss 6 different CFO dashboard tools and which might be right for your team -- so you can upgrade any broken translations into complete fluency, once and for all.
What are CFO dashboard tools?
As the Chief Financial Officer, it can be difficult to manage all of the incomings, outgoings, payroll, and financial reports. The list of tasks and categories can feel endless, especially when it's all happening at once.
A CFO dashboard is a digital display tool that keeps everything visible, and holds all of the financial information in one place. We're talking company cash flow, revenue and financial risk data, etc. Some softwares even offer personalized insights and analysis.
Traditionally, financial dashboards have been a bit of a pain to set up. Inputting the original data, creating rules and deciphering the original patterns are a time-consuming process at the beginning of any new financial system.
However, once set up, there should be very little of a learning curve. Moreover, your team can customize their own dashboard to be as or jargon-free as they need. Alongside being easy to use, this makes a CFO dashboard tool perfect for sharing financial insights with other teams and departments too.
6 CFO dashboard tools
There is lots of diversity when it comes to CFO dashboards. Choosing the right tool depends on several factors, including whether your team prefers a more numerical or visual view of financial data, and what they want to do with the data.
1. Looker
Looker's mission is to help businesses to "find true power in your data". This means that business intelligence is not solely about the numbers, but also the analysis.
One of the greatest assets at Looker is that it's powered by Google. This means high-level integrations with much of the tech that your teams are already using, without any friction.
We think Looker is well-suited to teams who are already digitally literate, rather than those transitioning from paper or spreadsheets. Looker's cloud-based software has many features that tech-savvy teams will be able to make the most out of.
Its costs are variable, depending on your team and the features that you'll use the most.
2. Tableau
Powered by Salesforce, Tableau is a top-of-the-range embedded business intelligence software. It helps finance teams use the data that they're able to collect in order to solve problems.
Tableau's community element helps drive the industry forward, and they also highlight social causes, such as closing the data literacy gap. Their program specifically lends well to a CFO dashboard, with 'big picture' and 'zoomed in' views on net profit, balance sheet and sales, for example.
Another benefit of Tableau is its pricing visibility. With different packages for 'viewers' compared to active users, it lends well to larger organizations who need to share interdepartmental insights.
3. House of Control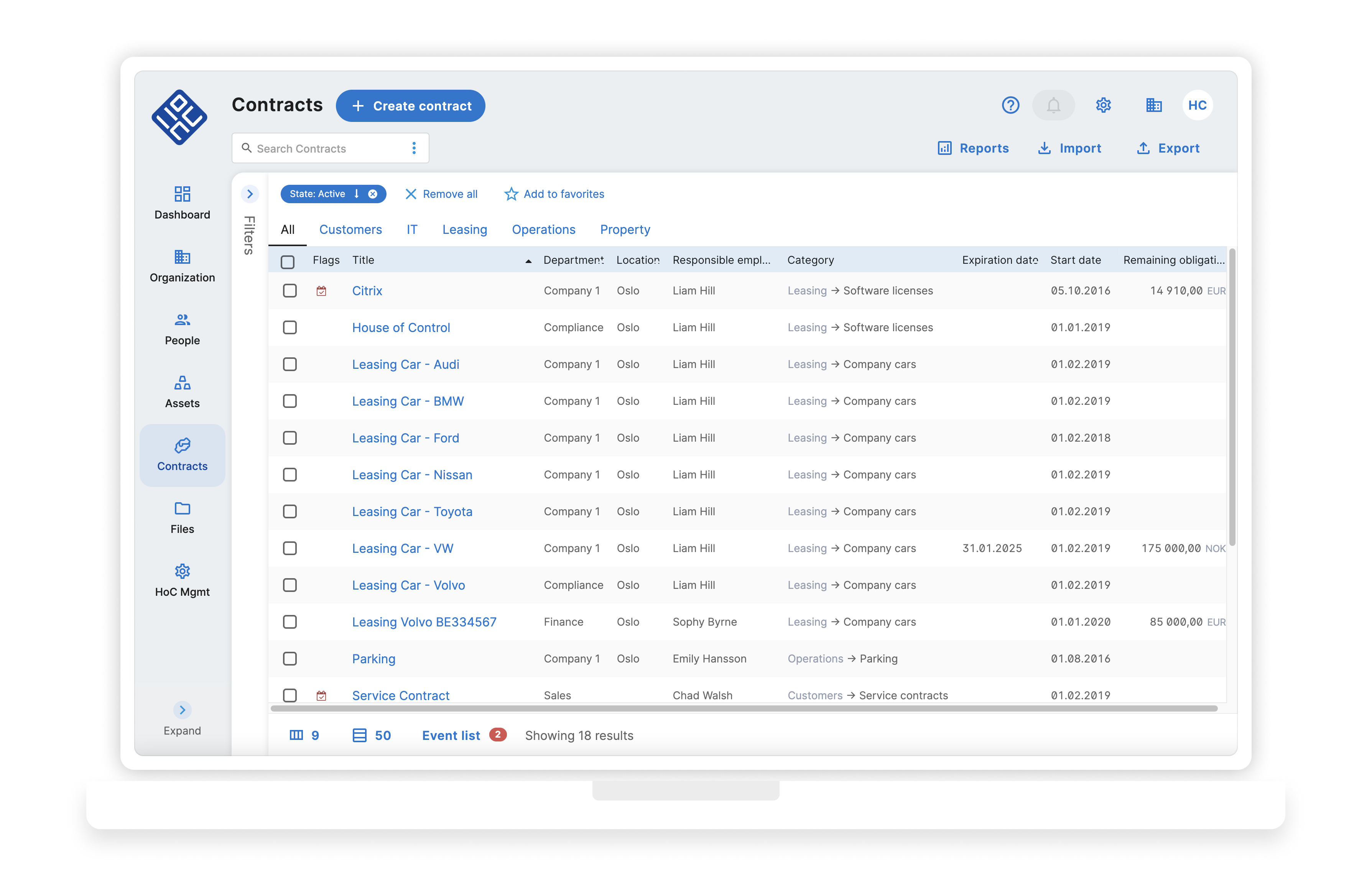 Marketing themselves as "the CFOs best friend," the House of Control dashboards focus on forecasting and compliance. In order to reduce risk, their data intelligence aims to simplify both budgeting and categorizing, and streamline the entirety of business processes.
House of Control's financial reporting feature is ready within hours, so your finance function can get real-time spending insights, immediately. With seven different CFO dashboards, their program even offers customer ledger data. This means that alongside finance, this technology offers your sales team the ability to make better decisions.
Pricing is not publicly listed, but likely dependent on which of the products you want to use from their suite.
4. Polestar
Polestar's CFO Cockpit program is what data dreams are made of. This system pushes standardization, leveling the playing field across your departments and creating a newfound feeling of quality control.
Polestar's software leans closer to traditional metric data analysis, with five distinct categories:
Financial analysis

Ratio analysis

Account receivables

Account payables

Financial projections
CFO Cockpit enables users to set up rich interactive dashboards in minutes, rather than months, to give a clear picture of financial health. Moreover, the snapshot insight means your finance team can implement changes with immediate effect.
5. Geckoboard
Geckoboard promises simplicity. Its filtering system allows teams to focus on just the key metrics that they need, without getting lost in a sea of data. Offering the ability to build forecast dashboards using the budget and real-time spending, the modern CFO should get on well with Geckoboard's data analytics software.
This management dashboard software is likely to be suited to a team that are currently transitioning from paper to digital, or who approach their finances in a more 'bootstrapped' manner. Instead of tweaking the thousands of variables and data collection points, Geckoboard gives you oversight on the most important aspects of the business.
6. Datapine
Datapine is all about security. With a focus on data accuracy and verification, their intelligence suite enables finance teams to develop workflows and build predictive analytics based on best practices and preemptive financial indicators.
We think Datapine is well-suited to scaling companies who want to upgrade outdated or inefficient processes. With a focus on outcomes and actionable key performance indicators, Datapine's software offers a dashboard template with customizable designs that can be tailored to the preferences of your CFO.
Their 14 day free-trial feature means your team can get started with Datapine and make sure it's right for them before signing a longer contract.
Get clean spend data to fuel your dashboards
CFO dashboards are a key step towards the big picture, allowing the finance function to see and analyze all of the important data in one place. But before you decide on the right dashboard, you'll need to ensure that your team can gather genuine actionable insights. So, don't let this fail before it's even begun by plugging in the wrong KPI information.
Spendesk helps you keep all operational spending in one place, with accurate data. No more data entry errors or mistakes that could be avoided. Feed your dashboards with Spendesk data input to ensure accuracy, every time.