How Spendesk became a remote company overnight
Article
How does a smart modern scaleup respond to being locked out of its offices for the foreseeable future?
Like companies all over the world in March 2020, we had to close our doors pretty suddenly. We had a small amount of warning and knew this might be coming, but it was still a shock.
We'd been in our beautiful, spacious Paris headquarters for just a few months. And now, most of our team were trapped in small city apartments, unable to see friends and colleagues in the flesh.
In this post, we'll explore how we made this shift quickly and with relatively little pain. We put this down to good preparation and powerful tools, as well as a fast response from Spendesk's leadership team.
But more than anything, it reflects a company built by adaptable, flexible, and caring team members. It's about culture.
The transition: how we communicated this shift
The "shift" in this case was 100% remote work. Paris - where Spendesk HQ and 90% of our team are - went into full lockdown on Tuesday March 17. And offices in Berlin, London, and San Francisco weren't far behind.
Thankfully, we took steps to prepare in advance. It was fairly obvious a lockdown was coming, and most of our team had chosen to be at home before the government mandated it.
Here's what we did in anticipation.
Leading up to lockdown
We've always had a remote-friendly culture. As long as their managers are happy, employees can work from anywhere - provided they can dial in for meetings and can work at regular speed.
In the weeks leading up to the full lockdown, we made tweaks to our remote policy:
If employees wanted to work remotely, they didn't need permission from their manager.

All staff who could come to the office without using transport could continue to do so.

But if staff needed to take a bus, train, or shared car to get to the office, they could no longer be in the office. The virus was already spreading, and we were adamant that Spendesk should not encourage its spread.

If staff wanted to leave the city to join family or loved ones, they should take the time they needed to do this. Managers would understand and support them.

Most important: employee health would come first. If anyone felt unwell, they were not welcome in the office. If anyone needed time to arrange their lives, they should take it.
We knew that a lockdown was coming, and everyone needed to do what they could to prepare.
Step-by-step communication
You simply can't handle a situation like this without clear, constant communication. Even if the global circumstances were still unfolding, we wanted every Spendesker to know - at all times - what the rules were for them.
For me as People Manager, it felt like I was constantly sending out company-wide messages. But feedback from the team was always positive - Spendeskers just wanted to know where they stood.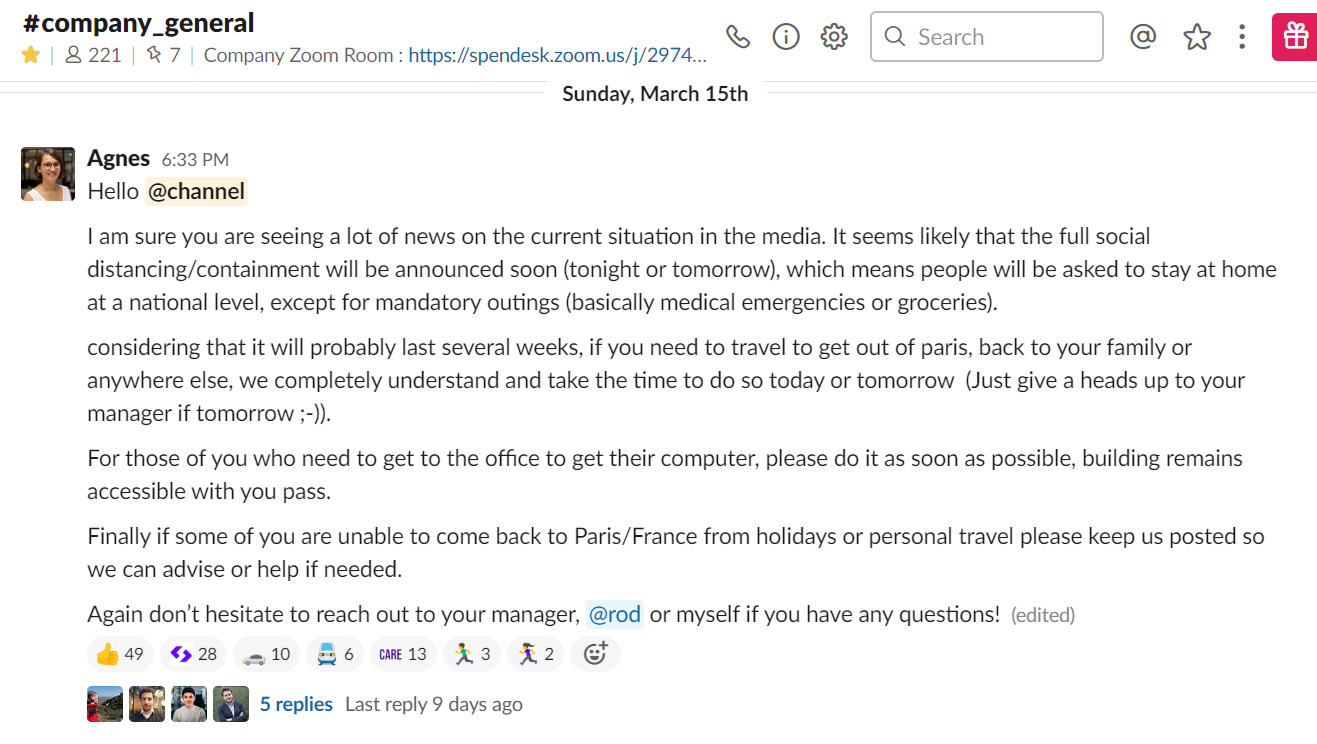 Key messages were broadcast through our Slack channels (as above), emails from the CEO Rod and also each team leader, and through "all hands" Zoom meetings.
When the day for full lockdown arrived in Paris, we were already 100% remote. Team members had been given the chance to collect things, and we'd already begun sending second screens and keyboards to people who needed them.
We just needed to spell out the rules once more for anyone who'd missed the news: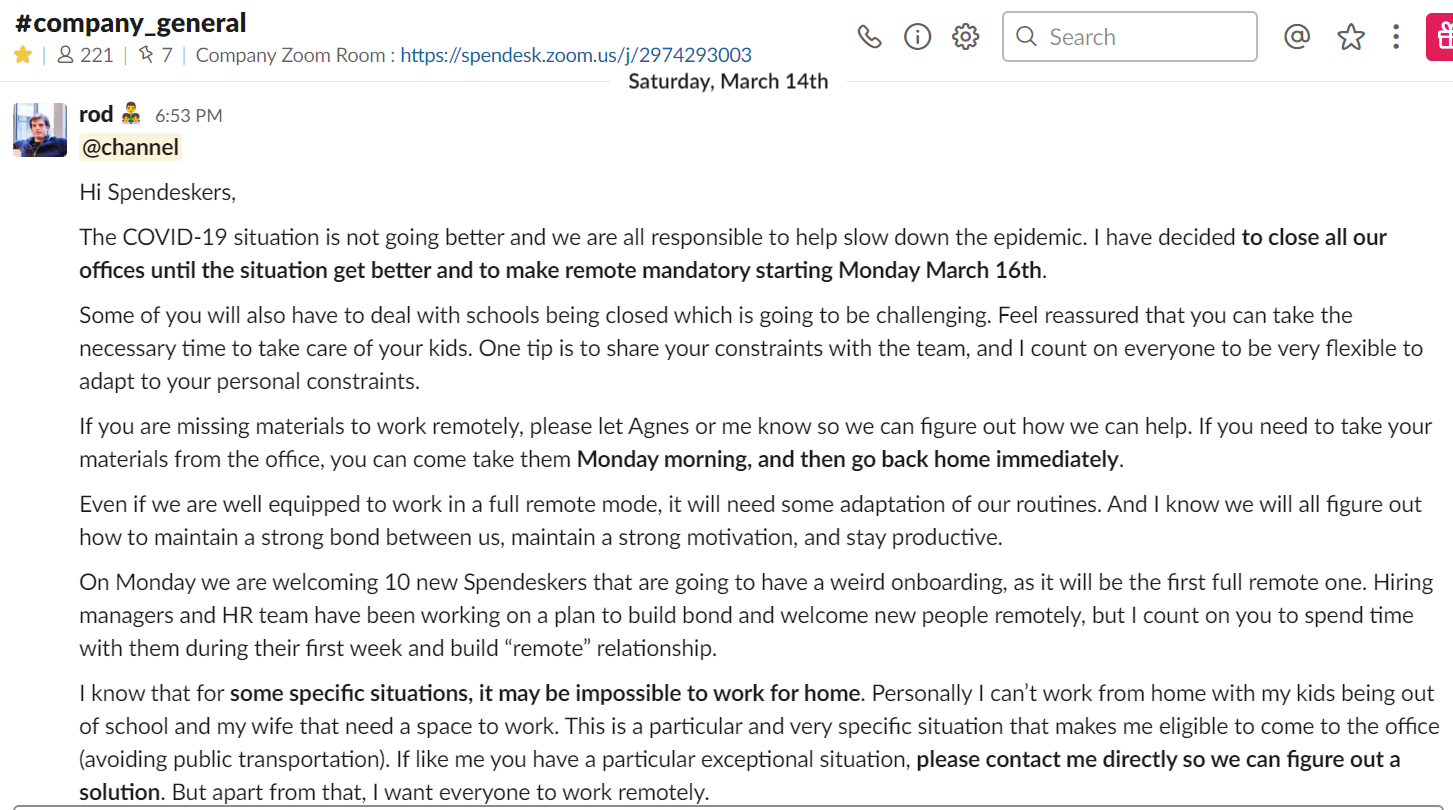 It's key during all this to be transparent and communicate clearly. People need to understand the seriousness of the situation and any risks they could face.
But equally, you don't want to scare people.
Throughout all of this, our managers did an excellent job of touching base with their far-flung teams, establishing new routines, and making sure that every single Spendesker felt valued and connected to the rest.
The gameplan: keeping the business at full speed
It was also clear that this crisis would have some impact on business. One obvious example: we help traveling teams manage their spending, but pretty much every conference, trade show, and business meeting was now canceled.
Still, we had no idea how long this would last, and how deep the impact would be. So we needed to make a gameplan and consider the different likely scenarios.
Chief of Staff Guillaume Linet convened an emergency task force in the days leading up to lockdown. This included all the team leads, plus some Spendeskers with more strategic job descriptions.
Their goals included:
Creating new routines for team meetings and one-on-ones, to keep regular contact with staff;

Identifying campaigns and projects that would need to be put on hold, and the budget updates to be made as a result;

Projecting likely impacts on revenue - our CFO Fabien prepared several forecasts based on different outcomes;

Re-prioritizing work we had in the pipeline;

Pinpointing features and services we already offer that we could make available to more customers, and guidelines to communicate these.
It was an intense few days for these team members, but their quick (and tireless) work helped us present a new gameplan almost immediately.
Unexpected challenge: onboarding new staff
As I said above, we're no strangers to remote work. So video calls, working online instead of in-person, and practicing clear communication were already familiar to most of the team.
But we did have one pickle that we hadn't foreseen completely.
We formally went 100% remote on Monday March 16 - the same day that 10 new staff members were due to join the team.
This was a real shame, and every one of them has dealt with it admirably in the weeks since. Here's how our classic employee onboarding plan had to adapt:
Welcome to your new workspace. Normally new employees arrive on a Monday morning to find their computer nicely laid out, with some Spendesk swag and a handwritten note from the CEO. And of course, surrounded by teammates.

This time, they received all of that at home. We delivered some ourselves, and sent a few packages by mail.

Introduce yourself to the company. Our favorite tradition is to have every new hire introduce themselves to the whole team at our Monday morning kickoffs.

On this occasion, it had to be done through Zoom.

Meet your buddy. New Spendeskers get their own buddy to show them the ropes, and guide them around our five floors in Paris. That's not happening anymore.

But they still get introduced to their buddy, who instead gets to know them and introduces them to our virtual office: important Slack channels, Notion notes, and anything else important.

Pose for a photo. We also love to get each new "class" to pose for a team photo. We couldn't do this, obviously, but modern technology gave us the next best thing.

And this way, we got to meet all the new pets, too.

Organize your workshops. New staff at Spendesk co-ordinate their own training workshops with team leaders and executives. The workshops are pre-prepared and follow a standard structure, but the new hires schedule them themselves.

And for these 10 it was no different. The workshops run smoothly online, and it was pretty straightforward to set them up, as always.
Overall, we're very happy with the way that onboarding has gone for our 10 new team members. It's hard not having the chance to meet in person and shake their hands. But all things considered, they've attacked their first weeks with the enthusiasm and intelligence that we'd hoped they would.
Tech stuff: the tools we put in place
One of the most important factors for remote work is good technology. We're a SaaS company, and naturally we choose to use other SaaS tools to let us work quickly and easily from anyway.
That's the way we've built Spendesk from the beginning. We always knew we'd have multiple office on different continents. At the start, even if Spendesk was just 10 people in a small room in central Paris, they had to be able to work from anywhere.
We won't go into every tool that every team uses. Just know that they all follow this principle. But on a company-wide level, these are the platforms we use constantly to keep us all connected and functioning at full speed.
Notion: Knowledge bases and company wikis are no good if people can't use them. All of our shared knowledge has always been online and accessible from anywhere by our teams.
Crucially, we've built a diligent culture of documenting our work as we go. So we're not suddenly scrambling to write down every process or key data point. They're all there already.
Zoom: We already hold all important meetings on Zoom, even when most of the company is in the same room. The only difference is, now there are nearly 200 little faces on the screen, instead of a dozen or two.
One nice thing we've done during this period is create a rolling Zoom room open 24/7. When team members need a break, they can enter that room and see who else is keen for a coffee, a beer, or to talk about the weather. It's our own digital water cooler.
Slack: Like virtually every tech company these days, we use Slack to communicate freely amongst ourselves, and have since the beginning. But we have set up a few unique channels that we didn't feel the need for in previous days: "Remote office" is now highly popular, as is our daily gif battle.
And Tom, our Knowledge Manager, has taken it upon himself to share a daily newsletter with the whole company:
Personio: Since we have no in-person contact between team members, having cloud-based HR tools is hugely valuable. Staff can easily input any leave they might want to take (unlikely at present), log sick days easily, and see whether their teammates are working as usual.
15Five: This is our new performance management software. We're passionate about 360-degree feedback, and 15Five lets us collect weekly feedback from employees to managers (and vice versa). This way our performance review procedures will continue exactly as before, even under these new circumstances.
I'm personally very interested to see how feedback changes during this period, and what we can learn as a result.
Loom: Our Sales and CS teams have used Loom for some time to record short videos for clients and prospects. But now, a few of our more outgoing personalities have been using it to make fun, inspiring, and caring messages for their teammates to share on Slack.
Nobody asked them to do it, and it's been wonderful to see people using novel ways to keep up team spirit. (More on this in the next section.)
By the way, we've already written a huge list of tools, tips and resources for remote work. If you need ideas, check out that article.
Culture: how we keep the Spendesk feeling alive
We actually wrote an entire post on the fun and creative things our teams have been doing to stay connected while working at a distance.
If you don't have time for that full and detailed post, here are the highlights.
A monthly zen budget
Our People team is very happy to be able to offer every Spendesker funds on their Spendesk card to pay for meditation apps, online yoga classes, or anything else that will help them feel relaxed, refreshed, and stay sane.
Virtual beers and coffee
We've always had a random coffee bot on our company Slack. For those who want to take part, the bot pairs them up with another team member to have a tea or coffee break.
That's still operating during our remote days. And the channel is more popular than ever!
We've also continued our regular Thursday drinks. But of course, through the wonders of Zoom.
Recipe and fitness challenges
Another small ritual that's sprung up all on its own is our #ShareYourMeal dinner challenge. Spendeskers share pictures of their dinner, and the team votes for the one that looks best. The winner then shares the recipe so everyone else can give it a go.
Fitness has also become a big theme. For those lucky enough to be allowed outside, we have virtual running clubs using popular free apps to track their progress. Other team members are sharing their indoor HIIT workouts, yoga videos on YouTube, and anything else that gets them moving.
Even more challenges
While we're on the topic of competitions, Slack has become a playground for virtual battles. We've had #ShareYourSetUp (where employees show the creative ways they've set up their home offices), #ShareYourBestSocks (that one is pretty obvious), plus a daily gif battle at 6pm.
Some team members even played Pictionary using the drawing features in Zoom.
We continue to build a strong, cohesive team
We've worked hard as a People team to make sure that people still feel connected to one another and are having fun. But what's been so nice is how many of these initiatives have sprung up organically.
Our Slack channels are alive, teams are creating new traditions, and bonds are growing stronger during this tricky time. Our executive team and managers can fully focus on the strategic challenges we have ahead of us, and not worry about the culture we have in the company.
We always knew we had a quality team. And this physical separation has only brought them all closer together.
More resources for remote companies