11 US finance conferences to attend in 2023
Article
After almost three years of postponed and virtual-only events, in-person conferences have made a steady comeback.
From banking and retailers, to private equity and payments – the pandemic forced fintechs and financial institutions to adapt their services and platforms faster than ever before.
The challenge to meet consumer demands in an increasingly digital-first world is complex, but also exciting.
We've listed 11 finance events in the US that provide unique opportunities to network, discover new innovations and strategies, and gain insights from leading industry experts.
Some of these exchanges are also hybrid events - a mix of live and virtual content that increases accessibility for everyone. We've also curated lists of 2023 finance events in Europe and London, for those interested.
Whether you're a company promoting finance and fintech products, or a finance leader looking to exchange ideas, there's something here for you. Let's take a closer look!
1. AI in Finance Summit
ReWork's AI in Finance Summit is the best place to learn about the latest in AI & machine learning tools and techniques from the world's leading innovators. Expert speakers and attendees are key players in the industry, as well as research and financial sectors of AI.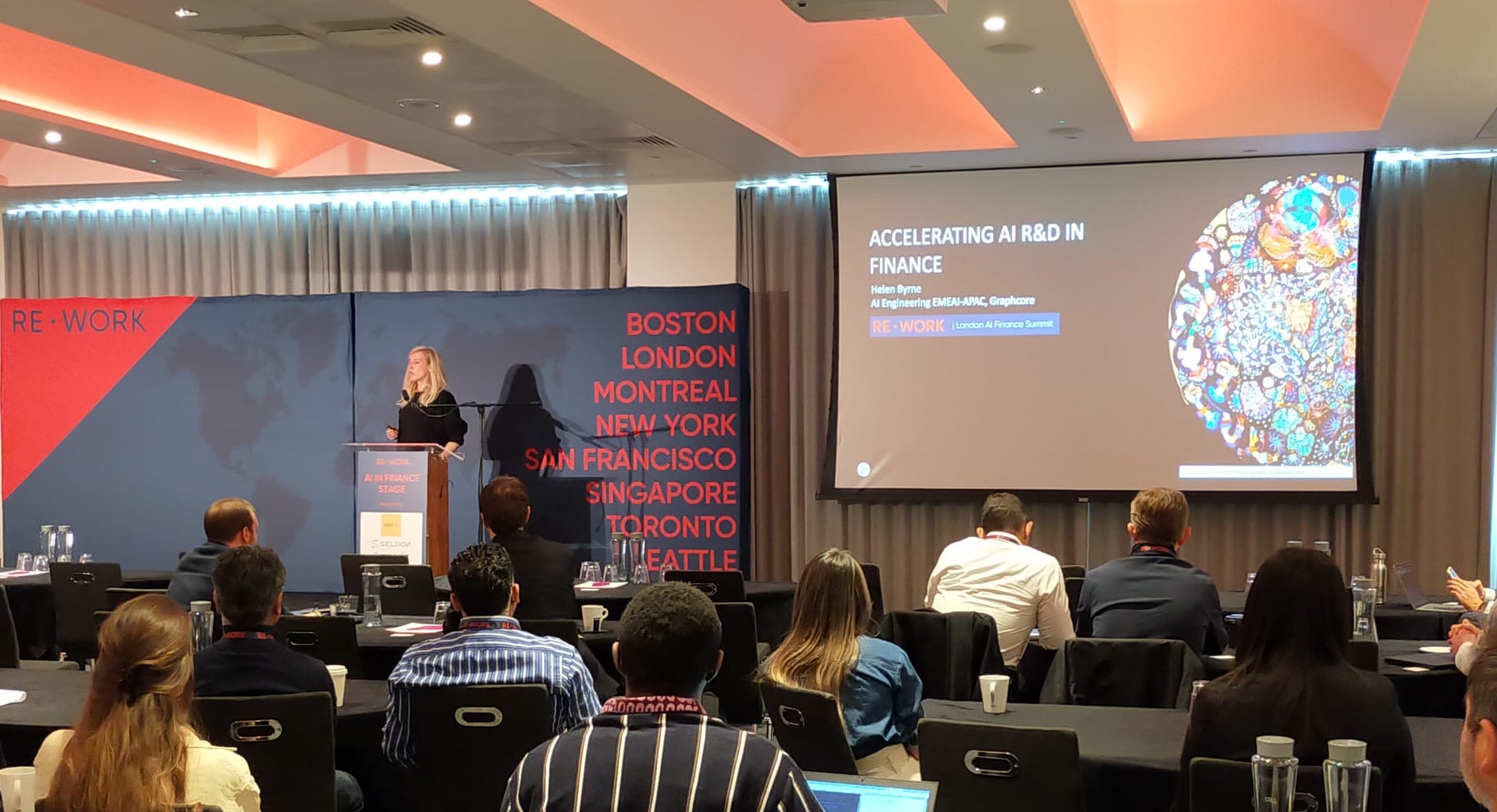 Discover the latest in artificial intelligence and deep learning in the financial services industry with the summit's robust program:
Cross-industry learnings & collaboration across multiple speaker stages

Discuss industry challenges with fellow professionals in round table discussions, Q&As with speakers, or schedule 1:1 meetings

Build new collaborations through interactive networking sessions
Can't attend in-person? You can also register for virtual access to watch the presentations and panel discussions in your own time.
Key Themes:
Fintech

Financial forecasting

Wealth management

Portfolio optimization

Chatbots & robo advisors
When: April 19-20, 2023
Where: etc. Venues, New York
To register: Event website
2. Blockchain Expo North America
The Blockchain Expo will explore the growing potential and real-world impact of blockchain worldwide.
Organizers are expecting 6,000+ attendees and more than 250 speakers from key players across different industries like Visa, Johnson & Johnson, and Nestlé Purina.
Register earlier for discounted tickets, and get ready for expert key notes, interactive panel discussions, and plenty of networking opportunities.
This year's conference will include sessions on:
Blockchain for Enterprise

Digital Assets and Tokenization

The World of NFTs
When: May 17-18, 2023
Where: Santa Clara Convention Center, California
To register: Event website
3. Fintech Talents North America
Eager to network with and learn from talented innovators and change-makers in the fintech industry? The Fintech Talents North America brings together such a community every year.
Diverse financial professionals from a wide range of organizations (from credit unions and community banks, to tier one financial institutions) join global tech providers to exchange experiences and ideas on industry trends.
Compared to more niche finance events, this conference welcomes some of the most diverse communities in fintech and financial services. It's a great opportunity to hear from and engage with different expert speakers and expand your professional network.
Key Themes
Industry trends: data privacy, fintech wellness, sustainability

Credit union/community bank

Industry challenges: crypto, climate tech
When: June 20, 2023
Where: New York City
To register: Event website
4. Fintech Nexus USA
Founders and execs from Goldmach Sachs, Mastercard, BHG Financial, and more will join the lineup of 300+ speakers at the 2023 edition of Fintech Nexus, formerly Lendit Fintech. The program will cover trends on banking, fintech, crypto and DeFi.
The venue's huge 165k square foot expo hall is also the perfect place to promote your business and network with your target audiences and drive new leads. Gain new perspectives and take away insights to apply to your own teams and work processes.
With a focus on innovation in finance, Fintech Nexus also hosts curated networking sessions for attendees to make the most relevant connections. From hosted banks and credit unions, to investors and VCs, this could be your next partnership or collaboration in the making.
Key Themes
Payments innovation

Fighting fraud

Digital banking
When: May 10-11, 2023
Where: Javits Center, New York City
To register: Event website
5. Finovate: San Francisco & New York
Finovate is hosting two major fintech events in 2023, one on each coast of the US. The spring event will be hosted in San Francisco, and the fall event in New York City.
Feature keynote speakers will cover all topics and news on the fintech ecosystem, including how current events are affecting the industry and its adoption of new technologies.
The conferences both highlight new fintech innovations, from startups and established companies alike. Attendees get access to a full demo of these curated technologies, providing a more thorough experience to determine if it's a right fit for your business.
Make valuable connections with fintechs, platform players, financial institutions, regulators and investors with direct networking sessions.
Another bonus: early stage fintech startups can attend the event for a discounted rate.
Finovate Spring: San Francisco
When: May 23-25, 2023
Where: Hybrid event and San Francisco, California
To register: Event website
Finovate Fall: New York City
When: September 11-13, 2023
Where: Hybrid event and New York City
To register: Event website
6. Gartner CFO & Finance Executive Conference
Gartner's annual CFO & Finance Executive Conference brings together finance leaders from across North America.
This year's theme is "Autonomous Finance: Unlock Growth Opportunities and Minimize Downside Risk." CFOs and finance executives will learn about driving profitable growth decisions and leading successful autonomous finance transformation to reduce friction and increase efficiency.
Gartner's speakers are financial analysts and VPs providing deep insights into the ongoing digital transformation of the financial services sector.
Major issues like rising inflation, slow growth, supply chain constraints, the talent war, and regulatory uncertainty will also be discussed, and insights on how to handle them.
Conference Tracks:
Finance technology roadmap

Finance organization structure

Business process outsourcing

Digital growth
When: May 31-June 1, 2023
Where: Gaylord National Resort & Convention Center, National Harbor, Maryland
To register: Event website
7. Digital Banking by American Banker
This conference is hosted by the American Banker organization, attracting more than 1,000 banking professionals from across the USA each year. The majority of attendees are senior executives and decision-makers from banks, credit unions, fintech start-ups, merchants, and regulators.
The principles of banking and digital experiences come together at this conference, with engaging product demos and interactive panels. Topics range from optimizing customer experiences with UX/UI to the latest insights on banking regulations and technologies.
Key Themes:
Safe self-service solutions in banking

Customer data platform (CDP) implementation

Acquisition and retention of new customer generations
When: June 12-14, 2023
Where: Boca Raton, Florida
To register: Event website
8. FiNext Conference
This is part of a series of FiNext events taking place around the world each year, with the 2023 editions to be held in Las Vegas and Dubai. The event is separated into two main proceedings: a conference and an award ceremony.
The conference features a range of interesting discussions on trending topics in financial technology and modern banking. The awards will celebrate companies and individuals leading the future of finance.
Attendees include fintech startups, investors, banks, service providers, and blockchain lovers. Join the conference for live networking opportunities or to showcase your business and reach new prospects in the expo hall.
Key themes
Future of financial services with AI, ML, & fintech

New efficiencies in blockchain technologies

Cybersecurity, cyber compliance, and the future of money
When: July 13-14, 2023
Where: Las Vegas, Nevada
To register: Event website
9. FTT Embedded Finance
The world of financial service providers is evolving rapidly. This is event is dedicated to exploring the state of embedded finance–and what that means for the future of the industry.
FTT Embedded Finance reunites financial and non-financial enterprises that are driving profound change and technology innovation across the industry. Engaging content sessions and interactive networking will be hosted online.
The agenda will break down and analyze all aspects of embedded finance. As FTT Embedded Finance puts it, "Meeting customers – wherever they are – and providing them with near seamless access to a broader range of tailored financial products and services is a vision whose time has come."
Key Themes
Banking services and the customer experience outside financial institutions

Competition & collaboration in the embedded finance ecosystem
When: December 6-7, 2023
Where: San Francisco, California
To register: Event website
10. Money 20/20
Money 20/20 brings together the biggest players in the US financial services and fintech community every year. The 2022 edition welcomed more than 11,500 attendees and 3,000 companies to this exciting event.
This is the place to network with industry executives, form new partnerships, and gain new insights. Meet professionals and experts in every sector, from digital and traditional banks, big tech and retailers, to bitcoin/blockchain, robo advisors, and payment processors.
Companies of all sizes participate, from global tech leaders to early stage startups. Money 20/20 is your opportunity to dive into the latest trends and issues faced by the fintech ecosystem.
Key Themes:
Sustainability and ESG

Cryptocurrency and cybersecurity

Web3 and DeFi
When: October 22-25, 2023
Where: The Venetian, Las Vegas, Nevada
To register: Event website
11. CFOConnect
If you're a finance leader looking for an online community of like-minded experts to exchange with, CFO Connect is for you. In addition to regularly scheduled hybrid events in Europe, events are planned in the coming future for San Francisco.
CFOConnect provides valuable content and resources to finance leaders all over Europe and the US. These resources can be accessed virtually and the exclusive Slack community enables members to connect instantly with relevant profiles.
The community is open to experienced finance professionals – not just CFOs – and those looking to become CFOs as a next career move.
CFOConnect events focus on one key topic per session, with two to three industry experts sharing their own experience and offering guidance to attendees. Past events have covered:
To view events and join the community: CFO Connect website
Explore the fintech ecosystem with finance events in 2023
Driving growth in finance requires more than number crunching. True innovation comes from new perspectives and idea exchange, not just optimized spreadsheets and data.
Whether it's an in-person, hybrid, or virtual gathering, there's lots to learn and even more people to meet and connect with. And of course, we'd love for you to join CFO Connect. So get out there this year, and get inspired with the latest trends and insights from the wider fintech community!