Go fully paperless with certified eReceipts
Article
You know the hundreds of paper receipts you have stored in a drawer or filing cabinet in case of an audit? Well, toss 'em!
That's right. Adiós, au revoir, peace out, goodbye. Whatever your preferred salutation, shout it from the rooftops, because you can officially get rid of all your paper receipts with Spendesk's certified eReceipts.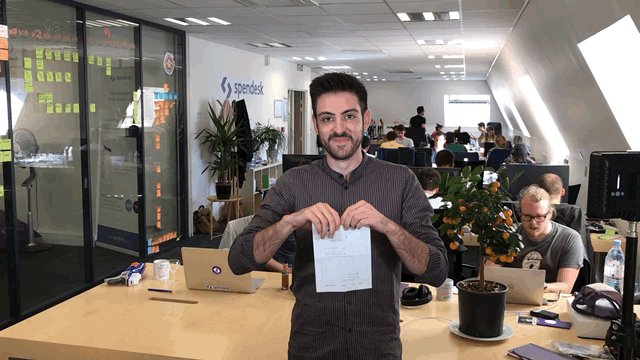 How do they work?
If you already use Spendesk you don't have to change a thing. The work to certify your receipts is done automatically in the background. Whenever a payment is made on your Spendesk card or out-of-pocket, you simply take a photo of your paper receipt with your smartphone to attach to your charge.
Spendesk identifies the attachment as a physical receipt and automatically saves it as a PDF. Our trusted partner Universign scans the document and affixes a stamp for legal validation. Voilà!
Your digitized document is dated, sealed and stored safely in Spendesk for over 10 years, accessible at any time.
Why paperless means peace of mind
Most people have experienced panic when misplacing an original paper document. Either your budgets aren't reconciling, or an audit is around the corner.
But honestly, how can anyone safely keep the hundreds or even thousands of receipts employees submit?
Digitising your receipts is safer, saves time, and can give you true peace of mind. Your digital receipts will stand the test of time as they won't get worn out or lost like paper versions.
Plus you can get back hours in your week from not having to chase down paper receipts as certified eReceipts are immediately accessible and easily searchable.
In France? 🇫🇷 Let's keep you compliant with the LPF
We've introduced certified eReceipts within Spendesk to help companies compliantly go paperless. As of March 2017, the LPF (Livre des Procédures fiscales) no longer requires French companies to keep a physical copy of their receipts, as long as they have a digital copy that's been legally certified.
Article A 102 B-2 in the Book of Tax Procedures outlines the rules for the receipt to be compliant as such:
It cannot be modified

It must be saved as a PDF

It needs a legal stamp to guarantee its integrity

It needs to be stored for at least 6 years
We've got you covered.
Already a Spendesk customer? Email success@spendesk.com to turn on this feature.
Not a user yet but interested in learning more? See a Spendesk demo.